Welcome to Contact Rate Risers and Fallers for Week 17! Our premium tools allow us to get out ahead of trends in player performance, including contact rate. Every Wednesday, we'll be looking at some players that have seen an increase in contact rate and some that have seen it decline.
Contact rate can foretell a player's batting average and general hitting statistics, and any drastic change could signal a shift in performance. Contact rate shifts often act as a precursor to hot streaks and slumps.
Here is a breakdown of some of the biggest fantasy-relevant risers and fallers in contact rate over the last seven days.
Editor's Note: Get our 2020 MLB Premium Pass for 50% off, with exclusive access to our draft kit, premium rankings, player projections and outlooks, our top sleepers, dynasty and prospect rankings, 20 preseason and in-season lineup tools, and over 200 days of expert DFS research and tools.
Sign Up Now!
Contact Rate Risers
Data current as of 7/24/2019 and taken from RotoBaller's Premium Tool.
89% contact rate last seven days (+17%)
What a season Mitch Garver is having. In 205 PA the 28-year-old has 19 home runs and a .304 batting average. That is some jump for a hitter who had just seven home runs and a .268 batting average in 335 PA. Interestingly his K% is actually up 3.4% this season compared with 2017. That increase is reflected in his contact profile, with his overall contact% down 3.1% this season. However, when you look at his outside and inside the zone numbers they make for interesting reading. His O-Contact% is actually down a massive 10.5%, while his Z-Contact% is up 2.4%.
The interesting numbers really come after he makes contact. Despite his batting average being up over .030 his BABIP is actually lower this season. What Garver is doing is that he is hitting the ball harder and higher. His average exit velocity is up 2.2 mph and his launch angle is up 2.5 degrees. His contact this season has improved so much that his barrel% has jumped by nearly 10%. However, despite all of that his xBA sits at .254 right now. Last year his actual output outperformed his xBA, but only by .015. Therefore, I am extremely concerned that regression could be coming hard for Garver. This hot streak may present the perfect opportunity to sell before that regression happens.
100% contact rate last seven days (+16%)
2019 has been an interesting season so far for Marte. He is on pace to beat last years home run total of 20, with 16 so far, and his batting average is pretty much the same at .280. However, stolen bases are somewhat of a concern for his fantasy owners, as he has stolen just 13 bases on 16 attempts. After stealing 33 last season, his current pace is far below what fantasy players will have hoped for when drafting him.
Another interesting element for Marte is that his strikeout rate is actually down this season compared to his career. However, that comes despite a SwStr% and Contact% in line with his previous career numbers. Overall, his contact profile is very similar to what we have seen previously, reinforcing that what we are currently seeing is solid. After a slow start to the season, Marte has heated up, hitting close to .300 in May, June, and July, having managed just .200 in March/April. 11 of those 16 home runs have also been hit in that period. The only number that really stands out as potentially unsustainable is an 18.2% HR/FB rate. Given that his exit velocity and launch angle are similar to last year, it may be that we see his current HR rate slow a little as this season wears on. Even so, 20 home runs would have been more than enough for his owners at the start of the season, so now is not the time to be doing anything with Marte, other than holding him and hoping he can steal more bases in the second half.
100% contact rate last seven days (+16%)
It has been an injury-hit year, but it has been a solid year for Gordon. He has 16 stolen bases and a .280 batting average so far in 284 bases, which is putting him on bases to pretty much hit his career average this season. Nothing in his contact profile suggests any reason for concern that regression is coming, but it also does not suggest that he is suddenly about to get back to his .300-plus career-best performances. What has been impressive is that he is 16-of-18 in stolen bases this season. The biggest concern is that 12 of those 16 stolen bases came in the first two months of the season. Snce returning from injury he has stolen just four bases. That offers a lot of concern for me, and if this little surge in Contact% leads to a slight boost in performance in the coming weeks that might be time to sell him to a steals hungry team, who has yet to cotton on that he is not running very much since returning from injury.
Contact Rate Fallers
Data current as of 7/24/2019 and taken from RotoBaller's Premium Tool.
59% contact rate last seven days (-28%)
It has been a pretty good year for Verdugo so far, hitting an impressive .300 with 12 home runs and four stolen bases. It was tough to know what to expect from Verdugo as he had just a total of 111 PA under his belt in the major leagues prior to 2019. What has been impressive has been cutting his strikeout rate from over 16% down to 11.8% this season. That has been in part due to cutting his SwStr% to 6.3%, thanks to bringing his Contact% up and reducing his O-Swing%.
His batted ball profile has also been promising, with his average exit velocity and launch angle both up this season, which is the reason for the power increase. However, that has also manifested in a nice boost in LD% which is what is helping boost the average up to a point where he is fantasy relevant simply for that batting average. This dip is a minor concern, but the fact he is hitting just .233 in July is the bigger concern. However, the underlying numbers suggest to me that this dip in form may just present an opportunity to buy him as opposed to being a run away screaming situation.
60% contact rate last seven days (-21%)
I wrote about Bellinger's incredible numbers a few weeks ago for my first-half review. While I do not see this dip in the last week as an issue it does present an opportunity to suggest that he is unlikely to be as good in the second half. If someone is willing to blow you away with an offer then it is worth considering. What if you have already had 75% of Bellinger's production and you can flip him for two good options to help boost your team in the second half? It is worth considering at the very least.
52% contact rate last seven days (-17%)
McCann is in the middle of a career year right now. He has a .290 batting average and 12 home runs on the season, having never hit over .264 before. However, his K% on the season is higher than his career average, and his SwStr% is the highest it has been since his rookie year. His Contact% is down 2.8% on his career average, thanks in large part to a 3.4% drop in Z-Contact%. If you can find a market for McCann then now is the time to think about jumping ship. His numbers scream regression, especially the batting average, and then when you throw in the Welington Castillo returning from injury his playing time could get dicey.
Contact Rate Risers and Fallers - Premium Tool
Identifying top batting average surgers for each week can help you spot the best pickups before your competition. RotoBaller's Premium Contact Rate Risers and Fallers tool has you covered every day. As thoughtful fantasy baseball players, we won't lead you astray. Here is a small sample: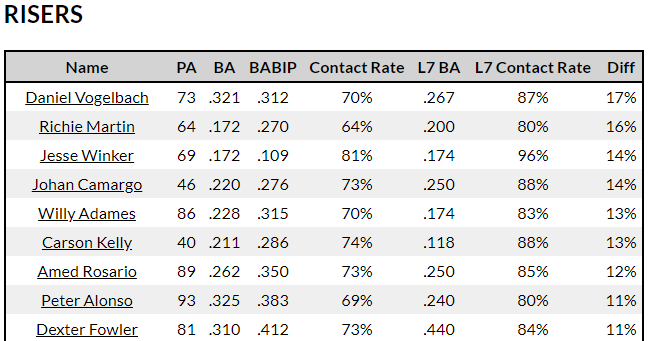 This type of data is available as part of our Premium MLB Subscription and launched on April 22nd for the 2019 season. Don't settle for basic stats and surface-level advice from other sites. RotoBaller brings you advanced statistics and professional analysis that you need to win your fantasy leagues and DFS games because we're ballers just like you. We are your secret weapon!
More Fantasy Baseball Advice and Analysis