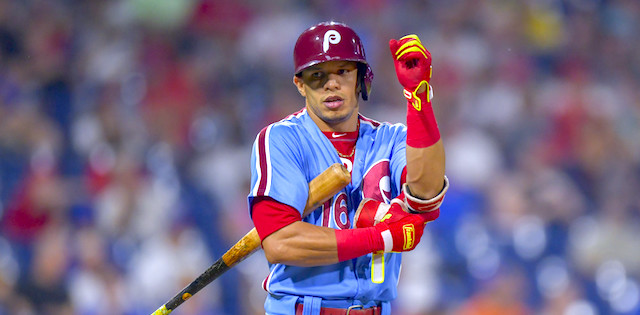 The Philadelphia Phillies second baseman Cesar Hernandez has produced solid fantasy results in his last few seasons and it's time to start taking him seriously in drafts.
Second base can be a tricky position to get good value after the first few rounds; Hernandez can help owners later in the draft with a quality option at a position filled with question marks. Will Jonathan Villar continue his late-season success in Baltimore? Does Dee Gordon still have 30 steals in him? Is Brian Dozier a legit bounce-back candidate?
Hernandez isn't an exciting name, but he brings consistency that any fantasy owner can appreciate. He can help in every category in standard 5x5 leagues and an improved Phillies lineup will only add to his value. Let's dig a little deeper to see how Hernandez can help you on draft day.
Editor's Note: Our incredible team of writers received 13 award nominations by the Fantasy Sports Writers Association including Baseball Writer of the Year, Football Writers of the Year, Golf Writer of the Year and many more! Be sure to follow their analysis, rankings and advice all year long, and win big with RotoBaller!
Read More!
The Perfect Situation... Maybe
The recent addition of Bryce Harper, along with the previous trades for J.T. Realmuto and Jean Segura, puts the Phillies leadoff hitter in an elite position for run-scoring opportunities. In roughly 2,000 at-bats since 2015, Hernandez spent 72% of them in the leadoff spot (93% in 2018). A healthy Hernandez batting leadoff for the Phillies would be a steal at his current 175 ADP (NFBC). Although, he isn't a lock to hold down the top spot in Philly.
We'll leave the speculation to the roster projection websites, who mainly have him hitting ninth, and focus on what Hernandez will give fantasy managers regardless of where Gabe Kapler decides to slot him in. Consider the potential of him getting at-bats at the top of the lineup a boost to his already intriguing value.
The 28-year-old consistently gets on base as evidenced by a .339 or better on-base percentage in the last four seasons. This is supported by excellent walk and strikeout rates. Over the past four seasons, he's averaged a 19.4% walk rate and a 10.4% strikeout rate. Despite a four-year low batting average of .253 in 2018, that was due to a dip in BABIP, Hernandez still managed an impressive .356 OBP. His .315 BABIP in 2018 was unusually low compared to his prior seasons. Fantasy managers can expect a bounce back in BABIP and BA in 2019. If he does stick at the top of the lineup, he could approach a career high in runs, possibly eclipsing the 100-run mark.
Seeing 20/20
In addition to on-base skills, another ideal attribute in a leadoff hitter is speed. Hernandez has produced 15-plus steals in each of the last four seasons with a high of 19 in both 2015 and 2018. The sustainability of the steals is a valid question as Hernandez recently suffered a grade one hip strain. Per reports, he's already back taking batting practice which is a good sign for his availability for opening day or possibly sooner. He played through a broken foot last year, so his grit isn't a question (more on the broken foot to follow). If he's healthy for the full season, he is capable of grabbing 15 bags with room for more, as he had 14 in just the first half of 2018. Temper those expectations a bit until he's back playing in games at full speed.
Based on Statcast data, Hernandez increased his launch angle to 9.4 degrees in 2018, a fairly significant increase from between 2.3 and 3.3 degrees in the prior three seasons. This resulted in a 9% increase in fly ball rate (to 33.6%) and a career-high 15 home runs in 2018. If he can maintain the fly ball rate, we can expect to get similar HR totals going forward, especially considering his exit velocity was essentially the same as the prior three years. Additionally, Citizens Bank Park ranks first in HR by righties, and sixth in HR by lefties (2017), which benefits Hernandez whether he's hitting from either side of the plate.
If he has a profile of a 15/15 player with upside for more, why is Hernandez so under-appreciated? Hernandez's poor 2018 second half has dropped his draft stock in 2019. He broke his foot in July of 2018 and expressed his discomfort affecting his play for the remainder of the season. His stats suffered after the All-Star Break as he hit a slash of .228/.324/.333 with 5 steals, a sizable decline from his first half slash of .270/.378/.382 with 14 steals. The potential of a fully healthy season should have fantasy owners excited to select him around picks 150-175.
Bottom Line
Cesar Hernandez can certainly out-earn his current 175 ADP if he is healthy and maintains his increased launch angle and fly ball rate. A 15 HR/15 SB player with a .270-plus BA is a valuable fantasy asset regardless of lineup spot. Take Hernandez as a high-end backup 2B, as he offers the consistency that can't be found with higher ADP guys like Moncada, Odor, or Dozier. Benefit from the consistency and immense upside if he hits at the top of a very dangerous Phillies lineup.
More Fantasy Baseball Sleepers and Undervalued Players