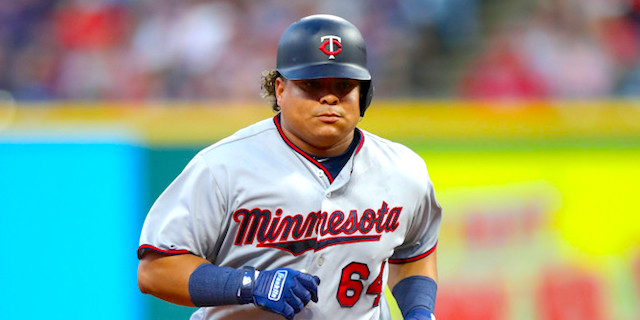 Welcome to Contact Rate Risers and Fallers for Week 2! Our premium tools allow us to get out ahead of trends in player performance, including contact rate. Every Thursday, we'll be looking at some players that have seen an increase in contact rate and some that have seen it decline.
Contact rate can foretell a player's batting average and general hitting statistics, and any drastic change could signal a shift in performance. Contact rate shifts often act as a precursor to hot streaks and slumps.
This week we will look at the first couple of weeks as a whole, as we are too early in the season to really look at changes in contact rate and make any meaningful conclusions about them. However, we can take a look at players who have started either strongly or badly and see how that differs from their 2018 numbers.
Editor's Note: Get any full-season MLB Premium Pass for 50% off, with exclusive access to our season-long articles, 15 in-season lineup tools and over 200 days of expert DFS research/tools.
Sign Up Now!
Contact Rate Risers
Willians Astudillo (C, MIN)
90.2% contact rate this season (-1.5%)
I am cheating a little bit here because I am actually picking a player who has worse contact numbers than last season. However, there is a method behind this madness! Astudillo's 91.6% contact rate was across just 97 plate appearances last season and therefore needed some time this year to see if that was a believable number. So far it looks like it may have been very correct and that sets Astudillo up in a rare position for a catcher, as a player who can contribute positively to batting average. Now there is next to no chance he is going to continue hitting at a .421 pace, but this start, combined with the strong debut in 2018 suggests there is a realistic chance Astudillo could contribute a .300 batting average this season. If he is still available in your leagues he is absolutely a player you should go and pick up immediately.
Hunter Renfroe (OF, SD)
84.8% contact rate this season (+13.8%)
When you come into a season with a career K% over 25 then your contact rate becomes an important indicator of your potential success for fantasy owners. Renfroe is off to a great start with an impressive 84.8% contact rate in his 33 PA so far this season. That has been reflected in his line to start the season, as Renfroe has posted a .333 batting average hit four home runs already. His success against right-handed pitchers this season has been in stark contrast to last season, as he has a .381 batting average against them this season compared to .245 last season. He was someone that I was extremely optimistic about coming into the season, and this start has only made me feel more strongly that 2019 is going to be a true breakout year for Renfroe,
Rhys Hoskins (1B/OF, PHI)
85.5% contact rate this season (+5.7%)
All eyes were focused on how Hoskins would begin the 2019 season, after a tough 2018. The good news is that he has started it strongly, seeing his contact rate rise nearly six percent. That rise has helped contribute to a .324 batting average over his first 44 plate appearances. The only slight question mark I have is that the gains in contact rate have come on pitches outside of the strike zone. His zone contact rate has risen a couple of percentage points, but outside of the zone he is currently making contact 14% of the time more than he did last season. Hopefully, that is just an indication that he is picking better pitchers outside the zone to swing at, but whether that will remain sustainable over the coming weeks and months is yet to be seen.
Contact Rate Fallers
Hanley Ramirez (1B, CLE)
52.9% contact rate this season (-28.6%)
Ramirez is not off to a convincing start in 2019. The veteran slugger has just a .208 batting average to open the season and a massive 36.7% strikeout rate. So far he is just about making contact with half the pitches he swings at, largely thanks to swinging over a third of pitches he sees which are outside of the strike zone. On those pitches, he is making contact just 37% of the time, which is over 20% worse than at any other time in his career. Bizarrely, he is also swinging at just 58.5% of pitches inside the zone, but even on those, he is making contact just 71% of the time, compared to a career average over 89%. There was a lot of intrigue over Ramirez getting another chance this year and so far it is proving to be a mistake for the Indians and fantasy owners.
Matt Kemp (OF, CIN)
55% contact rate this season (-17.6%)
There was a lot of hope that a change of location might be good for Kemp. However, so far Kemp is making contact on just over half the pitches he swings at. That is fuelled by problems making contact both on pitches inside and outside of the zone. The biggest issue for Kemp is that he appears to be falling back into the bad habits from 2016 and 2017 in terms of swinging at around 40% of pitches he sees which are outside the zone. Kemp has never been a big walker but this season he has yet to register a single walk, while striking out over 40% of the time. Whatever experiment fantasy owners were trying with Kemp, it may be time to move on.
Brandon Nimmo (OF, NYM)
56.3% contact rate this season (-19.2%)
This one is extremely worrying because Nimmo was a breakout hitter last season, who we hoped would carry the good form on this season. However, Nimmo has been struggling to make contact this season, striking out a whopping 46.3% of the time and registering just a .152 batting average. Of the three players on this list, he is the one I am going to remain the most patient with. He is still young and for the time being, he is still the leadoff hitter in New York. However, he is struggling to make contact with pitches both inside and outside the zone compared to last season. Hopefully, he is just experiencing a slow start and will get back to being the 75% contact rate hitter he was last season. At this stage, this is nothing more than a caution, but it could quickly become something more if the Mets lose their patience with him atop the batting order.
Contact Rate Risers and Fallers - Premium Tool
Identifying top batting average surgers for each week can help you spot the best pickups before your competition. RotoBaller's Premium Contact Rate Risers and Fallers tool has you covered every day. As thoughtful fantasy baseball players, we won't lead you astray.
This type of data is available as part of our Premium MLB Subscription and will launch on April 22nd for the 2019 season. Don't settle for basic stats and surface-level advice from other sites. RotoBaller brings you advanced statistics and professional analysis that you need to win your fantasy leagues and DFS games because we're ballers just like you. We are your secret weapon!
More 2019 Fantasy Baseball Advice