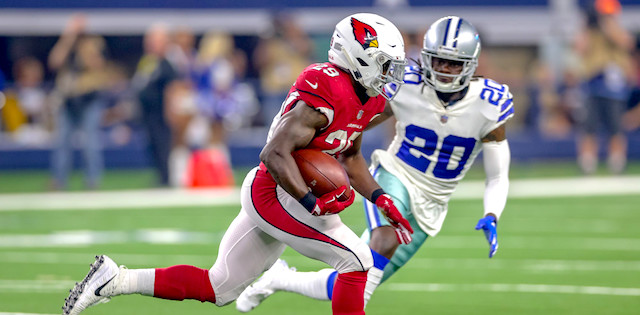 It's hard to believe that it's already Week 8 of the NFL season, but here we are. Last week wasn't an especially fun one for most of us, but that's the awesome thing about NFL DFS...every slate is completely different! Thanks for joining me here at RotoBaller, let's dig in and find some huge scores this week!
These DraftKings lineup recommendations are based on matchups, projected ownership, overall upside/talent levels, opportunity, and other factors such as Vegas odds, home field advantage, and more. There are quite a few great plays available, so read on to find out which players are the best for Week 8.
Good luck with your DraftKings DFS lineups, lets Break The Slate together!
Editor's Note: Get any rest-of-season NFL Premium Pass for 50% off. Our exclusive DFS Tools, Lineup Optimizer and Premium DFS Research through the Super Bowl.
Sign Up Now!
DraftKings DFS Quarterbacks - Week 8 Picks
Deshaun Watson - OAK @ HOU ($7,100)
I don't usually pay up at the QB position, but Deshaun Watson is awfully tempting this week. Watson is at a season high $7.1k, but he's exhibited his upside multiple times this year by topping the 30-point mark on three occasions. He draws a juicy matchup against an Oakland defense that was just torched by Aaron Rodgers. The Raiders are a legitimate 'funnel' defense that ranks fifth in the NFL in yards allowed per carry, but a pitiful 31st in yards allowed per pass. Houston always seems reluctant to unleash Watson (which is probably due in large part to their horrible o-line), but their defense has allowed 86 points over their last three games (this game carries the second-highest O/U on the main slate at 51.5), so they might not have a choice.
Josh Allen - PHI @ BUF ($6,500)
We'll dive into some numbers here, but to put it simply: if a competent quarterback is playing the Eagles...I'm auto-interested. Bills' QB Josh Allen is definitely more than competent, and I love the matchup this week. The Eagles are another 'funnel' defense that we want to target through the air...they rank sixth in the league in yards allowed per carry, but are a miserable 27th in yards allowed per pass, and have allowed the second-most passing yards in the NFL this season. We haven't seen a true 'ceiling' game from Josh Allen yet this year and he's can be very tough to predict, but with his huge arm and rushing ability we know he's capable of posting a true slate-breaking score. He'll have a tremendous chance of doing just that in a home matchup against this Philly secondary that has relinquished the fourth-most DK points in the NFL to opposing QBs.
*SATURDAY UPDATE: Not a lot to add at the QB position, as I'm personally gonna be pretty narrowly focused on just four guys this week...the two listed above with some Ryan Tannehill and Matthew Stafford mixed in. There are a couple of Titans mixed in to this week's write up, you can read those to see why I'm interested in targeting this Tennessee pass attack. Stafford is a play that could fly under the radar in a great matchup against the Giants. The Lions will be without Kerryon Johnson and have steadily morphed into a pass-first offense with Stafford logging over 30 pass attempts in every game and 40-plus attempts twice.
DraftKings DFS Running Backs - Week 8 Picks
Christian McCaffrey - CAR @ SF ($9,200)
Is this a tough matchup for Christian McCaffrey? Yes. But are we talking about Christian McCaffrey? Yes.
So, despite the very difficult matchup against a beastly Niners defense, we have to consider the most explosive back in football that plays 96% of his team's snaps to be in play for us this week. The matchup and his high price tag will drive lots of players away. I'll keep an eye on ownership projections and won't hesitate to go heavy if it looks as though he'll go underowned.
Chase Edmonds - ARI @ NO ($6,200)
I briefly touched on Chase Edmonds in this article last week with a 'keep your eye David Johnson's injury status' recommendation. Unfortunately, the Cardinals were very misleading about DJ's true health status, which cost us a smash opportunity with Edmonds. With Arizona working out backs this week and eventually signing a couple, it seems pretty clear that they don't expect to have Johnson in the lineup any time soon, which gives us a big ol' greenlight on Edmonds. The matchup isn't ideal, as the Cards must travel to New Orleans to face a stingy Saints run defense, but Edmonds has flashed legitimate jaw-dropping explosiveness and talent when he's been on the field. I don't think he'll come close to the 27 carries he received last week, but he will be the focal point for this high-volume Cards offense. My mind tells me that the combination of Edmonds' price increase and tough matchup makes this a letdown spot, but my eyes tell me that this kid is the real deal and has enough talent to make some noise on this slate.
Latavius Murray - ARI @ NO ($5,800)
Let's stay in the 'Big Easy' as we round out the RB position with Latavius Murray. Obviously, we want to keep an eye on Alvin Kamara's status here, but if AK is out (which I suspect he will be with a bye week on the horizon) Murray is a lock and load play against the Cards. This Arizona defense has struggled, to put it mildly, and they head into this matchup ranked 25th in yards allowed per carry. Stepping in for Kamara last week against a Chicago defense that's no pushover, Murray touched the ball over 30 times, racking up 150 total yards and two TDs. That's the type of volume that we dream about in DFS and I'll jump all over Murray in this juicy matchup when we get the final word on Kamara's status.
*SATURDAY UPDATE: Unfortunately, we still don't have clarity on the injuries we really want to know about...Alvin Kamara and David Johnson. It feels like Kamara is more likely to play than DJ, but it's something we'll have to continue to wait on. As I talked about in the write-up, both Edmonds and Murray are 'lock and load' if AK and/or DJ are out. I may have glossed over just how tough C-Mac's matchup is in the write-up, but the point still stands that it looks like we'll have an opportunity to grab the most explosive player in the NFL at heavily-reduced ownership. Saquon Barkley is yet to have a true 'Saquon Barkley game' this season, but this might be the week against a Lions run D that continues to struggle. On the other side of that matchup, Detroit's Ty Johnson is a viable value option. Leonard Fournette has to score some touchdowns at some point right? Both Todd Gurley and Chris Carson are in good spots...I do have volume concerns with Gurley, but none with Carson.
DraftKings DFS Wide Receivers - Week 8 Picks
John Brown - PHI @ BUF ($5,900)
With apologies to Michael Thomas (who I love if you're spending up), we're gonna skip down to John Brown at $5.9k as our first highlight at the WR spot. This is a piggyback play off of Josh Allen, as we want to target this Eagles secondary in all possible ways this week. Philly has allowed seven different players to go over 100-yards receiving this season and Brown is a legitimate deep threat that has went over 50 yards in every game for the Bills this year. I wish there was a tiny bit more volume here, but Brown is second on the team in targets this year at 45 and has received double-digit looks in two of Buffalo's six games. With an aDOT of 14.1 and Allen's huge arm, he's a tremendous way to attack this Eagles secondary that is dead last in the NFL in DK points and receiving yards allowed to opposing WRs.
Kenny Stills - OAK @ HOU ($4,700)
Houston's Kenny Stills is a similar type of player to the aforementioned John Brown. He's a fast, deep threat for the Texans and boasts an aDOT of 13.2. Stills has somewhat alarmingly only been targeted 19 times this season, but he's missed two games with an injury and been behind Will Fuller on the depth chart. With Fuller out this week, Stills should slide into Houston's two-wide receiver sets immediately. He posted his best game of the year last week against Indy when Fuller left on the third play of the game, catching four of five targets for 105 yards - and perhaps most importantly - he was on the field for 61 of Houston's 65 snaps. He squares off against an Oakland defense that is 31st in the league in yards allowed per pass and has allowed the most pass plays of 20-plus yards in the NFL. Six of Stills' 15 receptions this year have been for over 20 yards, so this lines up as a true smash opportunity for the speedster.
Corey Davis - TB @ TEN ($4,400)
Did the Titans 'unlock' Corey Davis when they benched Marcus Mariota? That may be simplifying things a bit, but Davis did look extremely good with Ryan Tannehill at QB for Tennessee last week. CD hauled in six of seven targets for 80 yards and a score. We've always known that Davis is talented, but he's been held back by injuries, offensive scheme, and sub-par quarterback play throughout his career. He has a great chance to stay hot in Week 8 thanks to a matchup with the Tampa Bay Bucs, a team that has allowed the fewest rushing yards in the NFL, but ranks dead last in the league in yards allowed per pass. We know the Titans will want to run the ball in this (and every) game, but they might eventually be forced to the air against this Bucs defense that is allowing just a shade under 2.75 yards per carry. I'm still not ready to completely trust this Tennessee offense, but Davis profiles as a nice 'boom or bust' GPP play in this spot.
*SATURDAY UPDATE: I don't usually spend up at WR, but there's plenty of ways to do it this week, with Michael Thomas and Deandre Hopkins being my favorite options at the top. Kenny Golladay is a prime bounce-back candidate in a great matchup against New York. Courtland Sutton is now 'The Man' in Denver, but we've seen lots of receivers struggle when making the jump from 'number two' to 'number one'. If you're interested in stacks, you can pair Cole Beasley with John Brown or AJ Brown with Corey Davis.
DraftKings DFS Tight Ends - Week 8 Picks
Darren Waller - OAK @ HOU ($5,900)
Tight end has been a fairly easy position over the last several weeks, with the only real problem being too many good options. Unfortunately, that's not really the case in Week 8 as there's not any true 'smash spot' matchups that stand out. In the absence of a no brainer, let's get things started at TE with Oakland's Darren Waller. Houston doesn't grade out bad against tight ends specifically, but the Texans have struggled horribly against the pass. They rank 22nd in pass defense DVOA and stand 29th in the league in yards allowed per pass. Waller is basically a tight end in name only, as he's running pass routes on around 85% of snaps and has been targeted a massive 50 times this season. He's without a doubt the most trustworthy (when I say trustworthy, I mean TRUSTWORTHY...Waller has been targeted 50 times for 44 catches and he's been credited with ZERO drops this season!) pass catcher available on this Oakland offense that should be forced to keep up through the air in this one due to Houston's effectiveness against the run.
Jonnu Smith - TB @ TEN ($2,800)
This recommendation obviously hinges on the availability of Titans TE Delanie Walker, who is currently questionable as I type this. If Walker is ruled out, Jonnu Smith is an intriguing salary saver at the bargain-basement price of $2.8k. Smith stepped in for the injured Walker last week and caught all three of his targets for 64 yards. He would step into a juicy matchup against a Bucs defense that has struggled mightily against the pass and specifically tight ends. Tampa Bay trails just the infamous Arizona Cardinals in both DK points and receiving yards allowed to opposing TEs. I know this article is called 'Breaking The Slate' and it's hard to classify Smith as a true slate breaker, but he's a huge salary saver with legit upside that allows you to spend up in other roster spots this week.
*SATURDAY UPDATE: Similar to Christian McCaffrey at the RB spot, Waller is a 'talented guy with high volume in a tough matchup'. When I was originally writing this week's article, Matt Ryan was an unknown, but with him looking likely to go, Austin Hooper is definitely in play...as is New York's Evan Engram in a rebound spot. Hunter Henry has received a price bump and gets a tough matchup against Chicago, but he's received eight and nine targets in two games since returning to the Chargers lineup, which makes him viable based on volume alone. If you need to save salary at the TE position, the TB vs TEN game is fertile territory, with both Jonnu Smith and Cameron Brate filling in for injured starters.
DraftKings DFS Defenses - Week 8 Picks
New England Patriots Defense - CLE @ NE ($4,300)
This is the first time that I can ever remember myself making a defense a true priority in DFS, but that's where I've been this season with the New England Patriots. I've always been the guy screaming "Save as much as possible at D/ST!", because it is so volatile and unpredictable, but this Pats unit looks 'comes-along-once-in-a-decade good' and they are - crazy as it is to say - a legitimate DFS weapon at this point. New England should tee off against a discombobulated Browns offensive line and head into this matchup averaging over 20 DK points per game this season.
Jacksonville Jaguars Defense - NYJ @ JAX ($2,900)
The Jags will try to put a scare into Sam Darnold and the New York Jets this week. The Jets QB is fresh off a terrifying Monday Night Football outing against the Patriots and this blitz-happy Jacksonville defense will try to spook Darnold into making some more bad decisions in this one. The Jags defense has played well at home this year (outside of the ugly season opener against Kansas City) and have racked up 12 sacks while allowing just 20 total points in their last two games at TIAA Bank Field*.
*Yes, I had to Google the name of the Jags stadium.
*SATURDAY UPDATE: It's hard no to love the Patriots this (and every) week, but they are pricey. The Colts aren't an especially great defensive unit, but man...Joe Flacco is horrible. Even lower down the salary scale, the Carolina Panthers are in a tough spot against a solid Niners team, but they have continually produced sacks and turnovers this season and are very reasonably priced at just $2.4k. Pairing this Panthers D with C-Mac is a really intriguing way to gain leverage in large-field GPPs.
More Weekly DFS Analysis