Welcome back to "Are You For Real?", a weekly column where we take starting pitchers who had surprisingly good starts over the past week and put them under the microscope to determine whether they're legit or just smoke and mirrors.
We've got a pair of arms in the AL East to take a peek at this week. We're looking at the re-emergence of Domingo German in New York, and the recent hot streak of Kutter Crawford in Boston.
Roster percentages are taken from Yahoo and are accurate as of 8/15/22.
Featured Promo: Want a free RotoBaller Premium Pass? Check out these sports betting promo offers from the top sportsbooks! All new sign-ups get a free bonus offer on their first deposit, and a free year of RotoBaller's Premium Pass for all sports ($450 value)!
Sign Up Now!
Domingo German, New York Yankees – 23% Rostered
2022 Stats (before this start): 17.2 IP, 5.09 ERA, 5.78 FIP, 8.6% K-BB%
8/12 @ BOS: 6 IP, 5 H, 1 ER, 2 BB, 4 K
German turned in the best start of his season on Friday, holding Boston to just one run over six innings. It was a tough luck no decision for German, but he still earned his first quality start in this outing. This start also helps solidify German's spot in New York's rotation, and with Luis Severino on the 60-day IL, German has a chance to be a contributor for the next month or longer. He's shown flashes of brilliance before, but those flashes often come between periods of volatility. Is German a late-season gem, or is this another fake-out?
Originally acquired by New York from Miami as a thrown-in piece in the Nathan Eovaldi trade, German never had much prospect pedigree. He was non-tendered by the Yankees in 2015 before working his way back with the team and projected as a reliever long-term. German pitched out of the bullpen when he first cracked the majors, but injuries soon had him in the starting rotation.
He had an ugly 5.57 ERA during his first season as a starter, but a 3.68 SIERA and some impressive stuff had several analysts predicting a breakout from German in the 2020s. To date, the breakout hasn't happened, but the impressive stuff is still present. German works with a four-pitch mix, consisting of a four-seam fastball, sinker, changeup, and curveball. The curveball is the main attraction with German. Widely considered his best pitch, German has dazzled crowds and baffled hitters with a sharp, dropping bender throughout his MLB career.
Coming in at around 81 MPH, German's curveball is most notable for its movement. He boasts three extra inches of vert on his curveball compared to league average, and a whopping 9.3 additional inches of break. To top it off, the pitch has above average spin at 2554 RPM, making it a deadly pitch when properly commanded. Batters have been stupefied by the pitch as well, with opponents managing just a .181 AVG and .585 OPS off German's curve throughout his MLB career. He also has a monster 18.9% swinging strike rate with the pitch, an exceptional number for a curveball.
The pitch has been great in the past, but it's underperformed a bit this season. Opponents are hitting .259 with a .741 OPS off the curveball in 2022. With a .308 xBA and .343 xwOBA, Statcast sure thinks German's curveball deserves its poor outcomes, but this writer isn't so sure. If we dig into the quality of contact, it's hard to imagine batters performing so well off this pitch. Not only are the measurables eye-popping, but batters aren't striking the ball well when the make contact with the pitch.
The average exit velocity against German's curveball is a measly 83.5 MPH. What does hurt are the line drives, as German has allowed a 35% line drive rate with his curve this season, along with an 8-degree average launch angle. Those numbers are bloated compared to seasons past for German, so something must have changed. Let's compare a German curveball from this season to one from his best major league season, 2019.
2022:
2019:
Both look sharp and effective, and no major differences can be seen. Let's take it one step further and dig into his curveball heatmaps from this season compared to the rest of his career.
2017-21:
2022:
There we have it. German is spending a lot more time in the middle of the zone this season. This likely isn't intentional, but the product of poor command. German has the stuff, but he has often struggled to put the pitch where it needs to go. It's a big reason why he's so volatile on a start-by-start basis. One day he can paint the corners with this curve, and the next he's tossing beach balls right down the middle.
As one might imagine, this is not a recipe for success, especially for someone pitching in Yankee Stadium. German has been a chronic sufferer of Gopheritis, as evidenced by his career 1.78 HR/9 as a starter and 1.84 HR/9 at home. Even as home runs have slowed down this season he's allowed 1.52 HR/9, which would be the third-highest mark among qualified pitchers if German had enough innings to qualify.
The good news is that German hasn't allowed a homer in either of his last two starts, but both of those were on the road. He's trending in the right direction, but still has a long way to go before he can put the home run concerns behind him.
There is one other drawback to German, which is the ineffectiveness of his stuff outside of the curveball. On paper his fastball should be a good pitch; he throws it around 93 MPH and it has 97th percentile spin. However, opposing batters have put up video game numbers against the pitch, including a .385 AVG, .808 SLG, and .444 wOBA. Let's have a look at his fastball heatmap from this season.
It again comes down to poor command with German, who seems incapable of consistently locating his pitches. In the past German made up for it with exceptional strikeout numbers, but his 6.46 K/9 this season is downright pitiful. Ultimately, German possesses some interesting raw talent, but the same flaws have dogged him throughout his career, and at age 30 it's hard to envision a major turnaround at any time in the near future.
Verdict:
The Domingo German curveball is still there, but so are the home run issues, poor command, and inability to work efficiently and pitch deep into games. The Yankees are only using him as a starter because they have no better options, but if you're in a standard league you almost certainly have someone better on waivers. If you're in a weekly league and need a miracle German's previous strikeout prowess and above average stuff make him a decent dart through in certain situations, but you are just throwing him in your lineup and praying at that point.
Kutter Crawford, Boston Red Sox – 13% Rostered
2022 Stats (before this start): 58.2 IP, 4.30 ERA 3.70 FIP, 16.7%
8/13 vs. NYY: 6 IP, 2 H, 2 ER, 4 BB, 5 K
Crawford came up big for his club against the mighty New York Yankees on Saturday, holding the prolific offense to just two runs on two hits over six innings for the quality start. This start was the continuation of a positive trend for Crawford, who has thrived since taking a rotation spot in early July. Over his last seven starts Crawford has a 3.63 ERA and 3.67 FIP, his lone blip a five-run outing against the Royals on August 7. With Chris Sale done for the season, Crawford's rotation spot is relatively secure down the stretch, but can he be an effective fantasy option?
Boasting one of the best pitcher names we've seen in quite a while, Kutter Crawford was originally drafted in the 16th round of the 2017 MLB draft by Boston. Never much of a prospect, Crawford diced up minor league hitters for a 10.6 K/9 across all levels. Those strikeout numbers helped him earn a spot on the big league club and eventually a starting role.
Crawford works with five pitches, including a four-seam fastball, slider, curveball, split-change, and, of course, a cutter. The cutter has been one of his most relied upon pitches this season, but not his most effective. That honor goes to his curveball, a pitch that has stymied opponents all year long.
Opposing batters have managed just a .179 AVG, .333 SLG, and .235 wOBA off Crawford's curveball this season. Even when they do make contact, batters can't do much with the pitch as Crawford has allowed an 88.7 MPH average exit velocity and a 44% groundball rate off the curve this season. What makes the curveball so special, exactly? Well, that's a bit of a mystery.
At 2262 RPM, Crawford's curveball has a spin rate well below league average. The movement on the pitch also pales in comparison to that of Domingo German and is much more "meh" than one might like out of a fantasy asset. His one standout skill with the pitch has been command. Here's a heatmap of Crawford's curveball usage this season.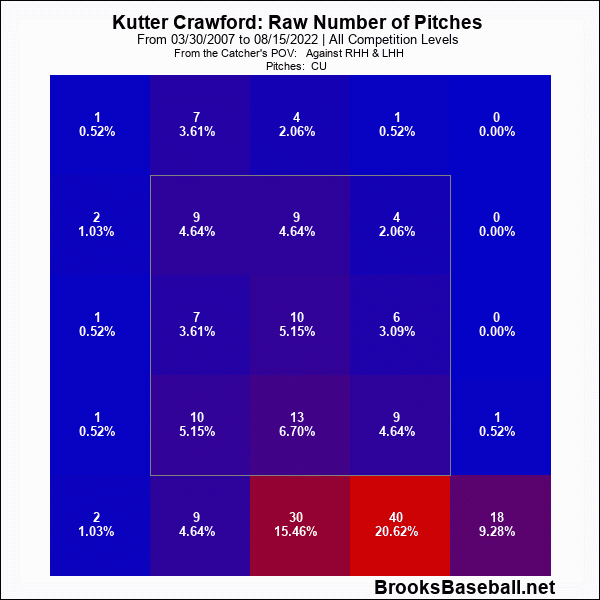 Low and away, exactly where we want a curveball to be. Crawford and German make an interesting contrast here because in this writer's opinion German's curveball blows Crawford's out of the water, but Crawford's superior command has yielded better results thus far.
It's still a small sample on both pitchers, especially German, but a fascinating nugget to ponder in terms of fantasy strategy. What's more important, raw talent or outcomes? In fantasy, it's generally better to target upside on waivers and hope for a breakout, but it's a tough choice to make when Crawford is currently performing while German has struggled outside of Friday's start.
Stepping away from the comparison, there is a little more to Crawford's game than the curveball. In fact, he's primarily a cutter-fastball guy, throwing those two pitches a combined 69.7% of the time this season. Ironically, the cutter doesn't look all that special from Crawford. Its middling measurables make it look more like a bad slider than anything else, and batters have had no trouble with the pitch either. Opponents have a .258 AVG, .376 SLG, and .326 wOBA off Crawford's cutter this season. It's kind of a junk ball, and Crawford likes to lean on it when behind in the count. His fastball, on the other hand, does have some noteworthy traits.
Above average in both velocity (94.9 MPH) and spin (2409 RPM), Crawford sure has the ingredients of an effective fastball, though the results haven't quite been there yet. Opponents are hitting .269 against the pitch with a .436 SLG, but a .230 xBA suggests better days could be ahead for Crawford with his heater. He'll need to do a better job of limiting hard contact to make that happen, as batters have a 90.6 MPH average exit velocity off his fastball this season.
The reason for Crawford's low xBA is his heavy flyball tendencies with the pitch. Crawford has a 50.9% flyball rate and 17.9% infield flyball rate with his fastball this season. Flyballs are indeed the best type of batted ball for power purposes, but a flyball is also the least likely batted ball to fall in for a hit.
Fenway Park is a great place for a righty with flyball tendencies to pitch, but it's always concerning when a flyball pitcher is allowing this much hard contact. It's likely why his xSLG is still at .450 despite a lower xBA. Crawford developed something of a homer problem when he hit the higher levels of the minors, so unless he can reduce hard contact allowed, there's a reason for concern.
Verdict:
Crawford has pitched adequately when the Red Sox have called upon him to take on unexpected roles, but when it comes down to it, the stuff just isn't that impressive. His curveball is average at best, his cutter is disappointingly mediocre despite the name, and his fastball has strong measurables but too many flyballs and too much hard contact limit its upside. Altogether, this isn't a very exciting pitcher and he's only useful against weak lineups in streaming situations. His next start comes Friday at Baltimore, which isn't a bad spot if you need someone in a pinch, but he's still a low-end streamer nonetheless.
Download Our Free News & Alerts Mobile App
Like what you see? Download our updated fantasy baseball app for iPhone and Android with 24x7 player news, injury alerts, sleepers, prospects & more. All free!


More Fantasy Baseball Advice