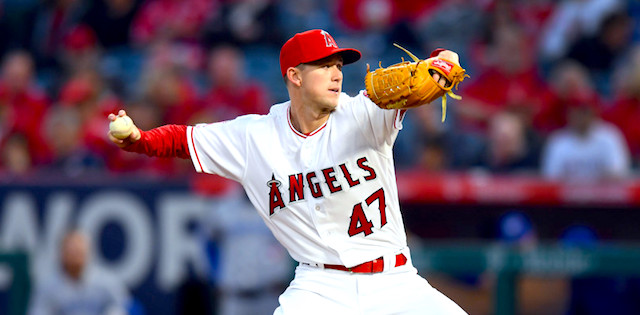 Today I'm bringing you five American League Starting Pitcher sleepers to consider late in fantasy baseball drafts.
These players are all being drafted well outside the top 200 picks in recent drafts.
Check out other sleeper articles at the bottom of this page or look for my favorite discount draft targets for strikeouts and wins.
Featured Promo: Get any full-season MLB and DFS Premium Pass for 50% off. Exclusive access to our Team Sync platform, Premium articles, daily Matchup Rating projections, 15 lineup tools, DFS cheat sheets, Research Stations, Lineup Optimizers and much more!
Sign Up Now!
ADP: 288
The young Angels righty had a decent amount of hype when joining the Big League team in 2019, but he hasn't been able to post the best numbers thus far with a 4.36 ERA and a 1.28 WHIP in his 146.2 innings. His minor league track is pretty impressive with a 3.27 ERA, a 1.22 WHIP, and a big 9.9 K/9 rate.
What makes me optimistic about Canning is his breaking stuff. Over the last two seasons with the Angels, he has posted an 18.8% swinging-strike rate with his slider with hitters slugging .346 against the pitch. The most interesting note on Canning was that he had a lot of success with his high-spin, high-velocity curveball in 2019 (17.1% swinging-strike rate, .296 slugging percentage against), but he did not throw the pitch in 2020. It looks like he's throwing the pitch again here in Spring Training, which makes him really interesting to me despite his lackluster 2020 season.
His fastball has not been elite by any means, as hitters have just a 7.6% swinging-strike rate against it and have slugged .470 on the pitch. The pitch is not without velocity though, so that's encouraging as he averages 93.5 miles per hour with that offering.
If Canning can locate his fastball, and throw that great curveball of his again, I think he has a really nice ceiling for a guy going this late. The six-man rotation the Angels are deploying to start the year will cost him a few starts, but Canning remains a late-round upside option to add to the backend of your fantasy staff.
ADP: 296
The helium dispenser has been opened, as Odorizzi has already begun to rise in the ADP after signing with the Astros. Right now he's still in "sleeper" territory though, but the maximum in NFBC drafts currently sits at 196, so eventually you might be dipping below pick 200 to get your hands on him.
There is a legitimate reason for the excitement with Odorizzi joining a team that has shown that they know how to get the most out of their starters. Odorizzi had an awesome 2019 season with a 3.51 ERA, a 1.21 WHIP, and a 27.1% strikeout rate in 159 innings with the Twins. He struggled with injuries last season and threw just 13.2 innings.
Over the last two seasons, Odorizzi has a 14.6% swinging-strike rate with his four-seamer, and that is really, really high for a fastball. Hitters have slugged just .322 against the pitch, also a very encouraging number. To that nice fastball foundation, he adds a splitter that has earned a 48% ground-ball rate and a 12.7% swinging-strike rate, as well as a decent cutter and unimpressive curveball.
While there are still open questions about his health, Odorizzi has a very good chance to crush this draft price if he can remain in the Astros rotation for most of the year. He is a veteran guy with a good fastball, and now getting a strong offense behind him really raises his floor a bit as well. I'm on board.
ADP: 306
Minor had a couple of brutal starts in 2020 and overall was bad, earning a 5.56 ERA and a 1.24 WHIP, although he did keep his strikeouts up at 26%. He will be 34 on Opening Day, but he does get a park upgrade going from Texas to Kansas City. Minor remained a three-pitch guy in 2020, throwing a four-seamer, a changeup, and a slider.
The high-spin fastball performed well again in 2020 with a .360 slugging percentage against and an above-average 10% swinging-strike rate, and he also had nice results with the changeup (.339 slugging percentage against). His slider, however, got blasted to the tune of a 14% barrel rate. Over the last two seasons, hitters have slugged just below .500 when he throws the slider.
So it might be high time for Minor to really reduce his slider usage, and that absolutely does cap his ceiling. However, if he maintains his strong fastball/changeup combination, I think he will easily beat this draft cost. Fantasy managers are staying away from Minor because of the rough 5.56 ERA they saw from him in 2020, as well as just the lack of upside and age, but he's a guy that has thrown a bunch of innings in the past and could be someone the Royals really rely on to eat up innings for them near the top of their rotation. Even despite his struggles last year he still earned a 26% strikeout rate. The cavernous ballpark should help him keep a few more fly balls in the yard, setting him up for a reasonable 25 start, 4.00 ERA, 1.20 WHIP projection with a good amount of strikeouts. I'll take that at pick 306.
ADP: 320
Skubal was rushed to the bigs with the minor league season cancelation last year, and he threw only 38 innings for the Tigers last year. In those innings, however, he was pretty impressive with a 27.6% strikeout rate and 8.2% walk rate. His ERA was bloated by an issue he had with giving up the longball (2.5 HR/9), so that's something that needs fixing in a hurry if he's going to be useful for fantasy purposes.
There is reason to believe in the improvements. Last year Skubal threw his fastball 59% of the time. And while it's a good fastball (touches the upper 90's in velocity, has a high spin rate), throwing it that much is a recipe for a lot of homers being hit, but he did get a lot of whiffs with the pitch to boot (12.6% swinging-strike rate).
To be a successful Big League pitcher, Skubal is going to have to be less reliant on that fastball. The good news is that he has a changeup and a slider in his repertoire. With the changeup, he generated a nice 15.6% swinging-strike rate, but a .538 slugging percentage against. The slider was probably his most effective pitch with a 12.9% swinging-strike rate and a .290 slugging percentage against. Both of those pitches need some work, and Skubal obviously has a lot of work to do in commanding and mixing up his arsenal better, but he has the tools to be a really effective pitcher.
As a young pitcher just breaking into the Majors on one of the league's worst teams, there isn't a ton of innings upside here, but I think Skubal could generate a lot of strikeouts for a guy going well after pick 300. He's a nice sleeper gamble in deep leagues.
ADP: 377
Nobody knows a pitcher better than his catcher, and Yasmani Grandal would certainly agree with Cease's placement on this list. The White Sox backstop has used Cease's name and "Cy Young" in the same sentence already this spring. Now, of course, this doesn't mean a whole lot - it's not like the catcher is going to come into camp bad-talking his starting rotation, but your ears definitely perk up when you hear a teammate using such glowing terminology.
The breakout expectations from a teammate also mean more, at least to me, when they are about a pitcher that had a big prospect pedigree. In 2018, Cease racked up an 11.6 K/9 ratio in the minors to go with a 2.40 ERA and a 1.07 WHIP. Those numbers have yet to translate to the Majors, as his 8.6 K/9, 5.00 ERA, and 1.50 WHIP leave a lot to be desired. However, just watching the guy pitch makes you think there are a lot better numbers to come.
Cease has a huge fastball, which we already know is hugely helpful in turning into a stud pitcher.
What you see above is the velocity and spin rate of each of Cease's fastballs plotted with the rest of the league's fastballs and Cease's pitches in orange. He regularly touches 99 with the heater and averaged 96.9 on it last year. Despite the big velocity and spin, he did not have a ton of success with the pitch with just an 8.5% swinging-strike rate. The problem with the pitch is most likely command. He threw it for a strike just 45% of the time. When he was throwing it in the zone, hitters did not have much trouble, compiling a .473 slugging percentage off the pitch. It's a promising fastball by the numbers and could be a really useful weapon for Cease if he refines his control.
The thing to be optimistic about with Cease is how deep his arsenal is. A great fastball is made even greater by having a lot of other pitches to mix in with it. Cease throws a slider (25%), a curve (14%), and a changeup (11%). That makes him one of the few pitchers in the league with four offerings with usage over 10%. He flashed some upside with the slider already with a 15% swinging-strike rate, and he generated a ton of ground-balls with the curveball (62% ground-ball rate, and an average launch angle of 0.5 degrees). None of his secondary pitches have been great for him in his young career, but the fact that he has a deep arsenal definitely raises his ceiling. If Cease can command the ball better this year and continue to improve his breaking pitches, he really could take a huge step forward, making him a nice, cheap guy to roll the dice on.
Download Our Free News & Alerts Mobile App
Like what you see? Download our updated fantasy baseball app for iPhone and Android with 24x7 player news, injury alerts, sleepers, prospects & more. All free!


More Fantasy Baseball Sleepers