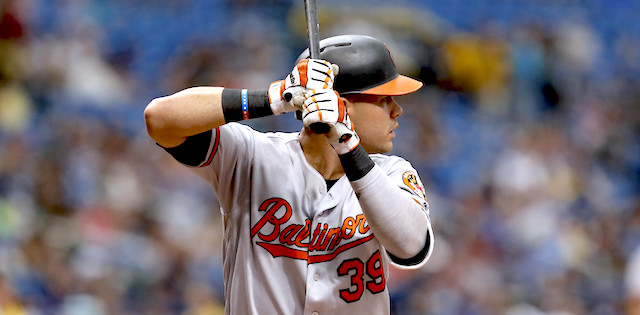 Welcome to the Wednesday, July 24th edition of Daily Slivers of the Fantasy Soapbox.
Discussing baseball is as fun as the game itself. It has a way of bringing people together to share different opinions about the sport we all love. A similar action can be done with fantasy baseball where we not only discuss topics but also look to improve our teams as well as the teams of our fellow fantasy baseball enthusiasts. Everyone has their own perspectives which are not to be cast off as frivolous. They should be used as a method of expanding our own knowledge.
In this article, I review the previous day's boxscores and provide my opinion on a variety of topics. Some will be random, some will be fun, and some will be stat-driven. It's a soapbox so I may rant from time to time as well. So without any further delay, below are my thoughts on July 24th. Enjoy them. You can even respond with your own thoughts on Twitter @EllisCan2.
Editor's Note: Get any full-season MLB Premium Pass for 50% off, with exclusive access to our season-long articles, 15 in-season lineup tools and over 200 days of expert DFS research/tools.
Sign Up Now!
Daily Musings
We're going streaking!!! Renato Nunez w/three long balls in four games. Only 30% owned. I take it everyone has their fill of power.
Paulie gives you power. Paul Goldschmidt has 6HR(20), 19RBI, .235AVG in last 15 days. Remember when he had double-digit SB annually? Zero in 2019.
Rookie love for Peter Alonso's power and Fernando Tatis Jr.'s other-worldliness is blinding people to Victor Robles combo skills. 14HR/16SB. 75% owned.
How many years has Trea Turner played a full season? Speed is that powerful to warrant the value.
Stephen Strasburg the first to 13W. 3.37ERA(3.00FIP)
Dakota Hudson taunting me w/Ws. Four-straight wins. 4.43ERA/1.48WHIP during that time. Yuck. 6.3%K-BB is what forced me to drop him. Don't get cute and add him; he's got Astros next.
13 games without a Josh Bell HR. Homer-cup is getting empty. Refill, please.
Trevor Bauer was marvelous. 7.2 scoreless innings w/9K. What?! Look at my face! I don't care that Blue Jays are in bottom-10 in Ks.
Sir/Madam, this is a very special evening. It is not on the menu, but the save du jour is Marcus Walden.
Oh Snap! Matt Duffy is back! 2-for-3. Hold onto your glue and bubble gum in case another injury arises. The Rays offense is so crowded. A mess.
Travis d'Arnaud has found his groove. 6HR, 16RBI, .327 in last 15 days. Enjoy it while it lasts.
Andrew Benintendi batting .280 last week. The fifth spot seems to suit him. Nobody move.
Roman Quinn owners! Rejoice in his 1st HR to go with 4SB and .117AVG. No takers? Guess we don't need speed that bad.
Matthew Boyd had a great game to boost trade value in a duel against Aaron Nola. We will call it a draw. —— I told you, It doesn't work that way!!!
When you're hot, it is a HR even when it might not be a HR. Yuli Gurriel huffin' & a puffin' for an inside-the-park HR(20) (no error, really?) (You get a HR! You get a HR! Everyone gets a HR!!!)
Mike Fiers was superb vs Astros. 7.2IP, 2ER, 3K. Rangers at home next. I like that.
THUNDER! 7HR in 15 days. Eugenio Suarez is a madman. Three series at home coming up. Giggity Giggity!
C'mon, did anyone really believe soft-tossin' Zach Davies wouldn't have a few bruises? 4IP, 6ER, 7K.
"Please make the bad man stop." ~ Domingo German w/3.2IP, 8ER, 3K.
Miguel Sano w/two spectacular crowd-pleasers, 414ft & 457ft. 92.4mph avg exit velo helps as .303BABIP only gets a .229AVG.
Didi Gregorius trying to hoard RBI(7). Sixth Twinkie, .281AVG for those that waited.
It's sad to watch two bad teams pick on each other. Caleb Smith took advantage w/ 7IP, 1ER, 9K.
Ooooh, Merrill Kelly owners. Here's a bag of frozen peaches. It's the best I've got but it will work for a 2.1IP, 7ER, 4K bruising.
Anthony Santander 6.8%BB, 18.8%K, 8%SwingStrike, 83.5%Contact rates are nice. 36%Chase isn't too terrible. 89.3mph avg exit velo. Not a bad profile at all. Wish there was speed. He's hot right now.
Just when you think you've got baseball figured out, the Giants are above .500.
40% of people just don't give a damn. They want the power from the keystone. The loan officer with nameplate that reads Rougned Odor provides 2HR. Accompanying it is was an anchor w/something engraved on it. As the 40% passed, suddenly hunched over, I was able to make out the etching….203AVG.
Comin' through. Make room. Y'all are in my way. I'm just getting to my spot in the line. Yes, VIP card. That's right. Make way. 33HR coming through. Me?! I'm Mike Trout, who the hell are you. Uh, we're the rest of baseball. Suddenly beads of sweat appear from each of Christian Yelich, Cody Bellinger, & Peter Alonso's brow.
Woah, Grandma. Tell me bout the good 'ol days! ——In those days, Robinson Cano would hit three whoppers in one game. Reminisce.
Have a great Wednesday. Enjoy the fresh air. Send some good vibes today.
No Fear, Just Fantasy.
More Fantasy Baseball Analysis