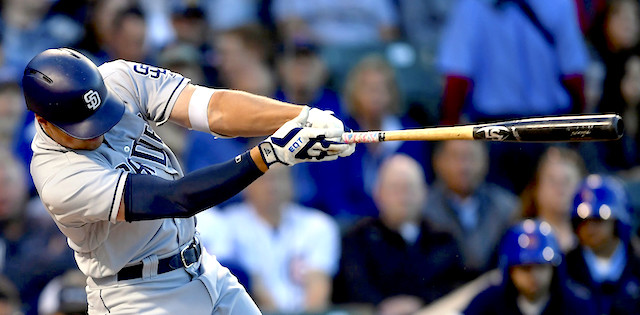 Welcome to the Sunday, July 7th edition of Daily Slivers of the Fantasy Soapbox.
Discussing baseball is as fun as the game itself. It has a way of bringing people together to share different opinions about the sport we all love. A similar action can be done with fantasy baseball where we not only discuss topics but also look to improve our teams as well as the teams of our fellow fantasy baseball enthusiasts. Everyone has their own perspectives which are not to be cast off as frivolous. They should be used as a method of expanding our own knowledge.
In this article, I review the previous day's boxscores and provide my opinion on a variety of topics. Some will be random, some will be fun, and some will be stat-driven. It's a soapbox so I may rant from time to time as well. So without any further delay, below are my thoughts on July 7th. Enjoy them. You can even respond with your own thoughts on Twitter @EllisCan2.
Editor's Note: Get any full-season MLB Premium Pass for 50% off. Exclusive access to our Draft Kit, premium rankings, projections, player outlooks, top sleepers, dynasty and prospect rankings, 15 in-season lineup tools, and over 200 days of expert DFS research.
Sign Up Now!
Daily Musings
Max Scherzer deadly on the mound(7IP, 0ER, 11K) & lethal on the bases(SB).
For so long there was a disconnect between fans and players. I like that players are breaking the divide and even playing catch with fans before/during the game.
Shawn Kelley allows 2ER, 2K, 1IP. Would the real Rangers closer please stand up?
Willie Calhoun w/fifth HR; struggles in last week (.125AVG). Hunter Pence will cause a squeeze after ASB.
Renato Nunez streaking. 20th HR, but .239AVG. 19% Owned & gets home series after ASB. I like it.
Christian Yelich caught stealing. One game left to join 30/20 club, pre-All-Star break.
THUNDER! Mike Moustakas strikes w/25th rocket.
12 Pirate runs, but Josh Bell missing. Colin Moran biggest beneficiary, 4-for-5, 3RBI.
Francisco Lindor's two HR foiled Anthony DeSclafani start. Lindor w/14HR, 13SB, .295AVG. 2.5WAR. IL start provided free money.
Shane Bieber w/8IP, 2ER, 8K. Ace of Indians staff?
Deja Vu. Back-to-back game action:

Brett Gardner w/14th hook over the wall.
Nate Lowe does it again(second HR). The third stint of the year going much better. Power.
Hunter Renfroe w/424ft cannon fire (27). .248AVG.

Jose Alvarado w/oblique strain. Emilio Pagan, closer by default until Diego Castillo returns?
Sergio Romo w/16SV. Who knew? I wasn't a believer and missed out.
Austin Riley w/16th HR, .262AVG despite 33.8%K & 43.9%Chase rates. Selling "high"?
Does week off do wonders for Andrew Benintendi? 4-for-6 w/ninth SB. Portend monster second half? Hmmm. Yes, I'm still buying low
Jean Segura surprises w/SB(six). Painfully down from pace in 2018 resulting in 20SB.
Jeff McNeil w/best AVG in majors(.365). To think Mets couldn't find a spot for him to start the season.
Eesh! Lucas Giolito w/night to forget (4IP, 6ER, 5BB, 5K). Two terrible outings vs. Cubs.
Madison Bumgarner hit by a liner. Bruised elbow. Doesn't affect trade value(real life).
Paul Goldschmidt not same guy. 16HR is nice. Chasing a little more (30%). Putting balls on the ground a little more (43%). Not worried about him.
Greg Holland still the guy(13th SV), despite two blow-ups. Yep, I still have a couple of toes in these waters.
Trevor Story still playing injured. 18HR, 12SB, .289AVG my kind of injured. Seriously, health is #1.
This is the Ramon Laureano you wanted following 2018. Forgettable April. 12HR, 7SB, .276AVG since May 1st. 5.1%BB, 26.8%K will keep him from top of the order.
Big Power, Low AVG. Dan Vogelbach w/21st love tap. .242AVg. & he had to luck into playing time this year.
Andrew Heaney impressed me vs Astros (5IP, 2ER, 5K)
Kirby Yates w/29th SV. HOT TAMALE!
Ronald Acuna bazooka ranged 431ft Sat. 21HR/13SB worth 3.1WAR.
Whit Merrifield w/11SB through June (16 in 2018). 11HR, 13SB, .307AVG worth second/third round pick?
Mike Trout vs. Yuli Gurriel challenge (see yesterday's ramblings, if confused). The Winner: YULI G. w/13th tater extends his HR schedule to 2-1-1-1 over last four games.
FAAB Prep:
Enjoy your Sunday baseball.
No Fear, Just Fantasy.
More Fantasy Baseball Analysis