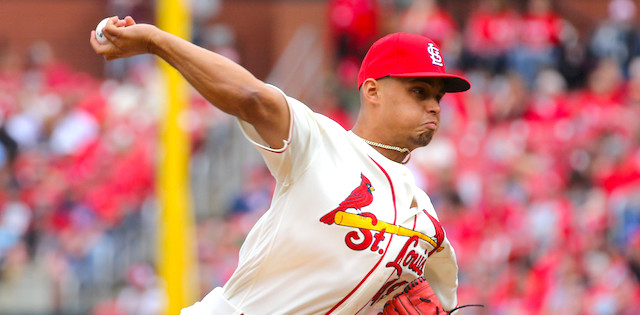 Now that the National League East and all their moves have been covered, it's time to look at the NL Central and discuss the lack of movement in that division.
Several teams in the NL Central could benefit from strengthening their relief corps, yet only one team has made any noise in free agency or the trade market so far. There are still several talented late-inning pitchers available as free agents though, so with still about a month until spring training begins, the NL Central bullpens are certainly subject to change.
Let's take a look at who will be on the mound in the ninth inning for the National League Central this season. Be sure to also check out our full fantasy baseball closer depth charts for each team, including holds candidates and setup men.
Featured Promo: Get any full-season MLB and DFS Premium Pass for 50% off. Exclusive access to our Team Sync platform, Premium articles, daily Matchup Rating projections, 15 lineup tools, DFS cheat sheets, Research Stations, Lineup Optimizers and much more!
Sign Up Now!
Chicago Cubs
Closer: ¯\_(ツ)_/¯ 
Volatility Rating: Volatile
Other Relevant RP:  Brandon Morrow, Pedro Strop, C.J. Edwards, Steve Cishek
The Chicago Cubs have some solid arms in their bullpen, but they also have plenty of injury risks to deal with. If he were healthy, Brandon Morrow would likely be the team's closer heading into the season, but an offseason arthroscopic debridement procedure in his elbow had put his Opening Day availability in doubt. Pedro Strop seems like the best bet to start the 2019 season as the closer for the Cubs. He looked like manager Joe Maddon's preferred stopper at the end of last season, but there will be others around to snag the occasional save as well.
C.J. Edwards ended last season with discomfort in his forearm, causing some concern about his availability to start the season. He should be fine and will likely work in a setup role, but it's something to keep an eye on once pitchers and catchers report. Steve Cishek and Brandon Kintzler figure to pitch significant innings in late game situations as well, with Cishek possibly working his way into save situations if Strop opens up the season struggling.
Fantasy Must-Own: None of the relievers in the Cubs bullpen are absolute must-owns right now, but Strop could be a solid source of early-season saves and if Morrow can be had at a discount, he could be a bullpen boost later in the season. Steve Cishek and C.J. Edwards are options in deeper holds leagues.
Cincinnati Reds
Closer: Raisel Iglesias
Volatility Rating: Solid
Other Relevant RP: Jared Hughes, David Hernandez, Michael Lorenzen
The Cincinnati Reds have made some noise in the trade and free agent market, and their Opening Day roster could end up looking quite different from the roster they closed out 2018 with. One thing the Reds certainly do not need to change, however, is their ninth inning. Raisel Iglesias was one of the most consistent and reliable closers in baseball last season. He ended up with 30 saves along with a 2.38 ERA, 1.07 WHIP, and 80 strikeouts in 72 innings. The Reds rewarded him for his solid year by signing him to a three-year deal worth just over $24 million. He's locked in as the team's closer, and since the Reds seem set to win a few more games this year than they have in recent seasons, Iglesias could easily shoot up the closer ranks as the season progresses.
Elsewhere in the Cincinnati bullpen, Jared Hughes will return to his customary setup role. He was excellent in 2018, putting up a 1.94 ERA and a 1.02 WHIP. His fantasy value is somewhat limited, however, as he only struck out 59 in 78 2/3 innings. He's still a decent option in some holds leagues, but he's a prime example of a pitcher who is better in "real life" than he is on a fantasy roster.
Fantasy Must-Own: Raisel Iglesias (all formats), Jared Hughes (deeper holds leagues)
Milwaukee Brewers
Closer: Corey Knebel
Volatility Rating: Solid
Other Relevant RP: Josh Hader, Jeremy Jeffress, Alex Claudio
The Milwaukee Brewers have at least three relief pitchers who could be top-tier closers if given the chance. Corey Knebel struggled for much of last season, but he finished strong and is set to be the closer for the Brewers when the 2019 season begins. Knebel's final numbers for 2018 were solid enough, as he finished with 16 saves, a 3.58 ERA, and a 1.08 WHIP while recording 88 strikeouts in 55 1/3 innings. The Brewers expect more ups than downs from their closer this season.
Behind Knebel are Jeremy Jeffress and Josh Hader. Jeffress had long stretches of absolute dominance in 2018 while Hader was essentially dominant for the whole season. Jeffress finished with a 1.29 ERA and 0.99 WHIP while Hader had a 2.43 ERA and a 0.81 WHIP. Jeffress struck out 89 in 76 2/3 innings, solid but paling in comparison to Hader's 143 strikeouts in 81 1/3. Both Jeffress and Hader should likely be owned in holds leagues, and Hader has value even in standard formats despite his primary setup role. In holds leagues, Hader needs to be one of the first relievers drafted.
Fantasy Must-Own: Corey Knebel (all formats), Josh Hader (valuable in all formats, must own in all holds leagues), Jeremy Jeffress (holds leagues)
Pittsburgh Pirates
Closer: Felipe Vazquez
Volatility Rating: Solid
Other Relevant RPs: Keone Kela, Kyle Crick
The Pittsburgh Pirates have a solid closer and two strong setup men, even though they are probably three names that non-Pirates fans aren't too familiar with. Closer Felipe Vazquez experienced some struggles last season but was solid overall, posting 37 saves with a 2.70 ERA and 1.24 WHIP. He pitched 70 innings and struck out 89 batters. He's a solid closer target in the middle rounds of fantasy drafts.
Vazquez will be set up by Keone Kela and Kyle Crick. Kela was shut down at the end of 2018 but is expected to be all systems go for 2019. He struck out 66 in 52 innings, posting a 3.29 ERA and a 1.10 WHIP. He saved 24 games in 2018, but all of those were with the Rangers before he was traded to Pittsburgh. He'll serve as a setup man in 2019 and should be a good option in holds leagues. Kyle Crick was impressive in his first full big league season, putting up a 2.39 ERA and 1.13 WHIP while striking out 65 batters in 60 1/3 innings. He recorded 17 holds and should be in line for a few more this season. He can likely be drafted at the end of drafts in holds leagues and could be a sneaky-good pick.
Fantasy Must-Own: Felipe Vazquez (all formats), Keone Kela (handcuff) and Kyle Crick (holds leagues)
St. Louis Cardinals
Closer: Jordan Hicks
Volatility Rating: Questionable
Other Relevant RPs: Andrew Miller, Dominic Leone, Luke Gregerson
The St. Louis Cardinals made some noise in free agency, signing Andrew Miller to join their bullpen. Miller won't jump into the closer's role, but he'll certainly work significant innings and immediately makes the St. Louis bullpen stronger. Last year's closer, Bud Norris, is still a free agent but isn't expected to rejoin the Cardinals for 2019.
Jordan Hicks showed a lot of promise in 2018, quickly becoming an internet favorite with his consistent 100+ mph fastballs. He did show some cracks, however, as his 70:45 strikeout-to-walk ratio in 77 2/3 innings is less than ideal. Still, he's expected to have a shot at the closer's role as long as he pitches well in spring training. He'll have Andrew Miller breathing down his neck though. Miller wasn't his usual self in 2018, but there's plenty of reason to believe he's still one of baseball's best relievers. Cardinals President of Baseball Operations John Mozeliak said he plans on the team using Miller "in high leverage situations" but clarified that, "when you talk about role, there will be some flexibility in that." He'll work in a role similar to that of Josh Hader's in Milwaukee. Miller is a good bet for a handful of saves, but his real value will be in holds leagues.
Fantasy Must-Own: Jordan Hicks (all formats, some risk), Andrew Miller (all holds leagues, most standard leagues with deeper rosters)
More 2019 Fantasy Baseball Advice