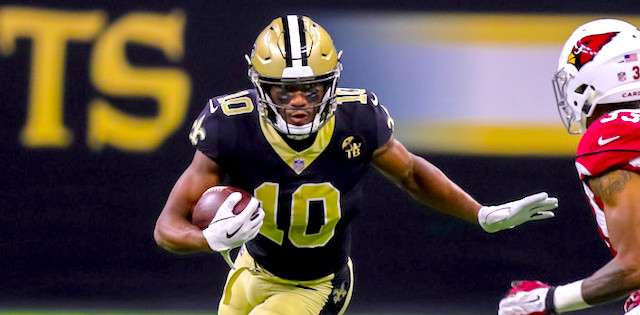 The most dormant weeks of the offseason have passed, which ushered in a steady stream of significant player movement that has altered the fantasy landscape. As the allure of the NFL Draft beckons our attention, most of you are evaluating the numerous changes in destinations and expectations that have recently occurred for many players. This remains part of your overall management for rosters in Dynasty leagues, and your preparations for upcoming drafts in Best Ball and Redraft leagues.
The team at RotoBaller is fully aware of your ongoing efforts to maximize the scoring potential of your rosters. That is why we have been compiling statistics, analysis, and thoroughly researched recommendations as part of our unrelenting efforts toward helping you win your leagues in 2019. That includes this early breakdown of enticing sleepers at the wide receiver position.
The process of identifying sleepers is an integral part of the planning and execution that occurs throughout the draft process. For the purposes of this discussion, the term 'sleeper' does not equate to how familiar owners might be with each particular receiver. Instead, each recommendation is based upon the combination of talent and opportunity that should propel these players to numbers that exceed their current ADPs. This also elevates their stock for your specific draft needs, as they can reward you for entrusting them on your rosters.
Editor's Note: Get any full-season NFL Premium Pass for 50% off. Our exclusive In-Season Lineup Tools, Lineup Optimizer and over 150 days of Premium DFS Research.
Sign Up Now!
ADP 155, WR 51
Samuel has missed a total of 10 games during his first two seasons, and he did not secure an integral role in Carolina's passing attack until late November. But this former second-round pick now provides owners with sizable sleeper appeal, as will be presented with an opportunity to establish career-best numbers by a considerable margin.
The 22-year old Samuel possesses a collection of attributes that can translate into big plays. His ability to launch into routes with a quick first-step blend cohesively with his cutting ability, which allows him to gain separation. That places him in position to generate big plays once he has been located in open space, due to his explosive speed and ability to accelerate as he advances downfield. Fortunately, those capabilities will soon be merged with an expansive role in Carolina's passing attack.
Samuels' 2018 season began inauspiciously, as he was sidelined from Weeks 1-3 after being diagnosed with an irregular heartbeat. Once he began accruing snaps following the Panthers' Week 4 bye, he was still playing behind Devin Funchess, D.J. Moore, Torrey Smith, and Jarius Wright. As a result, he only exceeded four targets in one contest between Weeks 5-12, and his snap count did not surpass 26% until Week 12.
But his role increased noticeably during Carolina's remaining matchups, as he collected 36 targets (9-per-game) from Weeks 13-16. That includes the double-digit totals that he attained in Weeks 13 and 16. (13/11). He also captured 18 receptions (4.5 per game) and 56.5 yards per game during that four-game stretch. That boosted his eventual snap count totals to 466/44.1% in 2018, even though that still trailed Funchess (622/58.8%), and team leader Moore (732/69.3%). Samuel also finished fourth behind Christian McCaffrey, Moore, and Funchess in targets (65), and receiving yards (494), although his five touchdowns placed him second on the team.
His increased level of opportunity as the season progressed is encouraging and should provide additional incentive to capitalize on his current value in the majority of drafts. 50 receivers are being selected before Samuel is finally secured near the end of Round 13. Even though McCaffrey and Moore will each commandeer more targets, Samuel will operate as Carolina's WR2, and there will be a sufficient number of chances for him to deliver numbers that transcend his current ADP.
ADP 226, WR70
Once you have advanced into the final rounds of your drafts, there is the distinct possibility that Wilson's name will appear among your remaining options. But it is doubtful that this would transpire if he had eluded a devastating hip injury last season. That would have presented him with a chance to build upon the prospective breakout numbers that he achieved during an appealing yet all-too-brief two-week span.
Unfortunately, his opportunity to continue the accumulation of high-quality output evaporated as quickly as it emerged. After performing on just 27.5% of Miami's offensive snaps from Weeks 1-4, Wilson's percentage rose to 54% in Weeks 5-6. He also collected 15 of his 35 targets for the season during those two contests, including nine in Week 6. Wilson took advantage of the expanded usage by capturing a season-high six receptions and exploding for 155 yards and two touchdowns during that matchup.
After that performance, his 25.8 yards per catch average propelled him into the league lead in total yards after catch (355). But the season-ending hip issue occurred during his next matchup and restricted his overall output to 26 receptions/391 yards/4 touchdowns. He also finished his abbreviated season with a 74.3% catch percentage and a 15.0 yards-per-reception average.
It appears that he will participate in Miami's OTAs, and will have a legitimate chance to attain a consistent role within a Dolphin offense that is in the process of a sizable offseason transition. He will operate in coordination with Kenny Stills and the perpetually disappointing Devante Parker, although Wilson should benefit from the aggressive tendencies of new signal-caller Ryan Fitzpatrick.
The promise of downfield connections between Fitzpatrick and Wilson should only reinforce optimism that Wilson is destined to deliver a favorable number of huge plays this season. If he can achieve sustained health, Wilson's combination of speed and elusiveness enhance the likelihood that he will generate significant yardage as a vertical threat. He could easily assemble the most prolific numbers of his career, and his status as an appealing option is cemented by his availability late in your drafts.
Deon Cain, Indianapolis Colts
ADP 295, WR85
The 6'2", 200-pound Cain was chosen 185th overall by Indianapolis in Round 6 of the 2018 NFL Draft, which perpetuated the procession of Clemson wide receivers into the league. He impressed the Colts' coaching staff during OTAs and training camp by demonstrating a promising blend of route running, size and the speed that enabled him to deliver a scorching 4.43 in the 40 during the NFL Combine.
But the torn ACL that he suffered during the team's initial preseason game instantly concluded his season, and Cain remains largely disregarded by many potential owners during the early drafts of 2019. However, he will be performing in an offense that can help him elevate in value, as the surging Indianapolis passing attack ranked sixth in 2018, and finished ninth in pass play percentage (61.6%).
Andrew Luck also launched the league's second highest number of pass attempts (639) and will be targeting his most critical weapons with great frequency once again. That process will begin with T.Y. Hilton, who will function as Luck's primary option after leading the Colts' in targets (120), receptions (76), and receiving yards (1,270). But beyond Hilton's ongoing responsibilities, the wide receiver position is largely lacking in formidable competition for Cain.
Chester Rogers finished second among Colt wide receivers in targets (72), receptions (53), and receiving yards (485), although his numbers trailed Eric Ebron and Nyheim Hines. Rogers should remain with the team after being tendered at the second-round level. The newly-signed Funchess could also confiscate a consistent role within Indy's aerial attack despite the declining usage that he endured in Carolina last season.
However, Cain's collection of attributes and his proficiency during last year's abbreviated appearance provide the foundation for believing that he possesses more talent than Rogers or Funchess. His recovery from the torn ACL also appears to be progressing favorably. and only the addition of another contender for targets would deter him from being deployed with regularity within Frank Reich's weekly schematic approach. This vaults Cain into strong consideration as a viable late-round target for the modest investment of his current ADP.
ADP 181, WR59
After the 6'2" 210-pound Smith was selected in Round 3 of the 2018 NFL Draft his enticing mixture of size, acceleration, and propensity to capture contested throws supplied the prospects of an emerging downfield weapon who could also thrive as a red zone target.
Instead, he seemingly squandered his chance to function as the WR2 for New Orleans. Smith eclipsed a 50% snap count only once during his 15 games, while nine other first-year receivers exceeded his output in both receptions (28) and yardage (427). In fact, his season-long output actually becomes more concerning if you eliminate the most productive outing that he delivered throughout the year (Week 11 - 10 receptions/157 yards).
But even if you are indifferent to the concept of selecting him after his largely nondescript season, or if you are disappointed after investing in Smith last year, a collection of favorable factors have maintained a navigable path for the 23-year old to achieve a sizable increase in production if he performs more proficiently.
Michael Thomas is clearly the Saints' primary receiving option but the position remains unsettled throughout the remainder of the depth chart. As uninspiring as Smith's output was, he finished second among his team's receivers in targets (44), receptions (28), yardage (427), and touchdowns (5).  While New Orleans added Jared Cook to address a significant need at tight end, the team has not enhanced the wide receiver position during free agency.  Ted Ginn will be 34 when Week 1 matchups begin, while the combination of Keith Kirkwood, Cameron Meredith, and Austin Carr comprise an underwhelming assortment of competitors for snaps and targets.
The Saints also do not have a selection in Round 1, nor are they currently in possession of a pick in Rounds 3 or 4. With a list of other needs beyond wide receiver (offensive line/defensive end/linebacker), there is no certainty that the team will present Smith with formidable competition from a newly drafted rookie. Instead, he still has the chance to perform a significant role within an explosive offense, which makes him an excellent option for owners at his current ADP in Round 14.
ADP 354, WR98
While it might be tempting to initially consider more recognizable receivers for the final sleeper recommendation, the ADPS for these players do not appear particularly egregious. However, the lack of interest in utilizing a late-round selection on the 6'3", 220-pound Watson is noteworthy. Even though he is an unproven commodity at the NFL level, a concoction of size, reliability, and an impending opportunity could thrust him toward greater prominence within the fantasy landscape as the season develops.
His 2018 rookie season was uneventful, as he played on a grand total of 73 snaps (6,5%). Watson's lone 5-yard reception underscored his standing on a crowded Tampa Bay depth chart, that was also comprised of Mike Evans, Adam Humphries, Chris Godwin, and DeSean Jackson. But an offseason of transformation has reduced the bottleneck that was impeding Watson from procuring consistent involvement in the Buccaneers' aerial attack. The competition for targets has become less congested after the departures of Jackson and Humphries, and it is reasonable to believe that Watson will be the primary beneficiary of their exodus.
He is now left with only former Raven Breshad Perriman as the primary obstacle that would prohibit him from operating in most three-receiver formations, and he should eventually emerge with a favorable percentage of the 179 targets that Jackson and Humphries captured last season. Evans and Godwin will commandeer the majority of opportunities, while a healthy O.J. Howard will also siphon a percentage of passes from Jameis Winston. But Watson should still confiscate a role that is substantially more appealing than the minimal usage that he attained in 2018.
When you fuse the mindset of Bruce Arians with a Tampa Bay aerial attack that generated a league-best 5,125 yards in 2018, then a favorable scenario certainly exists for Watson. Even though he is not necessarily a candidate to explode for astronomical production this season, he possesses sufficient talent and an enlarged passageway toward a more expansive target total. This presents the ingredients for a viable sleeper option who should produce numbers that exceed expectations far beyond the unimpressive status of his current ADP.
More Fantasy Football Analysis