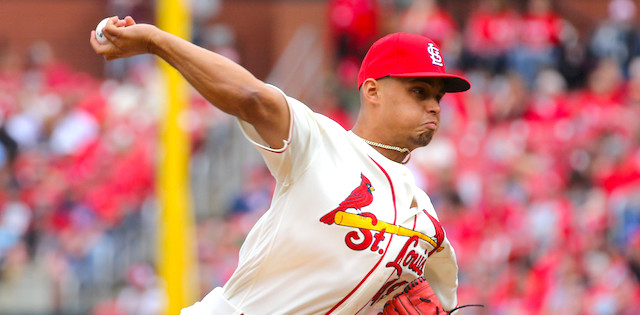 St. Louis Cardinals relief pitcher Jordan Hicks was a fireballing rookie last season that dazzled with 70 strikeouts in 77 2/3 innings; he also only had a 3.59 ERA and 1.34 WHIP. A starting pitcher in the minors, Hicks made 73 appearances out of the Cardinals pen last season, walking 45 batters as well. The 22-year-old Hicks did not pitch above High-A in the minors, but his 2.74 ERA in 105 innings in 2017 was enough to make the big league team.
He opened his MLB career by walking 12 batters and striking out seven in Mar/April, but did hold batters to a sub-.200 batting average over the first three-plus months of the season. However, after holding batters to a .557 OPS in the first half, Hicks saw his OPS allowed jump to .633 in the second half and his WHIP go from 1.19 to 1.58. While he struck out 28 in 29 2/3 second-half innings, fantasy owners had to expect more in terms of strikeouts as well.
With walk issues and a relatively poor second half, can fantasy owners trust Hicks to be the closer for the Cardinals and to perform better in 2019?
Editor's Note: Get any full-season MLB Premium Pass for 50% off, with exclusive access to our season-long articles, 15 in-season lineup tools and over 200 days of expert DFS research/tools.
Sign Up Now!
Can Hicks Manage His Wildness?
With Hicks posting two months were he walked more than 10 batters, there is a real fear that Hicks loses focus and then cannot fix his issues. Now, it may be a bit critical to say that a rookie in his first month has focus issues, but there are real fears in terms of Hicks' control when he allows a .403 OBP against in August and .375 in Sept/Oct. When you also consider that Hicks had a .280 batting average against in August, it is safe to say that Hicks did not improve as the season continued.
The good thing for Hicks is that he struck out at least 10 batters in each of the last four months of the season after not striking out double-digit batters in either Mar/Apr or May. He also had four months last season where he allowed less than 10 hits and limited damage by only allowing two home runs all season. When looking at his batted ball data, there is something even better: his 60.7% GB rate. In fact, Hicks had a 66.1% GB rate in High-A in 2017 and 63.7% GB rate in Low-A in 2016. His 28.2% hard hit ball rate and 20.6% line drive rates are not particularly strong, but his ability to keep the ball on the ground will suit him well in the future.
Will Hicks Get Save Opportunities In St. Louis?
Considering that Hicks' 105 mph fastball did not lead to as good of results as some may think, new addition Andrew Miller may be tipped to close in St. Louis. However, Miller has been more of a jack-of-all-trades than a closer in his career (although he did save 36 games with the Yankees in 2015) and the lefty/righty split of Miller and Hicks could lead to Mike Shildt splitting closer's duties for the Cards.
At an ADP of 221, though, Hicks might be worth a late-round addition in case he is the closer for the Cards. At a minimum, you can expect more strikeouts from Hicks this season as he continues to refine his arsenal. If Hicks does get the closer's job in St. Louis, there is top-1o RP upside here, especially with St. Louis putting themselves in a good position to win with an aggressive offseason.
More 2019 Sleepers and Breakouts