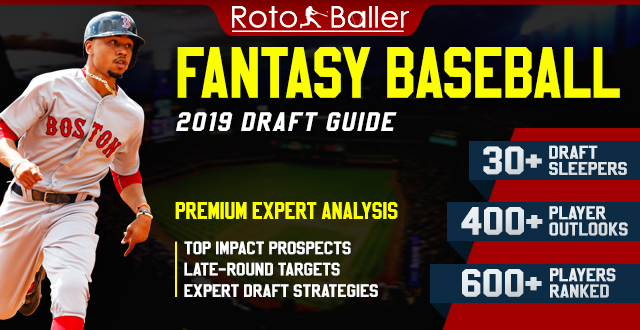 Oakland Athletics starting pitcher Jesus Luzardo has yet to pitch a big league inning, yet the 21-year-old is being as hyped up as any rookie starter coming into 2019. While hype can easily lead to disappointment, the young Peruvian has allowed just 43 earned runs in 152 2/3 minor league innings. He has also struck out 177, walked just 35, and has allowed 7.3 hits per nine innings as well.
While there are a lot of reasons to like Luzardo, there needs to be a moment of pause considering that his ERA rose as he rose through the Athletics organization (he allowed 13 runs in 16 Triple-A innings). This was also his first season where he pitched full season ball (only made it to Low-A in 2017). Still, Luzardo maintained a sub-1.00 WHIP in High-A and Double-A last season and his strikeout potential is impressive as well.
With a known ability to limit hits and strike out batters, can Luzardo break into the Athletics rotation and onto fantasy rosters?
Editor's Note: Our incredible team of writers received 13 award nominations by the Fantasy Sports Writers Association including Baseball Writer of the Year, Football Writers of the Year, Golf Writer of the Year and many more! Be sure to follow their analysis, rankings and advice all year long, and win big with RotoBaller!
Read More!
What Makes Luzardo Such An Attractive Asset?
A majority of Luzardo's 2018 season was spent at Double-A and his numbers from 2017 in Low-A and 2018 in Double-A look very similar. He had a 22.5% K-BB rate in Low-A in 2017 and 21.9% rate in Double-A last season, for one, and also had a 2.93 FIP in Low-A and 2.89 FIP in Double-A. This also came with Luzardo moving to a more offense-friendly Texas League and a noticeable step up in talent.
Furthermore, while his Triple-A statistics did not look good, those numbers were inflated by a three-inning/eight earned run performance to close the season. In fact, in his first Triple-A start, he threw five scoreless innings with six strikeouts.
Looking at batted-ball data, Luzardo saw his line drive rate drop just under 20% in Double-A (19.7%) while still maintaining a 45.5% GB rate. When you take his High-A (54.2%) and Triple-A (50%) GB rates, it would not be a surprise if Luzardo has a K% in the mid-20s and a ground-ball rate in the high-40s in the big leagues. There is usually a strong correlation to run suppression and high GB/K rates, so Luzardo definitely is putting himself in a position to thrive on this account.
Will Luzardo Be The Next Top Young Arm In Baseball?
Currently, the Athletics do not project Luzardo to break camp with the big league team, but there is a good chance that a strong Spring Training will change that. With Mike Fiers and Daniel Mendgen as the only reliable starting pitchers in the current projected Athletics rotation, it will take very little for Luzardo to prove that he needs to join the rotation.
There could be concern that he does not make it through the entire season, as he has never pitched more than 109 1/3 innings in a professional season, but he should be an impact player when he makes it to the big league club, if even for a short time.
The value of his ADP of 255 will be determined by how strong of a Spring Training that Luzardo has. If he makes enough of an impact to make the big league team, he undoubtedly has the greatest upside of any A's pitcher heading into 2019 and could end up being a top-50 SP. Even if he does not make his MLB debut until the summer, he is still a player to monitor on the waiver wires or hold in a minor league slot.
More 2019 Sleepers and Breakouts