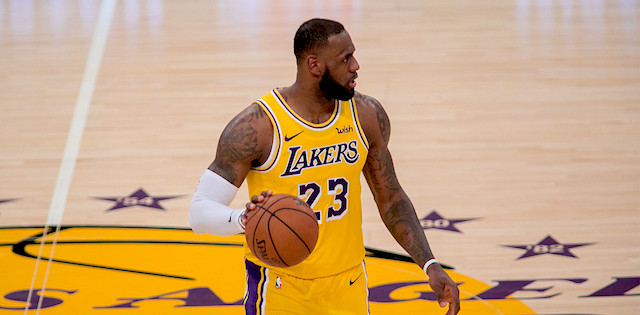 Welcome to the first of six articles in our division preview series for the 2019-2020 NBA season. I'll be breaking down each team in the NBA and answering some key questions about those teams that will affect the fantasy value of the players on those teams.
We'll be starting with the most exciting division in the NBA: the Pacific. Three big names -- Anthony Davis, Kawhi Leonard, and Paul George -- find themselves joining this division this year in moves that have reshaped the NBA and the balance of power in the league. But the Lakers and Clippers aren't the only teams there! The Golden State Warriors still exist, and while they'll look a lot different, they're still led by Stephen Curry. The Kings have playoff aspirations as well, while the Suns...exist.
Alright, on to the Pacific!
Featured Promo: Our friends at Sharp App have created the ultimate tools for sports bettors. Download the FREE app to track bets, compare odds, get daily picks from the most accurate models in the industry, and identify the sharp side of any bet. Use promo code BALLER to get a month free of Sharp Pro access.
Get The App!
Golden State Warriors
What can Stephen Curry do without Klay Thompson and Kevin Durant?
Klay's out until the second half of the season. Kevin Durant isn't a Warrior. Is it Curry time? Is he about to go on a rampage offensively?
Maybe. D'Angelo Russell and Draymond Green being your second and third guys offensively isn't nearly as threatening as having Klay and Durant was, and while the team also added an interesting piece at center in Willie Cauley-Stein, this whole thing is going to revolve around Curry.
With Durant off the floor last year, Curry's usage rate rose from 27.3 percent to 35.8 percent. Of course, an increase in usage often is counteracted by a decrease in efficiency, and Curry's true shooting percentage dropped from 65.9 to 59 in those minutes.
I think we do see an increase in Curry's counting stats, but some of that gets negated by what will likely be some of his worst shooting percentages ever as defenses can really key in on him and dare the rest of the Warriors to beat them. I think Curry has a good case for being ranked at/near the top of fantasy draft board, but three guys -- Giannis Antetokounmpo, James Harden, and Anthony Davis -- are safer calls.
D'Angelo Russell's value on this team is _______.
Maybe the weirdest move of the offseason was when the Warriors turned Kevin Durant signing with the Nets into a sign-and-trade that sent Andre Igoudala to Memphis and brought D'Angelo Russell -- who made the All-Star team in the East last year -- to Golden State.
Let's get this out of the way: I don't expect Russell to repeat his All-Star appearance and I don't expect him to be able to replicate what Klay Thompson did for the Warriors. I also have to acknowledge that Thompson will probably be back at some point in 2020, which means Russell could see a big decrease in value right before the fantasy playoffs arrive. These are all things that I'd categorize as "not good."
But that doesn't mean Russell's someone you should be avoiding in drafts. He'll likely be the second option offensively for large stretches, and though he's not the catch-and-shoot threat that Thompson is, he's still a solid jump shooter. Russell should be a pretty valuable piece. We have him ranked just inside the top-40 in our latest site rankings.
Los Angeles Clippers
Will Kawhi Leonard and Paul George be more/less valuable than they've been in the past?
Well, yeah. Leonard and George cannibalize each other's value a little.
I think George suffers the least, though. We know Leonard's going to rest some and that the team will need him to be healthy and ready to go come playoff time, so I expect George to see more usage during the regular season. We saw last season that he could step up and excel even with a star teammate -- Russell Westbrook really took a step back this past season and let George do a ton of the work.
To me, Leonard and George are both late first round fantasy picks, and which one you grab depends on some things. George should be the most consistent of the two, but Leonard's the most talented, which is going to mean that he'll have the better individual games of the two while also missing more time. I think which way you lean in the first round really depends on what kind of player you value with your first round pick.
Is Landry Shamet a solid sleeper pick?
After getting traded to the Clippers, Landry Shamet averaged 10.9 points and shot 45 percent from three. He's projected to start at shooting guard, and the Clippers lack of guard depth -- if Paul George primarily plays forward, the team should have a three-man guard rotation of Shamet, Patrick Beverley, and Lou Williams -- mean that Shamet will be on the floor a lot.
He's also going to get a LOT of open looks. Like, a lot a lot of open looks. Leonard and George will command most of the defensive attention, drawing the defense away from Shamet, who should wind up near the top of the three-point field goal percentage leaderboard. Need a sleeper who can help you in three pointers and field goal percentage? Landry Shamet.
Los Angeles Lakers
Anthony Davis should be taken _____ in fantasy drafts.
This is a question that a lot of us were really conflicted on around here when we did our rankings. Two of us (including me) rank Davis first. One person had him third. The other two rankers had him sixth.
So, who's right? The easy answer is to just say "me, I'm right!," but that's a cop out. Here's a quick case for and against Davis as the first overall pick:
For
LeBron James is not going to be the focal point of the regular season Los Angeles Lakers offense. Not going to happen. You don't acquire a force like Anthony Davis who's in the prime of his career and then let LeBron James lead the team in usage. James needs to preserve energy for the postseason, which means Davis in L.A. should look a lot like Davis in New Orleans.
Against
Counterpoint: Anthony Davis isn't a beacon of health, so there are going to be times when he does take a backseat to James. That'll especially be true in close games, as James will assert himself in the fourth quarter and demand touches, which lowers Davis's ceiling. He's still a first rounder and hugely valuable, but he might not be someone you want to take before the third pick at a minimum.
How will the bench/depth shake out?
The center position is going to feature either JaVale McGee or Dwight Howard in the starting lineup and the other guy on the bench. I know we're supposed to assume Anthony Davis will never play the five since he is vehemently against it, but...he's going to play the five some, and it's likely going to render whoever doesn't start at center irrelevant.
Quinn Cook should get backup point guard minutes. I have no interest in Quinn Cook, who rates as one of the league's worst players by a lot of catch-all metrics.
The one backup I am interested in is Kentavious Caldwell-Pope. KCP saw a pretty sizeable drop in minutes last year, but he still scored 11.4 points per game. His three-point percentage was down, but he should have better spacing this year and should be a good source of offensive production off the bench. I doubt we see 2017-2018 numbers from him in things like rebounding, but he'll be a solid late draft pick.
Phoenix Suns
How will Deandre Ayton and Devin Booker look?
The Suns revolve around these two guys and they're going to go as far as the duo takes them. So, what can we expect from them?
Points. Buckets. All that jazz.
Booker averaged 26.6 points per game last year despite shooting just 32.6 percent on 6.5 threes per game. He also averaged 6.8 assists per game. I think the scoring goes up thanks to an increase in efficiency, but his overall value as a fantasy player isn't going to be hugely changed because a couple those assists are going to vanish as the ball will be in Ricky Rubio's hands.
As for Ayton, he's still a defensive liability, but he's also a seven-footer, so he'll grab double-digit rebounds again and he should be able to stumble into more than the 0.9 blocks per game he had last year. I can see him increasing his scoring output to something closer to 19 per game, though if Phoenix's hesitance to let him shoot from deep despite showing an aptitude for that in college continues, his ceiling will be lower than it should be.
What's the point guard situation mean for fantasy owners?
So, this is the exact same question I asked in last year's preview, and my answer then was "HA HA HA HA HA."
My answer now is a little better.
The Suns have a startable NBA point guard playing point guard for the first time since Eric Bledsoe. Ricky Rubio should be able to put the ball in the hands of Ayton and Booker while also adding in some scoring of his own. Rubio isn't a score first point guard, which is good when the Suns have a pair of young scorers who'll need the ball. Rubio's job should be to run the offense and set his teammates up. His scoring probably drops back closer to his Minnesota numbers, but he'll still be a top-80 fantasy option thanks to his strong free throw shooting, passing, and ability to rebound well for his position.
Sacramento Kings
How high is too high for me to draft De'Aaron Fox?
Turning back to our rankings, Fox's range goes from 30 to 50 in each person's rankings, giving him a composite ranking of 36.
Fox is someone who I was admittedly wrong on. When the Kings drafted him, I saw that pick being no different than the Knicks picking Frank Ntilikina or the Mavericks picking Dennis Smith Jr. in the sense that they were potentially flashy ball-handlers who I couldn't see living up to the hype.
But Fox is legitimately good. He improved in every facet of his game in his second NBA season and will still be 21 when the season starts. He has the potential to average 20 points and close to 10 assists -- probably more in the 8.5 range -- in his third season, and he's not really a liability anywhere except for free throw shooting, where a point guard who shoots in the 70s isn't great. I have him ranked just outside the top-40, but I also took  a pretty risk-averse strategy to my rankings. Fox can work as a pick anywhere in the 30s.
So, how are we feeling about the bigs in Sacramento?
Gone is Willie Cauley-Stein and in is Dewayne Dedmon at the five, while Marvin Bagley III will start at power forward. Beyond that, we'll see Nemanja Bjelica used as a stretch four, while Richaun Holmes and Harry Giles should be in contention to see backup five minutes.
So, like last year, you're going to have some things to figure out when looking at this frontcourt and projecting what the rotation looks like. Dedmon and Bagley are the main guys when it comes to fantasy value. Dedmon has been around awhile and over the last few years has added range to his game, making him a valuable center for fantasy owners looking to emphasize threes. He also shot over 80 percent from the free throw line.
Bagley should get more minutes and blossom in the way you expect a player to blossom in his second year. I think he's a top-70 player.
Bjelica is fun, but I don't see him getting as many minutes as last season, which hurts his value. And while I've long been a Harry Giles fan, I think it's more likely he falls out of the rotation than plays a key role for Sacramento this season.
More Fantasy Basketball Analysis