Max Homa is now one of the best players on tour and continues to show what he is capable of when he finds himself with a sniff of the lead. An incredible performance once again from the blossoming superstar.
We are going to ask a few questions that will guide us through a multitude of areas that impact how we go about handicapping an event. We look at historical odds of winners, traditional weather, skills that matter, and a few more interesting things. The goal of this article is to provide you with a high-level understanding of the nuances associated with this week's course and players.
I am a proud member of the RotoBaller team and put out a bunch of articles and podcasts each week that includes a more detailed research article, as well as DFS and betting articles that are intended to make your weekly golf experience that much more enjoyable. They are a combination of free and premium articles, with our premium package providing all the tools, articles, and discords you could wish for (code: "maniac" for 10% off). You can find me on Twitter an unhealthy amount of the time @TheModelManiac, if you have any questions, compliments, or insults for me.
Featured Promo: Get any full-season Props Premium Pass for 50% off. Win big with our two new Props Optimizer tools -- one for PrizePicks Props, and one for Sportsbook Betting Props. Find optimal prop bets and get our recommended picks daily!
Go Premium, Win More!
#1. Dogs or Dimes?
Were the odds of the last few winners closer to a dime or were the underdogs sniffing around the top of the leaderboard?
The odds of the last three winners were a mix of long shots and a semi-favorite at 14, 50, and 85-1.

Favorites have sniffed around the top of the board over the last three years.

Finishing positions of the golfers with the shortest odds to win:
#2. History or Mystery?
Is course history a strong predictor of success or is this week going to be a mystery?
Course history is pretty high on Pebble Beach GL and Spyglass Hill, which both play much tougher than Monterey Peninsula, which has the smallest predictive power of the three.
These are the golfers with the best average strokes gained (min six rounds):
These are the golfers with the worst average strokes gained (min six rounds):
#3. Birdies or Bogeys?
What kind of scoring conditions can we expect this week?
The last five winners of this event shot -19, -18, -19, -19, and -17.
The best strokes gained average on easy courses:
The worst strokes gained average on easy courses:

#4. Weak or Peak?
Is the strength of the field at its peak or is it weak?
The total Official World Golf Ranking points total for this week's field is 106.43. Last week's total OWGR in a 156-man field was 150.88. Pink = 2023 season, Green = 75% 2022 + 25% 2023 season.
Did you know RotoBaller has a Premium DFS PGA subscription?
Like what you read today? You can show your support for Byron by using the discount code MANIAC when purchasing a PGA Premium Pass. You get 10% off and full access to all of our Premium PGA articles, DFS tools, and Lineup Optimizer! You also get access to weekly betting picks from Spencer Aguiar, one of the top betting minds in the industry. Spencer is absolutely crushed it in 2023!
#5. AM or PM?
What is the weather usually like at this event?
Does not seem to get much warmer than 55 degrees this week.
#6. Distance or Direction?
Is distance or direction the most important stat off the tee?
Pebble Beach demands accuracy off the tee.
The best Strokes Gained off the tee in the field:
The golfers with the most accuracy off the tee:
The golfers with the best proximity numbers are from 225-250. Golfers will use these clubs to lay up on certain holes. Sean O'Hair has very limited rounds so take his data with a pinch of salt.
#7. Wedges or Woods?
Which proximity buckets are going to see the most divots this week?
A third of approach shots come from 100-150 yards.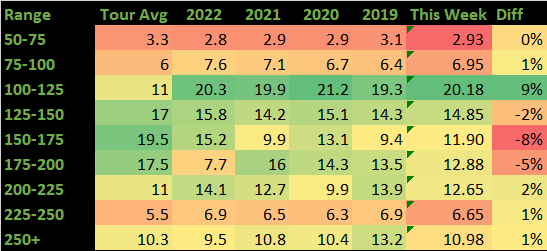 These are the golfers that rate out the best when taking the above proximity buckets and prorating them:
#8. Sand or Grandstand?
Are errant approach shots going to land up in the sand or grandstands?
Pebble Beach has 116 total bunkers, Spyglass has 62, and Monterey Peninsula has 130. With greens much smaller than the tour average and green-in-regulation percentages inevitably lower, the short game is going to be essential.
These are the golfers who excel out the rough:
 
These are the golfers who excel out the sand:
#9. Bermuda or Bent?
Are we putting on Bermuda or Bentgrass?
Neither. We are putting on Poa and these are the best putters on Poa over the last 50 rounds:
The worst putters on Bermuda over the last 50 (Hall, An, Grant, and Davis Thompson have all only had a handful of rounds on Poa):
#10. Model or Maniac
Are there golfers who the model is not liking as much as the Maniac?
Below are the top 10 golfers in my model:
These are a few golfers who the Maniac likes, who the model overlooked a little:
Bonus Bingo Card
This bingo card is for those of you who want to watch a bunch of content and golf coverage. There is a good chance one of these replays, words, players, or narratives are brought up in the next week. If you want a Google Sheets version to update as you go through the week, click here. You will just have to make your own copy of the doc.
Hopefully, this helped you prepare for the odds dropping tomorrow morning! Good luck this week, and as always, may the odds be ever in your favor!!!
Win Big With RotoBaller
Golf is back, and it's time for you to win big with RotoBaller!
Our PGA DFS Premium Package
 features several savvy analysts and proven DFS winners.
Our very own Joe Nicely recently took down a big DraftKings DFS tournament for the Travelers Championship. And as an encore, RotoBaller subscriber @tenndolly2 won $100K on FanDuel with the help of Joe and the rest of our Premium PGA team:
If you read my articles @RotoBaller or listen to @TheTurnGolfPod I've been telling y'all it was #WinningSeason when golf came back! Shoutout to the entire @RotoBallerPGA squad and all you guys that support my work for all the ❤️ pic.twitter.com/07a4ynvbSU

— Joe Nicely (@JoeNicely) June 28, 2020
Congrats @tenndolly2 ???

Thanks for being a @RotoBaller PGA DFS Premium subscriber & checking out all the amazing golf content that @JoeNicely produces every week! https://t.co/tHKZVsPbbt

— RotoBaller PGA (@RotoBallerPGA) August 10, 2020
Between all the incredible
Premium PGA DFS
content and tools we put out each week, and our Premium Slack Community where we chat with our subscribers before lineups lock, RotoBaller PGA subscribers are armed with the tools, analysis, and advice to win big.
Golf DFS News and Player Outlooks
More PGA Analysis and DFS Lineup Picks