For fantasy football GMs, draft season is gearing up. Preparing for what is waiting for us in our virtual war-rooms is a key part of the process, and the first thing to know is the language our leagues will speak to us in.
The first step is to know if you're going to battle your foes in Standard or PPR (Point-Per-Reception) scoring systems. The difference between those leagues comes down to a simple matter of awarding one extra point to players that catch a pass. Standard scoring was a staple in the early days of fantasy football, but PPR has become the most played system lately.
With both Standard and PPR-scoring systems in mind, it's time to discover which players are surefire bets in one system but potential duds in the other. Today, I'm highlighting four wide receivers who are primed to become studs in PPR-format leagues but not so much when used in Standard ones.
Featured Promo: Get any full-season NFL and DFS Premium Pass for 50% off. Exclusive access to our Team Sync platform, Premium articles, Matchup Rating projections, 15 lineup tools, DFS cheat sheets, Research Stations, Lineup Optimizers and much more!
Go Premium, Win More!
I don't think there is enough room to fit all of the reasons pointing toward a bounce-back season coming JuJu's way, but let's just mention a few: He missed four games last year after playing 14 and 16 in his first two years as a pro, he had to endure two below-average quarterbacks throwing him the ball (Ben Roethlisberger will be back in the starting QB role), he averaged under 10 PPR points and should positively regress, and his target dropped from 166 in 2018 to 70 while his yards per reception actually improved.
You can re-read the last point again, precisely the part regarding targets. JuJu logged 166 targets in 2018 and that has happened only 54 times since the 2000 season. A healthy Smith-Schuster can't be expected to reach that number again, but in 2018 he shared the field with Antonio Brown and in 2020 he'd do so with James Washington and Diontae Johnson, both far less talented than Brown. Sure, JuJu probably won't reach 160 targets, but don't rule out 120-plus. Now combine that high volume with a great pair of hands and JuJu projects to catch more than 80 passes next season per PFF.
The problem with JuJu, though, is that he doesn't average a lot of yards per target. Among the 79 WRs expected to reach 100 PPR points next season, Smith-Schuster's 7.7 Yds/Tgt projection ranks just 59th (or 21st-lowest). Most of his value comes from repetition, chances, and volume. Take that from him and he loses half of his appeal. That's why he's a lock to become a high pick in PPR leagues (and a WR2 at the very least) but he should be faded in Standard formats (a WR3/FLEX option at most).
Allen's and Smith-Schuster's projections can't be closer: 123 to 122 targets, 84 to 82 receptions, and 1,000 to 941 yards with four and five TD respectively. JuJu should benefit a bit from having Big Ben throwing him the rock instead of Tyrod Taylor or a rookie. That doesn't mean Allen won't get fed big-time in Los Angeles and rack up receptions in an offense where Mike Williams is the only other WR expected to approach 150 PPR points in 2020.
It is hard to say Allen is not a good bet in both PPR and Standard formats; at the end of the day, Allen still projects as a borderline WR2 in the latter type of league. The thing is that you shouldn't overpay for him in Standard-league drafts while you should definitely make him a clear-cut target in PPR ones. Allen (104) finished the 2019 season ranked second in receptions only behind Michael Thomas (149) and tied with DeAndre Hopkins. His 11.7 yards per reception, though, ranked only 41st among players with 50-plus receptions, making him a volume-dependent player and thus a good asset in PPR leagues but not so much in Standard ones.
Looking at scoring numbers, Allen's six touchdowns were good but not great among players at the position. Up to 43 players scored six or more TD last season, with 34 of them logging greater averages in yards per reception and 32 greater averages in yards per target. That doesn't make Allen look great in leagues that don't reward pass-catching by using the PPR format, which is where Allen's numbers shine most.
Chicago's offense is far from an overloaded one. Last season, Robinson finished with 154 targets while the second-most targeted Bear (RB Tarik Cohen) barely reached the 100 mark with 104. The next wide receiver in line was Anthony Miller with 85 targets himself. It doesn't look like things will change a lot entering 2020, with Robinson projected to 125 targets and 73 receptions on the season for 909 yards, per PFF. On the surface, those numbers look great. Looking a little bit deeper, though, the picture they paint clearly rewards A-Rob owners in PPR leagues.
When listing all WRs projected to reach 100 PPR points next season (there are 79 in that list), Robinson's expected catch rate of 58.6% ranks ninth-lowest. His 909 yards are great, ranking as the 28th-highest mark, but his efficiency isn't that great when you find out that he'd average only 12.5 yards per reception and 7.3 yards per target combining his volume and production. In fact, that 7.3 mark ranks as the 11th-worst among those 79 receivers and Robinson is one of only four WRs (the others are JuJu, Robert Woods, and Davante Adams) expected to reach 900-plus yards while averaging less than 8.0 Yds/Tgt.
All of that makes Robinson a great "raw numbers" player helped a lot by volume and high pass-catching numbers. If it wasn't for his high number of expected receptions (73) he would lose a lot of his scoring output and he would go from a WR2 in PPR-format leagues to barely a FLEX option in Standard ones.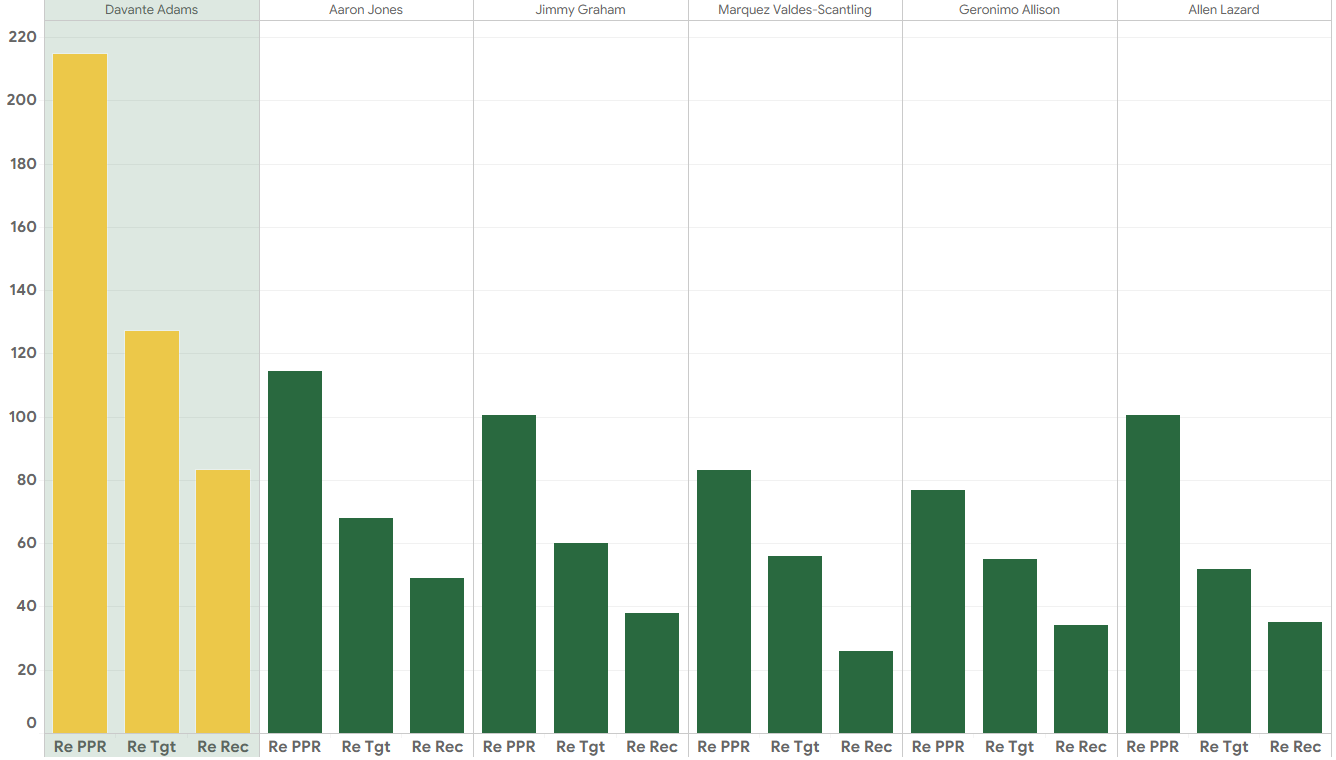 Even if you have paid zero attention to the NFL offseason, you have heard about it: The Packers screwed up and didn't bolster an offense that is clamoring for more firepower. If we remove Adams and RB Aaron Jones from the 2019 team we'd be left with  628.9 PPR points on the season generated by every other Packer not named Aaron Rodgers.
Adams and Jones racked up a combined 527.5 fantasy points, almost the same amount, only they were two against an aggregated field of 12 other Packers. No WR/TE logged more than 60 targets for the Pack last year and Adams finished 2019 with 83 receptions on 127 targets for 997 yards. What tells you that will change this upcoming season?
Per PFF, Adams is projected to finish the year as the 11th-best player overall and WR4 with 278 PPR points. He'd reach that mark to the tune of 161 targets and 104 receptions, becoming the second-best player at catching the ball if those numbers actually hold (Michael Thomas projects first with 128 receptions, and no other receiver projects to reach 100). As always, remove those extra 104 points from Adams' fantasy tally and he'd look much bleaker.
Adam's catch rate can be considered average, but his projected 7.9 yards per target are rather low. The touchdowns could save him in Standard leagues if he can score more than the five he got in 2019, which is possible as he missed four games. While Adams is one of the receivers you should draft in any league without much concern, he's one of the clearest players to prioritize in PPR leagues if only because of the monstrous volume he'd get to accrue in Green Bay. His numbers are good for any format, but that extra boost the receptions will give him in PPR leagues is hard to pass on.
More Fantasy Football Analysis