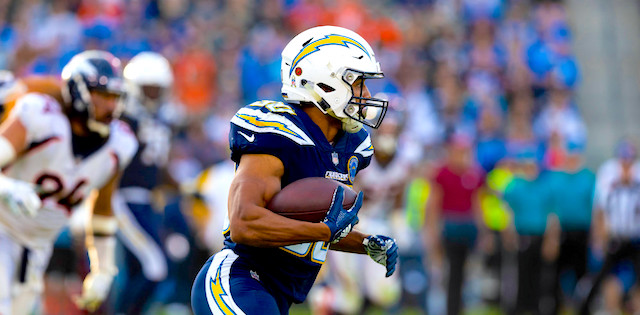 James Conner, Phillip Lindsay, Damien Williams, Gus Edwards, Austin Ekeler. In the final month of the 2018 fantasy season, these five running backs were regularly ranking amongst the top-20 at the position, often as high as top-10 or top-five. One thing they all had in common: None of them even sniffed the top 100 preseason rankings for 2018 fantasy drafts. In standard leagues, Williams and Edwards couldn't be found on rosters until around Week 8.
Try and play that same game with wide receiver. Tyler Boyd is probably the best name you could come up with in terms of someone who was a super late draft pick and who you could regularly and confidently start by season's end. After that, maybe Tyler Lockett, Kenny Golladay and D.J. Moore, but those three were all regular top 150 picks.
The problem with waiting to take wide receivers in your drafts is that the likelihood of finding a week-to-week stud either in the late rounds or on the waiver wire is very small compared to running back. Any injury to a lead running back opens up the potential for a starting-caliber fantasy running back. But an injured #1 wide receiver doesn't typically pave the same path. Do you necessarily need to start (or want to start) the #1 receivers for the Redskins, Dolphins, Cardinals or Giants? Yet at the same time, the #1 running backs for those abysmal offenses are all being drafted regularly in the first five-or-so rounds, with two being regular first-round picks. The guaranteed workload of a Saquon Barkley or Christian McCaffrey is tough to pass up, but there are several reasons why passing on them might be the best option for the makeup of your team.
Editor's Note: Get any rest-of-season NFL Premium Pass for 50% off. Our exclusive DFS Tools, Lineup Optimizer and Premium DFS Research through the Super Bowl.
Sign Up Now!
Abundance of Mid-Round RB Options
If you wait until the third round of your draft to take your first RB, some of the options you're likely to have available include Chris Carson, Kerryon Johnson and Devonta Freeman. Two of those three RBs play on elite offenses and all three could realistically have just as good of a year as someone like David Johnson or Nick Chubb, both of whom currently cost you first-round picks.
But the third round's no fun for zero RB supporters. Let's dig deeper.
Let's say fifth round. You've drafted two or three receivers as well as a tight end or quarterback (or both). If you're in a 10-team league, some of the guys you could be looking at with ADPs outside the top 40-45 include Mark Ingram, Phillip Lindsay and Tevin Coleman. In 12-team leagues, Lindsay with an ADP of 56 could still be on the table as well as Coleman (61), but some more sure-thing options include James White (66), Miles Sanders (68) and Duke Johnson (69).
Not loving those last three options? Fine. I get it. White's volatile from week-to-week, Sanders and Johnson have workload concerns. Totally fair. How about some more options in that range…
Latavius Murray (ADP: 73) – The successor to Ingram's role in New Orleans, should see around 8-10 touches per game in a dominant rushing offense. Becomes elite if Kamara is out.
Austin Ekeler (74) – Current lead back for an elite Chargers offense.
Derrius Guice (75) – Probable lead back for an anemic offense, but with opportunities aplenty and an undeniable skillset.
Kenyan Drake (76) – Another victim of an anemic offense, but with a track record of strong fantasy production.
Tarik Cohen (78) – Finished 11th at the position in PPR last year. No need to say more.
Matt Breida (92) – Finished 26th at the position in PPR last year, part of an extremely fantasy-friendly Kyle Shanahan offense.
In rounds five through eight, zero RB drafters should be selecting four of these guys. It's not only realistic, but likely, that two or three of these guys will perform as weekly top-10 or top-15 RBs during some point of the season. You don't need to guess the exact one, or at what point in the season they'll be most relevant. The goal is to take as many as you can from this group and bank on having at least two of them perform sufficiently for you at any given time in the season.
It might not be as clean of a method as plugging in Barkley as your weekly starter throughout the year, but that Barkley owner sure is going to be jealous of your wide receiver situation, which takes us to our next point…
Top-Heavy WR Position
If you miss out on one of the top 8-10 receivers, it's very likely that you are going to be regularly suffering at the position. In fact, in an ideal zero RB draft, you would end up with either two top-10 WRs or one top-10 WR and Travis Kelce.
Antonio Brown (WR9) and Keenan Allen (WR10) are the two borderline WR1s right now. Brown could suffer greatly from his new offense. Allen should be a fine WR1 in PPR but his TD deficiency makes him more of a high-end WR2 in non-PPR.
Meanwhile, the top eight guys – DeAndre Hopkins, Davante Adams, Julio Jones, Odell Beckham Jr., Michael Thomas, Tyreek Hill, JuJu Smith-Schuster and Mike Evans – should deliver either strong yardage or a touchdown (or both) most weeks, which is a reliability that you just can't find as you look into the depths of the position more.
Here are some of the top WR2 options on the board after Brown and Allen…
The Barkley owner is likely looking at one of these five guys above as his WR1. Or if he goes with another running back in the second round, he's digging even deeper for his first receiver.
It only gets hazier after this 10-15 group. In 12-team leagues where you're starting three WRs, some of your options on the outskirts of the top-36 WRs include Dede Westbrook, Will Fuller, Sammy Watkins, Christian Kirk, Curtis Samuel. Those are wide receivers 32 through 36 by ADP right now.
Go a little deeper (37-42) and you're looking at Corey Davis, Marvin Jones, Emmanuel Sanders, Sterling Shepard, Dante Pettis and Larry Fitzgerald.
Now I'm not saying there isn't some upside here, but what I am saying is that for weekly starter options, you NEED to find a way to prioritize the position so you aren't stuck starting Larry Fitzgerald as your weekly WR3. As a bye week fill-in, sure. Fine. But as a weekly starter, it is very tough to rely on anyone in this 32-42 range.
Things are slightly better if you're in a ten-team, three-WR league with guys like D.J. Moore, Alshon Jeffery, Josh Gordon, Allen Robinson and Jarvis Landry slotting in at 26 through 30 at the position. And if you're only starting two wide receivers, the options are of course even better, but the general problem remains the same. The drop-off from starting Mike Evans as a WR2 to Chris Godwin or Kenny Golladay as a WR2 is immense. The workloads for Godwin and Golladay are going to fluctuate heavily from week-to-week, whereas running backs taken in the same range as them like Marlon Mack, David Montgomery and Ingram (ADPs in the 40s), should be locks for around 20 touches on a weekly basis.
Top-Heavy TE Position
Everything said above for WRs can be echoed here, only to an even greater degree. The top three tight ends, Travis Kelce, George Kittle and Zach Ertz, should be weekly studs in your lineup, putting you ahead of your competition.
The next three after that, O.J. Howard, Evan Engram and Hunter Henry, could also put you ahead of your competitor or at least in the same ballpark if they have one of the top three.
But if you miss out on that top six, you could find yourself grasping at straws for a TE starter every single week.
In PPR leagues, Kelce (294 pts) scored more than double the amount of points as the #8 tight end, Trey Burton (147 pts). Ertz (280) and Kittle (258) weren't too far behind Kelce.
Abundance of Late-Round and Waiver Wire RB Options
Once you get into the ninth round and double-digit rounds, there are still some extremely intriguing, high-upside flyer running backs. Just a few of the names include Devin Singletary, Kalen Ballage, Ronald Jones, Jaylen Samuels and Alexander Mattison.
Ballage and Jones could be starting in week one, Samuels and Mattison could have big roles in strong offenses and Singletary could emerge as a #1 in Buffalo.
But then there's more. So many more that they can't all be summed up here in a timely fashion. If Aaron Jones goes down, Jamaal Williams is an instant top-20 RB. If Le'Veon Bell struggles or goes down, Ty Montgomery becomes a potential star. Giovani Bernard excelled with Joe Mixon out last year. Gus Edwards helped people win leagues last year and is next up after Ingram in Baltimore's run-heavy offense.
Again, the methodology might not be as neat and tidy as the easy plugging in of those top-drafted bell-cows each week, but if the zero RB strategy is executed the correct way and you can build a roster with two stud WRs and a reliable WR3 if needed, a top-three or top-six TE, a QB when the value is right and then a stable of flyer RBs assembled through both the draft and the waiver wire, you're going to be happy with how your team performs.
More Fantasy Football Analysis