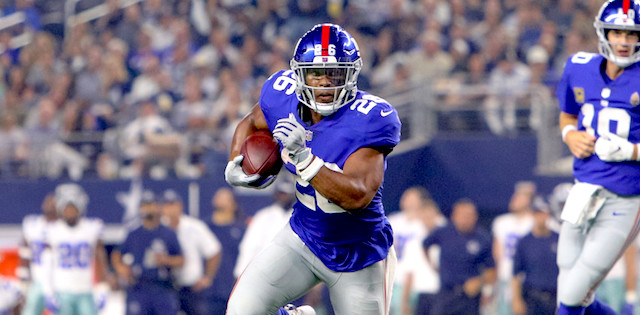 When I watch movies, I root for the bad guy. I always wanted the coyote to catch the roadrunner. An NFL team going after a defeated season is exponentially more intriguing to me than the pursuit of an undefeated one. I'm just that guy. So much so, that when I sat down to begin typing this preview for the Week 7 Monday Night Football matchup between the New York Giants (1-5) and Atlanta Falcons (2-4), I impulsively paused to rub my hands.
Why? Well, the table is set for the classic weakness versus weakness matchup with the Falcons defense allowing the second-most points per game (31) and the Giants offense producing the sixth-fewest points per game (19.5). We're also at that point in the season where the doubt starts to creep in... "Do we really want to win this, or could we use this draft pick?" There's also that part about both of these squads being among the most popular preseason picks to be playing in this season's playoffs, them both being lousy, and nobody believing that anymore. I'd bet there are more folks starting Lamar Jackson in their fantasy leagues this week than the number of people who still truly believe either of these are playoff teams, and seeing how I get pleasure out of watching situations spiral aimlessly out of control, I'm ready to watch this game between two talented, but sucky, teams. Unabashedly.
The captivation exists on so many levels, but the best part is that both teams will still be garbage at the end of it all. Regardless of the result. It's like a meaningless preseason game, being played in the middle of the season, during prime time, because at one point someone thought it'd be a good idea. Classic. It's like the Suicide Squad - take a bunch of bad and wind up with something dope. (I've actually never seen that movie, and wasn't a fan of comics, but I believe that's the gist. If not, you get the point.) Anyway, that's not why you're here so I'm done rambling. Let's get to the matchups...
Editor's Note: Get any 2020 full-season NFL Premium Pass for 50% off. Our exclusive off-season content, NFL Draft coverage, rookie rankings, dynasty analysis, preseason Draft Kit, In-Season tools and over 150 days of Premium DFS.
Sign Up Now!
New York Giants @ Atlanta Falcons

Date and Start Time: Monday, October 22nd at 8:15 p.m. EST
Game Spread: ATL -4.5
Over/Under: 54
Notable Injuries and Status:
Offensive and Defensive Rankings (per game):
| | | |
| --- | --- | --- |
| | Giants | Falcons |
| Passing Yards | 17th | 5th |
| Rushing Yards | 27th | 29th |
| Pass Defense | 12th | 29th |
| Run Defense | 24th | 25th |
Must Starts
Top Players That You Should Have In Your Lineup
Saquon Barkley (RB, NYG)
Kareem Hunt. Adrian Peterson. These are the only two running backs who put up more yards from scrimmage over their first six career NFL games than the 811 Barkley has amassed to this point. The list of running backs who have averaged more yards from scrimmage per game this season than the 135.2 Saquon has thus far? Nonexistent. He leads all backs. Atlanta has surrendered 4.51 yards per carry to opposing RBs and the 70.8 yards they've allowed to backs through the air are good for the second-highest... Oh, and at eight touchdowns, the Falcons are tied for the third-most allowed to the RB position.
Odell Beckham Jr. (WR, NYG)
Eli Manning hasn't played well. We all know that. I'm still trying to figure out what Lil' Wayne has to do with anything. (Besides being from Louisiana like Odell. Still, he added no value to the interview.) And, apparently, OBJ doesn't like water... It's been a tumultuous season for Mr. Beckham. Bad news for him, we're not even halfway through the campaign. But, even with all of the drama, he's averaging 84.3 yards per game - 14th among wide receivers; it's his one touchdown that has been the problem for fantasy owners. Well, the Falcons have allowed more receiving TDs to opposing WRs than any other team so I'll start worrying if he doesn't find the end zone Monday night.
Julio Jones (WR, ATL)
If Odell's one touchdown has been a problem for his fantasy owners, Julio's zero have been a quandary. However, unlike OBJ, the matchup doesn't suggest he'll be dancing Monday night. On the season, the Giants have allowed just five receiving TDs to opposing WRs - tied for the fourth-fewest. Three of those five have come over New York's last two games, though, so there is hope. But regardless, Jones' 117.8 yards per game are second to only Adam Thielen, so while the matchup is less than ideal -- New York has also allowed the ninth-fewest yards per game to opposing WRs -- you've got to start Julio Jones on the strength of him being Julio Jones.
Must Sits
Players To Avoid Putting In Your Lineup
Ito Smith (RB, ATL)
Yes, Devonta Freeman is out again this week. And yes, Ito Smith has found the end zone in three-straight games... Smith has also averaged a lowly 8.4 touches and 33.6 yards from scrimmage in his five games. He's TD dependent - Rashaad Penny and Jordan Wilkins are each averaging more touches and scrimmage yards; just for a little perspective. Sure, the Giants have allowed five rushing TDs to opposing RBs, but Alvin Kamara is single-handedly responsible for 60% of them. New York has allowed just 3.9 yards per carry to opposing backs (12th-lowest) and RBs not named Kamara have combined for two rushing TDs over five games. I'm not buying the Ito hype - not this week at least. Hard to bank on him scoring a TD for the fourth-straight week.
Austin Hooper (TE, ATL)
Hooper has been on a nice run -- 148 yards and a touchdown over his last two games -- but after averaging 3.8 targets over Atlanta's first four games, he's averaged 11 over their last two. Why the drastic increase? Good question. I'd suggest the answer lies somewhere between matchups and injuries - neither of which are in his favor this week so expect more of the four catch, 40 yard Hooper.
Solid Options/Sleepers
Which Players Will Have Solid Games and Which Could Surprise?
Solid Option - Matt Ryan (QB, ATL)
For one, he's at home. Ryan has averaged 354.8 passing yards per game at home this season versus the 268 he's put up on the road and 13 of his 14 passing touchdowns have also come at home. Second, Patrick Mahomes is the only quarterback who's averaging more fantasy points per game than Ryan.
Here's the thing, though, five of the Falcons first six opponents rank in the Top-10 in passing yards allowed per game -- it's not like he's been dissecting tough defenses all season -- and the one team which didn't land in the Top-10, Carolina, allowed him to rush for two TDs. Take those away (he rushed for five TDs over his first 10 NFL seasons) and he finished with 18.7 fantasy points. Solid, but not second-best fantasy QB numbers. This matters because the Giants pass defense has actually been better than the Panthers, and statistically, will be the best unit Ryan will have faced thus far in 2018.  Basically, what I'm saying here is, don't expect another 30 points from Ryan Monday night. He'll be solid, though.
Solid Option - Eli Manning (QB, NYG)
The Falcons have been lousy against the pass. Eli has been lousy at passing. Pick your poison.
Solid Option - Tevin Coleman (RB, ATL)
Again, Alvin Kamara has single-handedly skewed the numbers running backs have put up against the Giants. Let's ignore Kamara for a second because Tevin Coleman doesn't belong in the same realm. Without Kamara's monster game, New York has held opposing backs to 73.8 yards per game on 3.4 yards per carry - both would rank among the Top-10. Kamara's 19 carry, 134 yard, three TD performance can't just be erased, however, and even with it, the Giants have held opposing backs to 83.8 yards per game (15th) on 3.9 yards per carry (12th). With four teams on bye, Coleman falls in the low-end RB2 conversation... Just don't expect a monster game.
Solid Option – Sterling Shepard (WR, NYG)
If you would've told me before the season that Rhett Ellison would have as many receiving touchdowns as Odell Beckham after six games while Sterling Shepard would have more, I would've told you that the Giants would be an 0-6 team. Well, they managed to win one, but that's not the key - Shepard is tied with Barkley for the team-high in receiving TDs and no team has allowed more TDs to opposing WRs than the 11 Atlanta has squandered.
Solid Option (PPR) – Mohamed Sanu/Calvin Ridley (WR, ATL)
The Giants have allowed just four receivers to go for more than 75 yards against them. One of them is named DeAndre Hopkins and the others were the beneficiaries of busted coverages. Hence the PPR stipulation - yardage will likely come at a premium. Still, Ryan is going to pass, and if they were to both finish in the five catch, 50/60 yard range, I wouldn't be the least bit surprised - landing them both as solid WR3 options. Consider anything more, e.g. dancing in the end zone, cake.
Solid Option - Evan Engram (TE, NYG)
Like the rest of the Giants offensive weapons, Engram has been at the mercy of quarterback Eli Manning (and a balky knee). But, the Falcons have been middle of the pack at defending tight ends and have allowed three TDs to the position over their last three games. Plus, with Jawill Davis/Cody Latimer out and with Russell Shepard questionable, Engram appears primed to see a gaggle of targets in his return by default - making him a good play on volume alone.
Sleeper - Bennie Fowler (WR, NYG)
With Latimer and Davis out, Fowler could be in line for a few targets if Russell Shepard is also unable to go. The Giants did bring in Corey Coleman this week... To their practice squad... Leaving Beckham, Sterling Shepard, and Fowler as the only active receivers sans the other Shepard (Russell). And, if Shepard does play, pretend Bennie Fowler (WR, NYG) says Russell Shepard (WR, NYG) because the Falcons can't stop a nosebleed.
More Fantasy Football Analysis