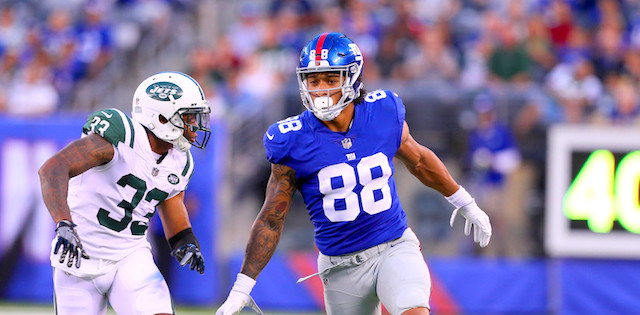 What Appears In This Article?
hide
Welcome to Disaster Recovery, where each week I'll examine why your studs played like duds. This isn't a place to find out why you should have sat a player for somebody else on your bench. Disaster Recovery is here to examine the guys who you didn't think twice about starting and to help you decide if you should be panicking at all about their value moving forward.
This season we'll be focusing on one dud a week, and touching on a few others briefly. There will be two major qualifiers for these players: the player must have performed well below expectations without an injury, and the player needs to be considered a must-start in most formats.
The Arizona Cardinals have been comically bad at defending tight ends this season. Evan Engram is a very good tight end. In Week 7, he failed to deliver even a passable performance against the Cardinals in a dream matchup. Let's look into what happened.
I Can't Evan...
Evan Engram's Week 7 stat-line: one catch for six yards on five targets. 
Evan Engram suffered an injury in Week 5 and was inactive for the Giants' Thursday night showdown with the Patriots in Week 6. As an Engram owner, I wasn't even that concerned about him missing that game. It was a short week and he was banged up. He deserved to rest. Judgment day was looming in Week 7.
The Arizona Cardinals have been consistently obliterated by opposing tight ends this season. Mark Andrews, T.J. Hockenson, and Austin Hooper have each had at least six catches for over 110 yards and a touchdown against the Cardinals. Greg Olsen had six catches for 75 yards and two touchdowns. Will Dissly recorded seven grabs for 57 yards and a touchdown. Arizona's lack of ability to guard tight ends was so notorious that smart people actually recommended starting Tyler Eifert against them in Week 5.
Engram is considered one of the best tight ends in the league. He's been a top fantasy option at the position all season. He returned to practice as a full participant early last week. The stars had aligned for Engram owners. He was set to rain fire all over Arizona's defense in Week 7.
One catch for six yards on five targets. 
This was more devastating than Thor not going for Thanos' head at the end of Avengers: Infinity War. It was a disaster on a scale we may not see again this season. One of the league's top tight ends going against the Arizona Cardinals couldn't even eclipse two points in PPR leagues.
Engram shoulders a bit of the blame here. He dropped what could have been a 30-yard catch on a perfect ball from Daniel Jones late in the second quarter. He dropped another pass later in the game. But five targets against this Arizona defense? That's a tough pill to swallow for Engram owners. Even worse, backup tight end Rhett Ellison snagged a 28-yard touchdown in this matchup.
Usually, we look into what happened and whether we should be concerned moving forward. The truth is that it's hard to really be concerned about Engram. He's still ranked as the TE6 in half-point PPR leagues per game, and he remains one of the few true "set 'em and forget 'em" fantasy tight ends in the NFL. It would take three straight games of this to really consider moving on from Engram.
For now, we just mourn. We mourn what should have been one of the best tight end performances of the year. Engram should be fine. We'll forgive him, but we'll never forget this performance.
Panic Meter: 1/5
Other Players to Monitor
Let's take a look at some other notable busts from Week 7:
Patience, Patience: RB Le'Veon Bell
It's been frustrating to sit through all these mediocre performances from Le'Veon Bell, but better days are indeed coming for the star running back. Bell's next seven games teams are favorable matchups. Four of the seven games are against bottom-five run defenses. Bell should feast during the second half of the year.
Remain Calm: WR Keenan Allen
I'm still remaining calm when it comes to Keenan Allen. Four catches for 61 yards and no touchdowns is not ideal, but Allen recorded double-digit targets for the first time since Week 3. There will be a blow-up game from Allen sooner than later.
More Fantasy Football Analysis