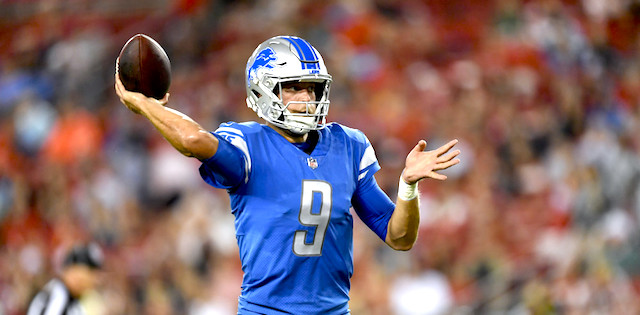 The NFL season continues to tick along, and as we reach the first week of the season that has two numbers inside of one number in its name, we start to reach panic mode for some fantasy owners. You're sitting at 3-6 and you know another loss dooms you, and you can't risk putting someone in your lineup who will just help to enable that doom.
So, let's talk about some bad fantasy options. With bye weeks across the league and that playoff push become more necessary, what can you do to avoid making some tremendous mistakes this week?
Below are 10 lineup busts and avoids for Week 10 of NFL action.
Editor's Note: Get any full-season NFL Premium Pass for 50% off. Our exclusive In-Season Lineup Tools, Lineup Optimizer and over 150 days of Premium DFS Research.
Sign Up Now!
Top 10 Busts - NFL Week 10
Matthew Stafford isn't the same Matthew Stafford this year. After being in or near the top 10 fantasy quarterbacks in seemingly every season, Stafford has fallen off the fantasy map this year. Factor in a meeting with the Bears, who have allowed 20 or fewer points to the QB position five times this season, and the departure of Golden Tate (which can't necessary be blamed for last week's disastrous showing for the Lions, but...) and you have a recipe for a rough game for Stafford.
Sam Darnold (QB, New York Jets)
The Jets play the Bills this week and while you should be starting the Jets defense if possible, you should also think about the Bills defense as well. Sam Darnold isn't going to be successful just because the other side of the field features Nathan Peterman; the Bills have held opposing quarterbacks to under 10 fantasy points in three of the past five weeks.
(Sam Darnold has been ruled out with a foot injury, so let's just apply everything above as a reason why you should not play Josh McCown this week, yeah?)
Kerryon Johnson (RB, Detroit Lions)
No team has been stingier to fantasy running backs than the Chicago Bears this season and while the Lions boast a strong rookie runner in Kerryon Johnson, this matchup spells potential fantasy doom for the former Auburn Tiger. The Bears have allowed three touchdowns to running backs, but all of those have come in the passing game (hi, possible sleeper candidate Theo Riddick!). No rushing touchdowns allowed in the first half of the year? Might be time to consider other options in your lineups.
Carlos Hyde (RB, Jacksonville Jaguars)
Pretty easy one here. Leonard Fournette (hamstring) is probably back. T.J. Yeldon is the passing back. Carlos Hyde is...well, remember when he started the year in Cleveland and Nick Chubb was in that third back role and saw a very limited number of touches? Yeah, that's Carlos Hyde now, but without some of Chubb's big-play upside.
Derrick Henry (RB, Tennessee Titans)
Touchdowns in consecutive games can help you forget that Derrick Henry's usage isn't looking great and he's run for more than 3.2 yards per carry in just two games this season. Henry is turning into a plodder with a ceiling on his touches, and as Dion Lewis grows strong, Henry fades. It's like American Horror Story: Coven rules here, except Derrick Henry was probably never actually a Supreme in the first place.
Dez Bryant (WR, New Orleans Saints)
The classic slow your roll pick. Yes, the Saints signed Dez Bryant, and yes, I saw a bunch of people in a bunch of leagues rush out to add him. But it's Week 10 and he hasn't been on an NFL field since the end of last season and the Saints are running a pretty complex system this year, so Bryant likely either doesn't play or he's in for the simple stuff. Either way, don't be one of those people who throws him into the lineup and tweets #DezCaughtIt when he hauls in a 14-yard reception in the second quarter, his only catch of the game.
Chris Godwin (WR, Tampa Bay Buccaneers)
I wrote a piece yesterday about Adam Humphries, who has seen a bigger and bigger share of the targets and snaps for Tampa Bay lately and looks to continue that trend. Well, football is an unforgiving game, and if one player sees an increase in usage then another player has to see their playing time head in the opposite direction. That's where I am with Godwin. He's a promising young player, but he's losing time and touches to Humphries, whose high catch rate makes him a great safety valve for this team.
Kenny Golladay (WR, Detroit Lions)
Do I already regret trading for Kenny Golladay after the Golden Tate trade? Nah. But I'm not playing him this week. You've heard of stacking in fantasy football, right? When you play a QB and one of his WRs because of a good matchup? Let's anti-stack Stafford and Golladay this week against the Bears and hope for better days ahead for this passing attack.
Chris Herndon IV (TE, New York Jets)
Another anti-stack here. The Bills have allowed a decent amount of touchdowns to tight ends (four) but they've also held most of the tight ends they've faced in check from a yardage perspective. I mean, in back-to-back weeks they limited Tennessee and Houston to a combined one-catch, six-yard effort from the position. And while Herndon has had some good moments lately, he's not in the tier of tight end that feels at all safe to play in this situation.
Gerald Everett and Tyler Higbee (TE, Los Angeles Rams)
Just, no. I know Everett is taunting you after a three-catch, 48-yard outing last week, but he was only on the field for 30 percent of the offensive snaps. And the tight end who did see the most playing time, Tyler Higbee, has only been targeted more than twice in two games this year. The Rams have such a fun passing attack, but the tight end isn't consistently involved in that attack. Even with bye week issues and a weak position...nah.
More Weekly Lineup Prep