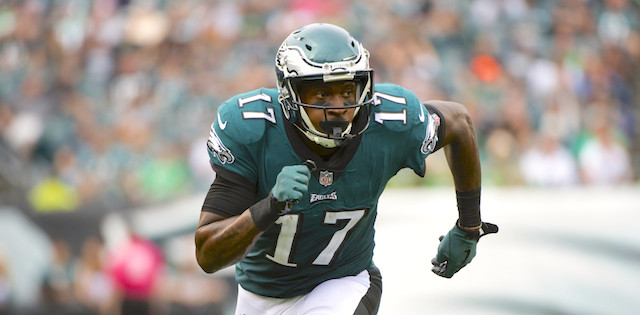 It's a yearly cycle: new players enter the league and older players are either pushed out or start down a path that eventually leads to them being pushed out. No one -- not even the Larry Fitzgeralds of the world -- can play forever.
Speaking of Larry Fitzgerald, let's turn to the subject of this article. A whole cast of solid rookie receivers entered the league this past month, which means we're going to be heading towards a corresponding drop in targets for some veteran wide receivers.
Let's look at the veterans wideouts with the most to worry about in terms of usage next season.
Editor's Note: Get any full-season NFL Premium Pass for 50% off. Our exclusive In-Season Lineup Tools, Lineup Optimizer and over 150 days of Premium DFS Research.
Sign Up Now!
Larry Fitzgerald, Arizona Cardinals
Numbers don't lie and the numbers say that last season Larry Fitzgerald led the Cardinals in targets, but he saw his total share of the team's targets drop from 30.22 percent down to 23.64 percent. Two big reasons for this: a healthy David Johnson, who saw 16.53 percent of the team's targets after a 2017 season in which Arizona's most targeted running back, D.J. Foster, saw just 4.86 percent, and the emergence of rookie Christian Kirk, who was targeted 68 times.
Now, two things about the 2019 version of the Cardinals. One, they've brought in head coach Kliff Kingsbury and rookie quarterback Kyler Murray, so we should expect a pass-oriented offense in which more total targets are available for the team's receivers, but the team also brought in two highly-touted rookie receivers, Hakeem Butler and Andy Isabella, who'll need some of those targets. And with another year of development for Kirk, we're looking at a team that's likely to spread the ball around more instead of focusing so much on one wide receiver. Factor in another thing that we aren't supposed to talk about but probably should -- Fitzgerald being 36 this upcoming season -- and there's a drop-off just waiting to happen.
The increased pass attempts should help Fitzgerald avoid some kind of complete bottoming out, but I'm still lower than I've ever been on him in re-draft leagues, and it wouldn't be a shock to see a new target leader in Arizona if Kirk continues the upward trajectory he had last season.
Goodwin was targeted 43 times in 11 games last year. He missed time for personal reasons and while he has the talent to continue being an important part of this offense, some of the team's recent moves suggest that Goodwin won't return to his 2017 level of productivity.
The team spent an early draft pick on South Carolina wide receiver Deebo Samuel, who, with second-year wideout Dante Pettis, should form San Francisco's receiving corps of the future. Samuel is a good route runner, has good hands, and should be able to make things happen with the ball in his hands. Samuel has the skill to be the top receiver on a team and can play both inside and outside. The 49ers will need to find a way to keep him on the field. They also drafted Jalen Hurd, who will play all around the field and see his share of touches too. They'll have to keep Pettis on the field too, as he showed a ton of promise during his rookie year.
This means that while Goodwin's likely to have a role with the team, he's not getting back to the 2017 level of productivity, especially with a huge chunk of the team's targets getting eaten up by George Kittle. Goodwin's the third or fourth option on this offense and, with so much youth in tow, really only has one direction to trend: down.
Jeffery is entering his eighth season in the NFL and his third as an Eagle. Last year, Jeffery caught 65 passes for 843 yards in 13 games. It was the fourth year in a row where Jeffery didn't hit 1000 yards, but his per-game numbers were up from 2017, with Jeffery improving in yards per game, yards per target, and catch percentage.
But his catch percentage of 70.7 percent was a career high, and nothing about Jeffery's career suggests that a catch rate over 60 percent is sustainable, so there's that. There's also the introduction of J.J. Arcega-Whiteside to the mix, and I'm sure we've all heard the talk about how Arcega-Whiteside is going to be a major red zone threat for the Eagles. He's the kind of big-bodied receiver who can be incredibly useful down in that part of the field.
But opportunities don't just appear from thin air; someone has to lose for someone else to gain, and Jeffery's likely to see fewer red zone targets with Arcega-Whiteside in town, lowering his overall ceiling as his opportunities to find the end zone are reduced.
Did you know Snead led the Ravens in targets last year with 101? And that he caught 66.34 percent of those targets? No?
Well, I don't see that happening again. The Ravens spent a good amount of draft capital on players who can catch the ball -- whether that be out of the backfield or as a wideout -- and Snead's going to struggle to hold those guys off for snaps and targets. There's Marquise Brown, who gives Lamar Jackson a highly-talented, potential star to toss the ball deep to. There's Miles Boykin, who has good hands and can adjust to poorly-placed balls due to his catch radius. He could wind up as an incredibly useful piece on this offense. There's also running back Justice Hill, who should give the Ravens a back who can make catches out of the backfield and be a more effective version of what Javorius Allen was at times last season.
And that's not to mention the non-rookies. Mark Ingram was brought in as a free agent, and with the Saints last year he was targeted 26 times. And then there's the two second-year tight ends, Mark Andrews and Hayden Hurst. Andrews looked like the better pass catcher last season, and I'd expect that to continue, but Hurst should be worked into the mix more and end up receiving more than the 3.86 percent of the team's targets he received last year. Things are more crowded now in Baltimore, so don't expect to see Snead top 100 targets again.
More ADP Busts and Avoids