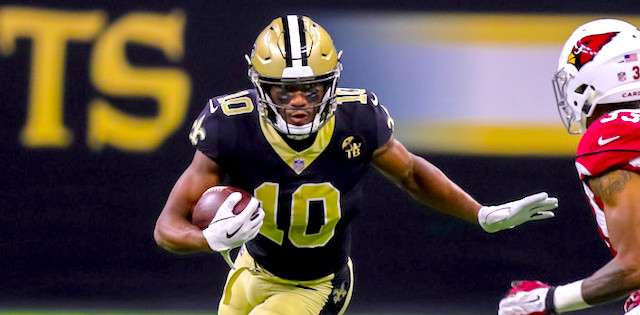 If you're a fan of dynasty Twitter, you're well aware of who Tre'Quan Smith is and what he brings to the table in New Orleans. The biggest uptick that you're looking at with Smith right now comes from the veteran wide receiver, Ted Ginn, heading to IR. In Week 5 when Ginn was sidelined, Smith saw a massive jump in playing time. He saw 67% of the offensive snaps in week five and had not seen more than 40% of the offensive snaps prior to week five. Opportunity can be one of your best friends in dynasty football, and Smith has just that.
Landing spot is huge for rookies in the NFL, and landing in New Orleans puts him in a nice position to make a name for himself. Prior to the Saints signing Cameron Meredith from Chicago during the off-season, Smith was looking like a potential late second-round dynasty rookie draft pick. Meredith hurt this a bit, but ultimately New Orleans is a nice spot for a rookie wide receiver to land. We've seen Brandin Cooks and Michael Thomas come in as rookies over the past few years and Drew Brees is a huge reason as to why they've had success.
Even in an offense with a lot of mouths to feed and a lot of fantasy studs, Smith has a shot to be a breakout rookie during the second half of the NFL season. Let's take a closer look at his profile midway through the 2018 season.
Editor's Note: All you early birds can get a full-season NFL Premium Pass for 50% off. Our Draft Kit, In-Season tools and over 150 days of Premium DFS.
Sign Up Now!
Tre'Quan Smith
6'2" 210 pounds - 22 years old
RotoBaller Dynasty WR Rank: 68
The wide receiver out of the University of Central Florida possesses average size for an NFL wide receiver, but does has some very nice traits to note. One of the skills that will be easy to transition to the NFL level is his blocking. He is an excellent blocker as well as a downfield blocker, which bodes well for staying on the field even if he isn't getting targets immediately.
His wingspan is in the 96th percentile of NFL wide receivers. Another trait is his arm length, which is in the 88th percentile of NFL wide receiver prospects according to PlayerProfiler. His arm length allows him to go up and high point the ball, which could help him potentially be a red zone weapon that the Saints could use.
Smith brings excellent explosion but does lack some lateral agility which was on display at the combine. He doesn't create a lot of separation with his body in his routes, but he has great hands and can make some nice catches. Smith does run smooth routes, but the biggest thing that I believe will get him playing time in New Orleans is his blocking. He does show good burst throughout his film and makes his own production with his YAC. Speaking of YAC, 75% of his catches went for first downs at UCF.
One of the best games to watch and see what Smith can offer is the Peach Bowl against Auburn.
Opportunity
With Ginn on injured reserve, the WR2 role opposite of Thomas is Smith's for the taking. Meredith has been nursing a knee injury this year as he missed the first two games of the season. In his three games played so far, Meredith has caught nine of ten targets for 114 yards and one touchdown.
Heading into Week 7, Meredith is questionable once again, which makes for a good time to get Smith involved. Heading into a tough road matchup against the Ravens, the Saints offense will be put to the test this week. With a weak defense, however, I expect them to be playing in a potential shootout against Joe Flacco and the Ravens, which could mean some shots downfield for Smith.
Smith's current average depth of target is 16.8 according to AirYards, he also had 101 air yards last week. Smith had nine touchdowns on deep balls, which was the best in this 2018 rookie WR class. With a good chunk of air yards and aDOT already, maybe Brees has already recognized his deep play ability, which could offer some nice upside for Smith in fantasy football.
From a long-term standpoint, it is worth noting that Drew Brees is signed with New Orleans until the end of the 2019 season, where he has a potential out. In dynasty, it can be easy to look at guys like Brees or Ben Roethlisberger and start thinking about how many years they might have left. With Brees signed through the end of 2019, you're getting two years with one of the most prolific offenses in the league. If Brees wants to keep playing, I expect him to do so in New Orleans, even if that means taking a pay cut down the line. As of now, I wouldn't let Brees' age or potential future in the NFL change your views on Smith and the Saints offense.
Dynasty Outlook
Similar to many of the other rookies in the 2018 class, you may find yourself struggling to decide how to approach them in dynasty. This can be a tough time of the year to buy or sell rookies. With Tre'Quan Smith, you're getting a great deal of potential and upside in a prolific offense.
If you're an owner, your best bet would be to either hold him or sell high if one of your league-mates is very high on him. Holding him would be my recommendation right now, or trying to buy him if possible if you're looking to gain some youth. If you're going to go make some offers for him, be sure to do so with caution, as it can be easy to overpay for someone when you're chasing unproven potential.
More Dynasty League Strategy