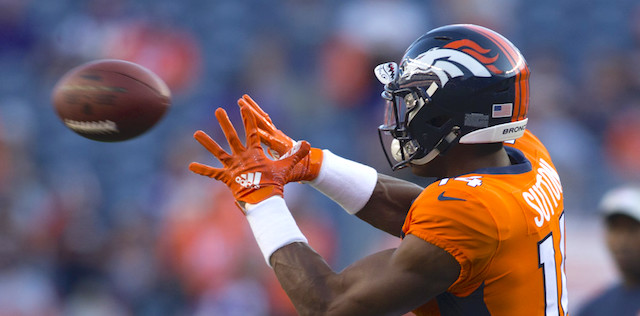 Rebound (definition): recover in value, amount, or strength after a previous decrease or decline. I sometimes see the term "rebound" conflated with "breakout." In order for a player to rebound, that player has to have previously been good. In 2020, perhaps the biggest rebound player was Stefon Diggs, who followed up a dismal 2019 campaign with an overall WR3 finish. When we look for rebound candidates, those are the type of players we are targeting - players that were good prior to the down season.
While this may seem like some filler offseason article, identifying rebound players does not get enough credit for the value it can have for fantasy teams. Typically, rebound candidates are underpriced due to recency bias and the fear that the down season was not just an aberration, but the start of a trend.
Given that it is only February, the focus right now is on identifying players likely to rebound in 2021. As we get deeper into the pre-draft process and closer to August and September, ADP will dictate whether the rebound candidates provide an opportunity for value.
Featured Promo: Our friends at RIVAL Fantasy have created fun and unique DFS games including over/under contests and Fantasy Bingo. Use promo code BALLER to get a free year of RotoBaller Premium access ($199 value), and a $50 risk-free deposit.
Play Now!
Don't Count On a Comeback
Before we get into the players with a chance to bounce back this season, I want to highlight some names you won't find on this list.
Julio Jones (WR, ATL): While an overall WR14 finish isn't terrible, Julio Jones is 32 years old and played in just nine games last season. It wouldn't be a total shock if he rebounded in 2021, but I'm betting against a 32-year-old player who has battled nagging injuries throughout his career that seem to finally be costing him actual games as he ages.
Odell Beckham Jr. (WR, CLE): There are way too many issues with Odell Beckham. He will probably be a "value" to the extent that he doesn't cost much, but he may still cost more than he should because of his name. The fact is Beckham has been hurt in three of his last four seasons and the one year he played every game (2019), he was barely a WR3. We also don't know where he's going to play this season.
James Conner (RB, PIT): As of now, James Conner is technically still the lead back for the Steelers. Conner was excellent in 2018 during Le'Veon Bell's sabbatical. Other than that, he hasn't been good. He's a replacement-level talent that has been consistently outplayed by other members of his backfield since 2018. He was good exactly one year. I'd be surprised if he ever really mattered again.
Cam Newton (QB, NE): I've seen enough. It's over for Cam Newton.
2021 Rebound Candidates
Dak Prescott (QB, DAL)
I will keep this short and sweet because Dak Prescott isn't really a rebound candidate. I doubt Prescott will come with a discount due to his injury as he will be fully cleared in time for training camp. Prescott was the overall QB1 before he broke his ankle. If he stays healthy in 2021, and we have no reason to think he won't, he's sure to be top-six at the position.
Saquon Barkley (RB, NYG)
I'm going to avoid spending too much time on the injured players. Saquon Barkley is a top-five pick and still a generational talent. All he needs to do to rebound is stay healthy.
Ezekiel Elliott (RB, DAL)
I spent a lot of time on Twitter blasting Ezekiel Elliott and proclaiming Tony Pollard the superior running back. I stand by those statements. However, my job isn't to tell you who is better at football - my job is to tell you who will be better at fantasy football. As long as Zeke is a Cowboy and Jerry Jones is the owner, the team is going to feed Zeke. While Elliott objectively played poorly in 2020, between the fumbles, the lack of splash plays (1.6% breakaway run rate), and the overall pathetic 0.7 fantasy points per opportunity, he still commanded a 75% snap share. After Pollard's RB1 performance during the game Zeke missed, upon his return, Zeke was right back atop the backfield.
Much of Elliott's struggles can also be attributed to Dak Prescott's injury. The Cowboys had the most prolific offense in the NFC over the first month of the season. With Prescott back, defenses will have to fear the Cowboys' passing game more, which opens up running lanes and there will be more scoring opportunities. Elliott's 15.4 ppg in 2020 was a career-low and even if he has lost a step, he is still a lock to surpass that number if he and Prescott stay healthy.
JuJu Smith-Schuster (WR, FA)
The odds of JuJu Smith-Schuster remaining in Pittsburgh are slim. He's included on this list on the assumption he will be playing somewhere else. As the third-most talented receiver on the Steelers, it would be tough for him to bounce back. Assuming JuJu leaves, he will likely go somewhere where he can theoretically lead his team in targets. I do believe JuJu is not a true alpha WR1 and better off being the WR2, but that doesn't preclude him from improving upon his low-end WR2 finish from 2020.
Courtland Sutton (WR, DEN)
I know I said I wasn't going to focus on players that were injured, but Courtland Sutton is a special case because it seems like the fantasy community has forgotten how good he was in 2019. While Sutton was just a WR3, he flashed elite talent and playmaking ability. He is vastly superior to Jerry Jeudy and, if healthy, will be the unquestioned WR1 in Denver this season.
Their quarterback situation remains a concern and that, combined with Sutton's health and the overly rosy perception of Jeudy, appears to have set the stage for a heavily discounted Sutton in 2021 fantasy drafts. If you were to make a list of wide receivers that have "best wide receiver in the NFL" in their plausible range of outcomes, Sutton is on that list. That's how good he is. If Sutton played a full 2020 season, my guess is he would be a third or fourth-round pick in fantasy drafts. If you can get him any later than that, you should pounce.
Kenny Golladay (WR, DET)
There are a lot of questions surrounding Kenny Golladay in 2021. Can he stay healthy? What will his chemistry be with new quarterback Jared Goff? Will Golladay even be on the Lions? One question we most certainly do not have, though, is about Golladay's talent. Golladay averaged just 13.2 ppg in five games in 2020. It was a completely lost season. But Golladay was a WR1 in 2019 and there's no reason to think he can't return to that level with a healthy 2021.
Michael Thomas (WR, NO)
This one feels academic. Michael Thomas was outside the top-36 wide receivers in 2020. Regardless of whether it's Taysom Hill or Jameis Winston at quarterback in 2021, there is a 0% chance Thomas is that bad again. He didn't catch a touchdown in his seven games played. That also will not happen again. Thomas will remain one of the first few wide receivers off the board. He is going to bounce back. The only question is how much? He will not come with an injury or poor performance discount.
Download Our Free News & Alerts Mobile App
Like what you see? Download our updated fantasy football app for iPhone and Android with 24x7 player news, injury alerts, rankings, starts/sits & more. All free!


Win Big With RotoBaller
Be sure to also check out all of our other daily fantasy football articles and analysis to help you set those winning lineups, including this new RotoBaller YouTube video:


More Fantasy Football Analysis