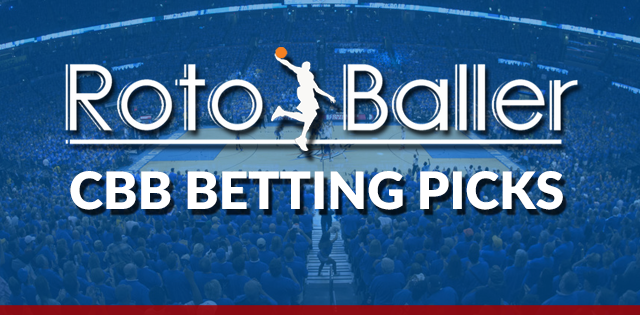 In this article every week, we'll be reviewing some of the top college basketball games of the day to see how we can beat Vegas.  Today's full slate of games includes several high scoring affairs with minimal defense and a matchup between a top mid major program and an upstart Power 5 school.
Last Saturday, our picks went 3-2, with Bowling Green wasting a large halftime lead and the Navy and Marist offenses playing incredibly inefficient offense, unable to post a total over 109 - despite the extra overtime period!
Here are some of the top college basketball expert betting picks for Saturday, December 14. Let me know your thoughts, and follow me on Twitter @fredetterline.
Season record to date: 3-2
UT-Martin @ UNC-Asheville - 2:00 pm
The high-flying UT-Martin Skyhawks travel east on Interstate-40 to take on the UNC-Asheville Bulldogs. The Skyhawks run a perimeter-oriented offense, centered on the play of their guards. Parker Stewart is a transfer from Pitt who is the son of head coach Anthony Stewart and the primary ball-handler and playmaker on offense. Stewart is joined in the backcourt by transfer guard Craig Randall, who is now with his third collegiate program after stops at Memphis and Duquesne.
UT-Martin likes to play at a frantic pace, and have gone over the total in six of their seven games so far this season. Their opponent, UNC-Asheville, is a young team who have played exceptionally poor defense in the early going - leading to the over hitting in five of the team's first six games against Division 1 opponents to date.
Pick: Over 157/UT-Martin -7
Liberty @ Vanderbilt - 8:00 pm
Former NBA star Jerry Stackhouse, in his first year at the helm of the Vanderbilt Commodores, is attempting to resurrect the program from the basement of the SEC. This program, once successfull under Kevin Stallings, floundered during the final years of Stallings' tenure and the struggle continued Bryce Drew's short time in charge. The roster is full of new and inexperienced players, including most notably Scotty Pippen Jr. The Commodores find themselves at 6-2, entering their game against Liberty.
The Liberty Flames, who won their first round matchup in the NCAA Tournament last year, return players who accounted for over 75% of the total minutes played on last year's team. Coach Ritchie McKay has aspirations to not only return to the NCAA Tournament, but to reach the Sweet 16 this year. McKay combines a senior-laden squad, led by star forward Scottie James, with the top recruiting class in Liberty program history - anchored by Mr. Kentucky Basketball runner-up forward Kyle Rode. Thus experienced Flames roster should wear down on the young Commodores group that is heading in a positive direction, but still has at least another recruiting cycle of players needed to compete in the SEC.
Pick: Liberty -1
Toledo @ Detroit-Mercy
One of the most interesting stories in college basketball thus far has been the Detroit-Mercy Titans. The Titans are a guard-centric team led by head coach Mike Davis' son and star point guard Antoine Davis. Antoine was among the nation's leaders in scoring last year as a freshman, and has picked up where he left off, albeit with an undesirable 36% shooting percentage this season. While Davis has struggled with efficiency, Kentucky head coach John Calipari's son Brad has been an unexpected jolt of energy and efficiency on offense this session.
Brad Calipari transferred from his father's program with hopes of both a scholarship and more playing time, and through nine games his decision to go to Detroit appears to already be paying dividends, averaging 22 minutes per game and connecting on nearly 50% of his three point attempts. Toledo participated in the NIT last year and returns only 58% of total minutes played from last year's team. Head coach Tod Kowalczyk's team will likely need significant contributions from senior center Luke Knapke if they have any hopes of reaching the postseason again this year. During large stretches of games, Toledo has switched to utilizing zone defense, which should allow opportunities for Detroit to let loose the three point barrage.
Pick: Detroit-Mercy +13
Thanks for reading, and remember to gamble responsibly.
More Fantasy Basketball Analysis