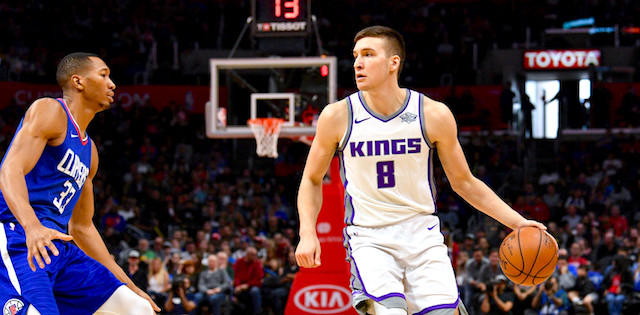 With the fantasy basketball season just around the corner, RotoBaller has you covered with our experts' fantasy basketball rankings. We've put together a top-200 ranking to help you with your upcoming drafts.
But that's not all! Our writers have taken the time to break down the various tiers of our rankings to ensure you have as much information as possible heading into draft season.
Below are is the rankings analysis for tiers eight, nine, and ten of the rankings.
Featured Promo: Get any full-season NBA Premium Pass for 50% off. Win big with our exclusive DFS lineup tools, matchup rating projections, powerful Research Station, Lineup Optimizer, daily DFS lineup picks/cheat sheets and more!
Sign Up Now!
Fantasy Basketball Rankings - Tiers Five, Six, and Seven
Tier Eight - Fantasy Basketball Rankings Analysis
Okay, technically this "top 100-150" list starts a little before 100 because of the way the tiers shake out, a fact that I bring up here because I want to talk about one of those guys in that liminal space before 100 -- Trae Young.
There's not many players more divisive than Young, who will forever be compared against Luka Doncic after the Hawks orchestrated a draft night deal to acquire Young while sending Doncic to the Mavericks. There's a reason NBA fans universally agreed that Dallas won that deal -- Trae Young is the kind of prospect who is going to be on precipice of falling into bust world until we see how he handles NBA defenses. After a scorching start to his college career, Big 12 defenses caught up to Young, with the end of his Freshman year at Oklahoma not going the way many expected it would after the way he played early in the year. Atlanta isn't a great place for Young to learn the NBA game, but the team is weak enough that Young should be given ample opportunity to fire away from deep and initiate the offense, making his chances of having a successful fantasy season higher than his chances of having a successful real life season.
Andrew Wiggins came in at 105 before this whole Jimmy Butler ordeal, but I can see some reasoning for moving him up now. He's not the most efficient NBA player and he seems destined to never put up the stats that he was expected to when he was garnering near-historic hype in high school, but he'll return to being the second option this year in Minneapolis. (Probably. That Butler trade still hasn't happened and who knows what Minnesota ends up getting for him and how that ultimately impacts Wiggins.)
Jordan Bell feels high to me, because his ceiling is limited by his role in Golden State. The team has four stars. Bell is expected to come off the bench as the backup center. I don't see him having a hugely impactful season.
In Lakers world, Kentavious Caldwell-Pope and Kyle Kuzma both sit near the bottom of this tier. Kuzma drew some of the most disparate rankings from our staff, with me and Dale Johnson ranking him in the top-100 and Trevor Crippen ranking him outside the top-150. We all had more consistent rankings on Caldwell-Pope, putting him between 100 and 120. I think that suggests that we know what Caldwell-Pope's role is -- the team's starting two-guard and someone who should be able to fend off the much-hyped Josh Hart to maintain that role -- while Kuzma should come off the bench with the acquisition of LeBron James. L.A. bringing in frontcourt guys like Michael Beasley and JaVale McGee also clouds things with Kuzma.
Tier Nine - Fantasy Basketball Rankings Analysis
Now that I've picked James Johnson in the staff league, I can talk about why I'm higher on him than the rest of our staff. While his scoring numbers were down last year, Johnson gave the Heat nearly five boards and four assists per game and can give you a reliable option in steals and blocks. If he can get his three-point field goal percentage back closer to his 2016-2017 levels, Johnson can be a steal.
Let's talk about Markelle Fultz. Last year's first overall pick stopped being able to shoot a basketball, but Sixers head coach Brett Brown experimented with Fultz in the starting until in the preseason and he's likely to see major playing time. Fultz does everything well at this point that isn't shooting a jump shot, which is obviously frustrating since his long range shooting was an asset coming out of Washington. Still, even if he can't hit those shots consistently, he's a good passer, should rebound well for his position, and projects to be disruptive defensively.
Looking for a breakout guy? The Spurs have dealt with injuries and roster turnover and look weaker than they have in almost two decades, but they've added a promising big in Jakob Poeltl. Playing a more prominent role in San Antonio than he did in Toronto, don't be surprised to see Poeltl put up a lot of double-doubles while giving fantasy owners a block or two per game.
Caris LeVert's another potential sleeper. LeVert is a good scorer, but the most encouraging thing right now for Nets fans and LeVert owners is that he's handling more and more passing duties this preseason. It's possible that the Nets offense ends up run through LeVert a good chunk of the time, with D'Angelo Russell operating off the ball as a spot-up shooter.
Tier 10 - Fantasy Basketball Rankings Analysis
There are a lot of solid role players in the 10th tier. Jeremy Lin is going to see a good bit of run next to Trae Young in the Hawks offense, with Lin likely to be the primary ball handler fairly often. Terry Rozier is behind a lot of guys in the pecking order in Boston, but he remains a Kyrie Irving injury away from busting out again.
One name that worries me is Cedi Osman. Rodney Hood is likely to have a bigger role than Osman this season for the Cavaliers, but Osman is getting taken ahead of Hood in fantasy drafts. There were bright spots for Osman last season, but he still has work to do to become a top-150 fantasy option. It could happen -- and this is the point in your draft where taking a risk can pay off -- but there are safer picks.
Rajon Rondo being this low feels criminal. The Lakers want to win game now, which is why they're starting Rondo over Lonzo Ball at this point. Rondo is still an elite passer, even if his jump shot remains bad. But can't he give you an approximation of what Ball does, just with lower numbers across the board?
More Fantasy Basketball Rankings