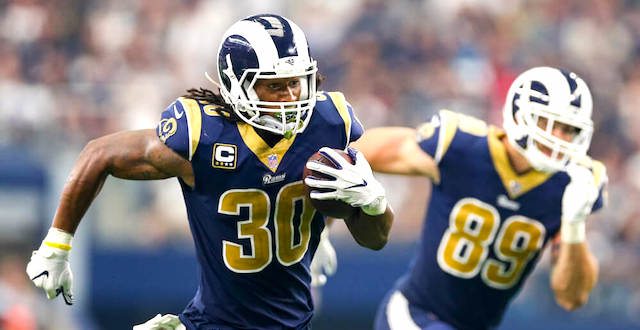 What Appears In This Article?
hide
Done is a strong word. When we say a player is "done," we're usually making a judgment of a player's game right now, as in "yeah, Tom Brady is done," which means "2020 Tom Brady is going to stink." But with dynasty leagues, the word "done" carries some different meanings.
"Todd Gurley is done," for instance, doesn't necessarily mean "2020 Todd Gurley is going to stink," but instead means more like "Todd Gurley's dynasty value is going to drop consistently from now until the end of his career and you should not be trying to acquire him in any dynasty leagues unless you're getting a great, great value."
Speaking of Todd Gurley, let's talk about him: is Todd Gurley done in dynasty? Have we reached that point where all dynasty owners should sell him for whatever they can get, and everyone trading for Gurley should only send in low-ball offers?
Featured Promo: Get any full-season NFL Premium Pass for 50% off and win big in 2023. Exclusive access to our Premium articles, 15 lineup tools, new Team Sync platform, Lineup Optimizer, Premium DFS tools and cheat sheets, and much more!
Sign Up Now!
Can Todd Gurley Still Be Productive?
One word you definitely don't want to hear when talking about an athlete is "arthritic," but it's a word that's hard to escape when talking about Todd Gurley II, who was reported last summer to have an "arthritic component in his knee."
Because of Gurley's knee issue, plenty of people have assumed that we're heading towards the end of Gurley's career as a high-quality NFL running back. That's a fair thing to think based on what we know about running back usage and the age cliff that they tend to fall off of. Running backs tend to decline after age 27. Gurley will be 26 this year, which means he's got just one more season until he hits that age where we'd expect him to decline.
So, what does this mean the dynasty owners out there who have Gurley?
First, let's not assume that Gurley's knee issue means he's about to be a sub-replacement level back, and let's also not assume that his talent is going to keep him being a solid runner going forward. The real truth is somewhere in the middle, probably, and the best place for us to get some ideas of what to expect would be to compare some of Gurley's efficiency metrics from 2018 and 2019 to see if we saw things dropping by an alarming amount.
| Statistic | 2019 Rank Among RBs | 2018 Rank Among RBs |
| --- | --- | --- |
| Production Premium | 50th | 15th |
| True Yards Per Carry | 48th | 11th |
| Yards Per Touch | 48th | 10th |
| Yards Created Per Carry | 39th | 35th |
| Fantasy Points Per Opportunity | 71st | 27th |
Okay, that's actually pretty alarming!
2019 was a year where Gurley's numbers just tanked across the board, and while you can see it in the raw stats, going by the per touch/carry stats helps really illuminate that change. Gurley already hadn't been great at creating yards in 2018, but he still made the most of his chances, racking up solid yardage totals on a play-by-play basis that had him in that top tier of running back. And then last year, that yardage dried up. Gurley dropped nearly 40 places in yards per touch ad true yards per carry. He fell to 71st in fantasy points per opportunity. Something was wrong. Gurley -- maybe because of the knee issue and a quad injury he suffered early in the season -- wasn't producing like a back of Gurley's caliber should have been.
Of course, that's not the entire story.
Context Matters
The Rams offensive line saw a pretty precipitous drop in their productivity last season. In 2018, they led the NFL in adjusted line yards -- a number that attempts to quantify what portion of running back production should be credited to the offensive line. Last year, they dropped into the bottom half of the league, finishing 19th. So yes, Gurley's production dropped, but also the blocking that helped him get that production dropped as well.
The bad news for Gurley is that the Falcons ranked 24th in that same metric last year, so one can't just say "it's fine, he'll do well behind a better line," since the Atlanta line isn't better.
Gurley's also going to be playing on a one-year deal in Atlanta, and for dynasty owners who are wondering about what comes next, that one-year deal brings us too much volatility.
Have a good season? Then someone -- whether it be Atlanta or a team in need of a running back -- will give Gurley another shot. But if the bottom falls out in Atlanta and Gurley proves to be a downgrade from Devonta Freeman -- whether or not it's fully Gurley's fault or the line has a lot to do with it -- then he might be done as an NFL starter, and then you have to confront the question of if Gurley hangs around as a backup or if he's not going to play without a clear path to starters minutes.
It's all a mess.
That's not to say there's no value in owning Gurley, though. He does have a history of production, and even with line issues last year, Devonta Freeman got plenty of chances for the Falcons and finished as an RB2 on a per-game basis. And Gurley had more fantasy points per game than Freeman last year, so if Gurley can maintain his level of 2019 production, he could be fine in the short term.
But any dynasty owner counting on multiple productive seasons out of Gurley at this point may want to think about moving on. Is 2021 Gurley going to be an RB1 or RB2? Is 2022 Gurley going to even be in the league? Injury concerns and a drop in production are a lethal combination for a running back, and the possibility that Gurley's done as a dynasty asset is very, very real.
Win-now teams might as well hold on at this point, because his value isn't high enough to really net you much in return that helps you with that goal. But anyone with an eye to the future should be exploring the Gurley market, especially if there's a team in title contention who could take the short term risk on him.
Gurley's value is likely as high as it's going to be again. He's on a new team, which might help entice some people. He looked better down the stretch last year. He can still contribute to a team's success. Can you get an early rookie first for him? Can you get a combination of a young player and a pick? If so, now's the time, because Gurley's not quite done in dynasty, but the numbers suggest we're not too far off from that reality.