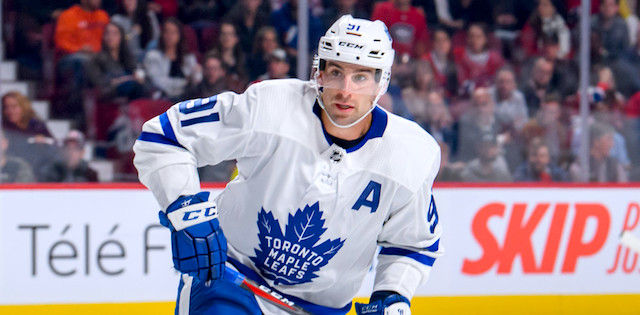 Welcome, RotoBallers! If you do not know me, my name is Brandon and I write both The First-Serve and The Kick-Off for Tennis and Soccer respectively. If you have not checked those out, make sure you do! It is the return of the NHL season which means it's time to sharpen our MLB skills and partake in NHL DFS! As always, I'll give you the best tools to succeed and the info you need to build the best lineups possible for your GPP and cash game NHL contests on both DraftKings and FanDuel.
Today I'll be bringing you my NHL lineup picks, analysis, and advice for NHL DFS contests on DraftKings and FanDuel Tuesday, 19th, 2022 at 7:00 PM EST. Be sure to also check out our awesome NHL tools including our Lineup Optimizer, Research Station, Projections, and DFS Cheat Sheets!
If you have any questions on today's slate, bankroll management, GPP strategy, Cash game strategy, or anything else don't hesitate to email me at [email protected] or via Twitter @df_solutions or in our premium slack chat. Good luck, RotoBallers!
Featured Promo: Get any full season NHL and DFS Premium Pass for 50% off. Win big with our exclusive Lineup Optimizer, DFS cheat sheets, powerful Research Station, exclusive Slack Chatrooms and lots more daily Premium DFS research/tools.
Sign Up Now!
NHL DFS Analysis and Picks for 4/19/22
Yesterday we had yet another goal-fest, but more importantly, the ever so rare netminder assist – thank you Jacob Markstrom –. Tonight, we shoot back up to a massive slate with multiple prime matchups. I will do my best in guiding you through this ten-game slate on DraftKings and FanDuel starting at 7:00 p.m. EST. 
There are only a few teams playing on the second-half of a back-to-back: Ottawa, Vancouver and Calgary. The Canadiens and their league-worst 3.81 GA will play host to the surging Wild, while the Panthers and their league-best 4.13 GF will look to strike down the Islanders.
DISCLOSURE: Make sure to monitor the news feed and play at your own risk
NHL DFS Goalies
Andrei Vasilevskiy- DK $8.5K || FD $8.6K
Opponent - Detroit Red Wings
The Red Wings are still in the bottom half of the league in terms of goal production – 2.74 goals –. Even though Tampa Bay has struggled for consistency lately on the blueline and in net, they still possess the best chances of a win and possibly shutout on the slate. If you want the safety net at goalie tonight, paying up is going to be the best option.
Others To Consider (Cash/GPP): Talbot (DK $8.3K || FD $8.1K), Bobrovsky (DK $8.1K || FD $8.3K, Shesterkin (DK $8K || FD $8.5K), Husso (DK $7.8K || FD $7.9K), Reimer (DK $7.8K || FD $7.5K), Gibson (DK $7.5K || FD $7K)
NHL DFS Centers
Tomas Hertl-DK $5.7K || FD $6.4K
Opponent - Columbus Blue Jackets
San Jose has had very little going for them all season. However, Hertl has been one of the only shining diamonds in the rough. Columbus is still in shambles and they just got rocked 6-4 by the Ducks. Now they should be starting Merzlikins back in net, giving Hertl the perfect chance to produce. In the pivot's last five games, he has 1 goal, 3 assists and 7 shots.
John Tavares- DK $6.8K || FD $7.7K
Opponent - Philadelphia Flyers
This play is all dependent on teammate Austin Matthews. If he plays, Tavares is not as great of a play. However, if he is still out again tonight, then Tavares is a great play. The ex-Islander has been nothing more than a shell of his former self since going to Toronto. Although, he is starting to pick up form and he has typically produced more when Matthews has been out. In Tavares's last five appearances, he has 5 assists and 10 shots. The Flyers continue to play lackluster defense in front of their own net and it will provide Tavares a chance to hit his ceiling. 
Others To Consider (CASH/GPP): Miller (DK $7.5K || FD $8.2K), Point (DK $6.7K || FD $7.5K), Hartman (DK $6K || FD $6.3K), Kopitar (DK $5.6K || FD $6.6K), Strome (DK $4.8K || FD $5.5K), Gaudreau (DK $3.4K || FD $5.1K)
NHL DFS Wings
Ilya Mikheyev- DK $4.1K || FD $5.3K
Opponent - Philadelphia Flyers
Mikheyev solely relies on Tavares being a solid play. The winger has been playing with Tavares over the last few weeks and they seem to have great chemistry when they play together, making them a perfect two-man stack if you need one. Mikheyev himself though has been in decent form, tallying 2 goals, 1 assist and 16 shots over his last five games. If he can get the shot bonus tonight at a relatively inexpensive salary, we would be making out like bandits.
Kevin Fiala- DK $5.5K || FD $7.1K
Opponent - Montreal Canadiens
Fiala is embodying everything the Wild wanted when they picked him up a few seasons ago from rivals Nashville. The winger has taken quite some time to acclimate to the Wild lineup, but it was a matter of having the right linemates and he finally has them. In Fiala's last five games, he has 5 goals, 6 assists and 17 shots. He is by far one of the most in-form players in the league right now and he is walking into a prime matchup against the bottom-feeder Canadiens. Although he is more expensive than teammate Zuccarello who plays on the Wild's top line, Fiala does not see all of the heavy checking lines, providing him with friendlier line matching.
Others To Consider (CASH/GPP): Kucherov (DK $7.6K || FD $8.7K), Meier (DK $7.2K || FD $9.1), Panarin (DK $6.4K || FD $7.7K), Giroux (DK $5.1K || FD $6.4K), Boeser (DK $4.3K || FD $5.8K), Athanasiou (DK $4K || FD $4.6K)
NHL DFS Defensemen
Jared Spurgeon- DK $5K || FD $5.4K
Opponent - Montreal Canadiens
After his assist streak ended, Spurgeon went a few games without producing a single point. However, he is now coming off a 2 goal game where he had 3 shots and 4 blocked shots as well. Through his last five games in general, the defender has 3 goals, 1 assist, 8 shots and 13 blocked shots. Montreal is no slouch of a team and they will fight where they can, which will provide Spurgeon the chance to block a few shots and give his fans a ceiling game.
Jeff Petry- DK $4K || FD $5.2K
Opponent - Minnesota Wild
Petry is the perfect definition of a "cash" play. The defender is producing insane amounts of peripherals right now at a crazy good clip. Petry has 4 assists, 13 shots and 14 blocked shots over his last five games. Not only is he producing right now, but he also gets to go against a fast-paced Wild team who will generate plenty of shots for Petry to block. At his salary, this is a great low-cost play to pay up elsewhere.
Others To Consider (CASH/GPP): Josi (DK $8.6K || FD $7.9K), Burns (DK $6K || FD $5.8K), Trouba(DK $5.8K || FD $5.4K), Hughes (DK $5.2K || FD $5.5K), Sanheim (DK $4K || FD $4.2K), Boqvist (DK $3.4K || FD $4.1K)
NHL DFS Top Power Plays and Stacks
 
Brandon's Stack of the Day
MIN: Fiala-Gaudreau-Boldy
Chalk Stack
TOR: Mikheyev-Tavares-Marner
Sneaky Stack
DET: Bertuzzi-Suter-Raymond