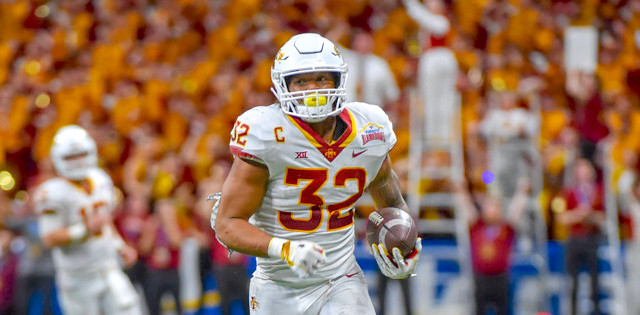 Heading into the 2019 season, there were a few rookie names that fantasy owners were interested in. After what was viewed as a fairly underwhelming draft class by many, we've seen a handful of random rookies look good. Josh Jacobs of the Oakland Raiders was viewed by many (including myself) as the top running back in this class. Coming in behind Jacobs is the Bears rookie running back, David Montgomery. After a fairly slow start to the season in these first two games, now might just be a great time to buy Montgomery while the price is still reasonable.
The Bears offense is one that many fantasy owners were banking on taking a big step forward in 2019. With Matt Nagy and his creative offense and Mitch Trubisky being someone that many are banking on being a breakout quarterback, the pieces have been falling into place. This offense has several exciting pieces to it and owning the best running back on an offense such as this, is definitely valuable.
Nagy and the Bears made it clear that they weren't crazy about Jordan Howard and his skillset. While they do like Tarik Cohen a lot, he isn't someone that profiles as a three-down running back in the NFL. After shipping Howard off to Philadelphia this past off-season, that pretty much confirmed that the Bears would be either trading for or drafting their future lead back. Then, we saw the Bears trade up to go after Montgomery in the 2019 NFL Draft. It's clear that Montgomery is their starter moving forward, and now is the time to pounce on him in your fantasy football leagues.
Editor's Note: Get any rest-of-season NFL Premium Pass for 50% off. Our exclusive DFS Tools, Lineup Optimizer and Premium DFS Research through the Super Bowl.
Sign Up Now!
The Split Backfield
Tarik Cohen
While many fantasy owners were drafting Montgomery like he was the only back in Chicago, we've seen the Bears decide to go ahead and use a running back by committee approach for the most part. In Week 1, we saw Tarik Cohen post a big game thanks to his receiving upside. Cohen is an electric player who after his season in 2018, would be amazed if they didn't find more ways to get him involved in some form or fashion. That was on full display in Week 1 where he totaled 10 targets, catching eight of them for 49 yards, while he did not get a single carry. In Week 2, things came a bit back down to earth, where Cohen saw four carries which he totaled 18 yards on and caught two of five targets for just seven receiving yards.
While Cohen has been the leader in snaps played and overall usage, his role in this offense is clear. He is essentially a slot receiver. The biggest name on this offense that Cohen has been hurting is not Montgomery, but Anthony Miller. According to NFL Next Gen Stats, he played in the slot and lined up as a receiver far more than he did in the backfield. Keep in mind this is from Week 1, as Week 2 numbers aren't quite out yet, but based on everything we saw in Week 2, it was much more of the same.
Tarik Cohen may be listed as a running back, but his role tonight suggests otherwise. Snaps by alignment:

Slot - 36
Wide - 8
Backfield - 2

All three Bears RBs played 35%+ of snaps with Mike Davis (38 snaps) playing more snaps than David Montgomery (23).#GBvsCHI | #Bears100 pic.twitter.com/IFDPsisq8E

— Next Gen Stats (@NextGenStats) September 6, 2019


Mike Davis
Another name that most fantasy owners didn't even have on their radar, is the former Seattle Seahawks running back, Mike Davis. In Week 1, we saw Davis take five carries for 19 yards and he caught six of seven targets for 17 yards. These numbers aren't great by any means, but the fact that Chicago spread the ball around this much, is a bit concerning. However, in Week 2 we saw Davis take three carries for just one yard, with no targets. Cordarrelle Patterson another name to note in Chicago, while he isn't listed as a running back, it's clear Matt Nagy wants to utilize him a bit as he's taken three carries for 48 yards in the first two games.
Remember Rashaad Penny in 2018? Well, Davis was also in that backfield and he racked up 42 targets on the season. This usage isn't great and hardly even makes him worth anything in fantasy football, but it's enough to be somewhat annoying for fantasy owners.

David Montgomery
The last and most important name in this backfield is Montgomery himself. He carried the ball six times for an underwhelming 18 yards in Week 1 and he also caught his lone target for 27 yards, which was a very impressive play. In Week 2, we saw the Bears turn to him more as they gave him 18 carries and he racked up 62 yards and a touchdown. He also caught just one pass, but he did see three targets. Anyone that watched the Bears in the first two weeks would more than likely have to agree, that Montgomery is the most talented back in this backfield.
Interesting quotes by Matt Nagy regarding David Montgomery. How much will his workload increase in Denver? From the Herald-Review: pic.twitter.com/Gu63dGW16Q

— Brad Evans (@YahooNoise) September 13, 2019
Buy "Low"
While Montgomery will likely have a fairly high price tag, the time is now to pounce on the opportunity to buy him. It is clear that the Bears plan on getting him more involved. After moving up in the 2019 NFL Draft to get their guy, despite not having many draft picks to begin with, the investment in Montgomery is undeniable.
There is a good chance the Montgomery owner in your league may not be too crazy about giving him up, but with the draft capital that said owner likely paid for him, there's also a chance that the owner may be sitting at 1-1 or even 0-2 to start the season, making them a bit nervous. If you were lucky enough to grab a wide receiver such as John Ross, Marquise Brown, or Terry McLaurin, this could be a perfect opportunity to take advantage of some early season overreactions.
More Fantasy Football Analysis