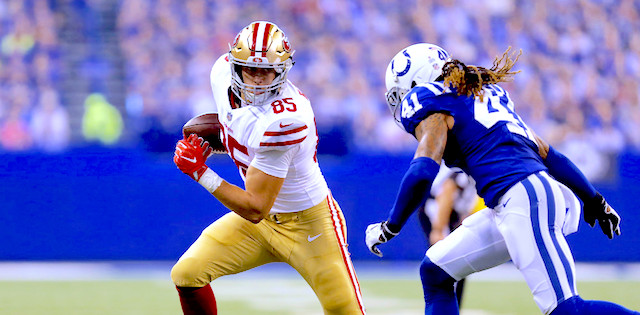 What Appears In This Article?
hide
Ah, the tight end. The position most people just forget about. Leaving to the last pick of the draft unless you get one of the elite two or three. Is it worth risking your entire draft on a player at a one-off position only to have them ruin your team with a terrible season?
On the other hand, how exciting is it, no matter the position to find the good apple in the bucket of horse apples who will give you the positional advantage you hope for?
Well, let's take a look at some of those in both categories - those who hurt you throughout the season and those who outkicked their coverage, helping more than expected.
Be sure to also check our other Week 14 fantasy football waiver wire pickups articles:
TE Risers
George Kittle, San Francisco 49ers
Only five touchdowns on his resume is a little disappointing for a player who, at some points of the season, was the only receiving threat on the 49ers roster. He made up for this with 88 receptions for 1,376 yards in one of the greatest seasons for a tight end in history. Sadly, for Kittle, it came in a season where two other tight ends, Travis Kelce and Zach Ertz also had historic seasons which left Kittle as the third-ranked tight end instead of a league-leader. Despite finishing third, Kittle was the real story in 2018, especially after the injury to Jimmy Garoppolo against the Chiefs left us wondering what would happen in San Francisco.
In his second season out of Iowa, the 6'4 250-pound Kittle took his place in the top tier of tight ends in the NFL. Replacing Rob Gronkowski, Kittle looks to be the next big thing at the position and it will be fun to see what he can do with a healthy Garoppolo and Jerick McKinnon on the field in 2019. In most drafts, he will be taken as the third tight end off the board meaning of the top three, he will provide the most value for the drafting team as he will go a round later than Ertz and Kelce. There is a chance you can get an elite wide receiver to pair with him whereas you may not be able to with the other two players.
If 2019 is anything like 2018 in the tight end sea of mediocrity, then you'll need one of the top tight ends to gain a major advantage in week-to-week scoring and Kittle could be the best of the bunch. Not only based on value but also if he continues his ascension into his year three season, he will surely be the number one overall tight end by the time 2020 comes around.
Eric Ebron, Indianapolis Colts
Many of the tight ends to rise in 2018 will have a difficult time reaching their potential again in 2019. The first of these is Eric Ebron, who was buoyed by two factors in 2018 to finish as the number four tight end. The first of these factors is the incredible touchdown rate he established with Andrew Luck in Indianapolis.
Having 13 touchdowns on 66 receptions is a ridiculously unsustainable rate which will not continue into the next season. Especially with the other factor, the games missed by Jack Doyle also not likely to be repeated in 2019. While Ebron was actually able to play in all 16 games for the Colts, Jack Doyle was limited to only six in a season destroyed by injury. Eric Ebron is a better, more talented athlete, but the Colts and Andrew Luck love using two tight end sets, and this will limit the output of Ebron, or Doyle should both of them be one the field for all 16 games.
Both of them should have good production nonetheless but neither will reach their apex while the other is involved. Look for Ebron to take a step backward from the TE4 ranking as he will finish closer to TE10 unless Indy parts way with Doyle.
Jared Cook, Oakland Raiders
Another player who had a good season and another player I am concerned about is Jared Cook. He always seems to be talked about as a breakout candidate at the position and finally he has done so in 2018 with the Oakland Raiders finishing at TE5 on the season.
While he made noise early in the season, his real value came after the trade of Amari Cooper to the Cowboys as he was the only option left on the field with whom Derek Carr had a solid rapport making him the logical player to get a lion's share of the targets.
In 2019, the Raiders are going to be terrible again. With no defense, a bad offense being led by a hamstrung quarterback and a terrible head coach who is past his sell-by-date by over a decade, Cook is not likely to finish in the top levels of the ranks. Again, he will slink his way down into the seas of all the other players who are a dime a dozen at the position as other, younger players with more talented surrounding casts make their mark. It took Cook until his age-30 season to have his best season of 68 receptions for 896 yards and six touchdowns and in a young man's game, the likelihood of this repeating is not great.
O.J. Howard, Tampa Bay Buccaneers
It seems like a lot of the players who increased in value are also players I don't like heading into the next season. This is also the case with O.J. Howard who, although taking over the tight end mantle in Tampa Bay from Cameron Brate before his eventual trip to injured reserve, will be saddled with a head coach in Bruce Arians who seems to think a tight end is some sort of boy scout knot and not a position on a football team.
34 catches and 565 yards may not seem like a lot but in only 10 games, with so many other options in the passing game to contend with, Howard had as good a season as he could. He was the only tight end in the league to have over 50 yards receiving in every game started. This in itself does not seem like a lot but this also means he was very consistent in his production.
In 2019, with the above-mentioned Bruce Arians in as head coach, his numbers are sure to regress and players who will be drafted after him in fantasy drafts will overtake him in the rankings. A player like David Njoku, Evan Engram and even Chris Herndon IV who will either go after him in drafts or not get drafted at all, will more than likely be far better performers and be better values for your roster come draft time in August.
TE Fallers
Rob Gronkowski, New England Patriots
Did you hear that loud thud? No, it was not the Patriots dynasty, at least not yet. It was the career of Rob Gronkowski coming to a screeching halt in 2018.
His performance in the AFC Championship game showed he still has something left in the tank on occasion but his performance through the rest of the season where he finished as TE9 shows it will be few and far between in coming years should he decide not to retire.
47 receptions for 682 yards and three touchdowns is not a season we have come to expect from arguably the greatest tight end of all time. This is more like a playoff run or a four-game stretch for the man who has changed the entire tight end position over the past decade. With Julian Edelman missing the first four games of the season due to his suspension, the belief was that Gronkowski would feast in those games before keeping it going the rest of the season but instead the season for Gronk and the Patriots started off slow and in the case of the tight end, never got going at all.
Having a bad season in 2018 is not going to dissuade fantasy players from taking Gronkowski too early in drafts as long as he doesn't retire to become The Rock in Hollywood. He will be taken right alongside Ertz, Kelce and Kittle and he will disappoint again for those who take him there. If he can be taken as the eighth or ninth tight end, this is more fitting to where he is likely to finish with a possible ceiling of a top-five guy, but his time of dominance has passed, and he is not longer the positional advantage he once was. Don't be fooled by again taking him to high in drafts hoping on a prayer he comes back around.
Jordan Reed, Washington Redskins
Elite when healthy. He is so talented if he could just stay on the field. He is a top tight end if the offense clicks. All of these things have been said about Jordan Reed and all of them have failed to come true for his owners.
Unable to ever consistently stay on the field, Jordan decided to go through a drastic surgery of having the bones in his toes removed to avoid the fractures which had limited his output during his playing career. As someone who has suffered a partial foot amputation and has no movement in any toes other than my big toe in one foot, I can tell you this is not conducive to success on the football field. After so many seasons of "what if's" it is time to realize the question should be "if only."
In 13 games played, with a mixture of Alex Smith, Colt McCoy and Mark Sanchez at the quarterback position, Reed had 54 receptions for 558 yards and only two touchdown receptions. Compare this to second tight end Vernon Davis who also had two touchdowns on half the receptions and whose 14.6 yards per reception average was a full four yards better than that of Reed at 10.3.
When a 34-year old tight end is consistently outperforming you on your own team, it is time to really take a look at if you are truly elite. In the case of Jordan Reed, although the talent is there, the truth of the matter is he was never elite and is seemingly never going to get to the potential seen by many for him. He is going to continue to be a middling tight end for a few more seasons. A tight end you can take at the end of drafts to fill your roster slot or pick up as a flier in tight end premium leagues. Otherwise, beware of getting in bed with Reed as it will only lead to more disappointment.
Jimmy Graham, Seattle Seahawks
A lot of people thought moving to Green Bay would be a good thing for Jimmy Graham. I don't know why this was thought as the Packers rarely use the position, but still he was being drafted as the sixth tight end before the season and expected to be a stud. Instead, he looked like a player who, like Gronk, needs to be put out to pasture instead.
Playing in all 16 games despite a broken thumb late in the season, Graham still only managed 636 yards and two touchdowns on 55 catches with the Aaron Rodgers. Some of this decline can for sure be blamed on the prehistoric offensive style of Mike McCarthy but you cannot get past the fact Graham has been slipping in recent season with Seattle, even before his move to Green Bay.
At 6'7 and 265 pounds, he is still a huge red zone target for any team but at this point in his career, at age 32, this is all you can hope for is red zone targets leading to enough touchdowns to make up for the rest of his diminishing game. No longer a top-flight tight end, he lands right along with Gronkowski, at the back end of the top 10 at tight ends. Which means he will be drafted at or above his ceiling and only the perfect storm of a season will bring any value back to those who draft him this high.