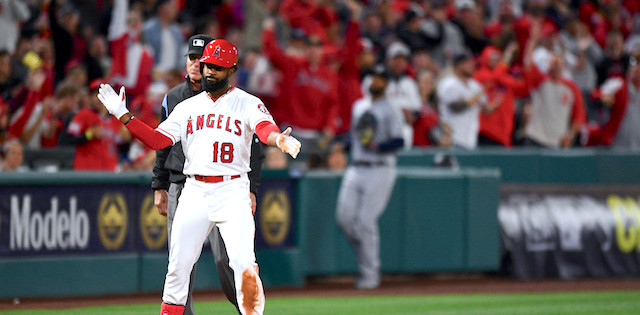 Throughout the season, you want to get the jump on your competition and sniff out the breakout players before they break out. That's what this list is all about--using some in-depth research and advanced analytics to find the players who aren't quite there yet but are on their way. Some of these may suit your needs for an immediate pick-up depending on your team's situation.
This is not necessarily a list of players you should add right away at the start of Week 23 - it is a list of players to keep a very close eye on in most leagues as we get further into the home stretch, and to consider picking up in deeper formats. In some cases, we will even caution you not to pick up a widely-added player, and steer you away from the fool's gold.
Use it to build your own watch list.
Editor's Note: Get any full-season MLB Premium Pass for 50% off, with exclusive access to our season-long articles, 15 in-season lineup tools and over 200 days of expert DFS research/tools.
Sign Up Now!
Pitchers to Watch in 12+ Team League
Anthony DeSclafani (SP/RP, CIN)
Tony Disco has been beating up on lesser offenses of late, but hey man--numbers are numbers. In the last two weeks, Desclafani has produced a 2-0 record across three starts (18 IP), along with a 1.00 ERA and a 16:6 strikeout to walk ratio. Granted, those three starts came against the Cardinals, Pirates and Marlins, but it's still encouraging to see Desclafani taking care of business as he's supposed to.
Desclafani has quietly been usable for a while now, as he's got his season-long ERA down to 4.05. He's a valid option for the back end of your rotation, but I would still be using him on a match-up basis.
Jordan Zimmermann (SP, DET)
Like Desclafani, Zimmerman has had a nice three-start streak in which he's been productive from a fantasy standpoint. Unlike Desclafani, his has come against top offenses--he's produced a 2.25 ERA across his last 16 innings against the Rays, Astros and Indians. His 14:1 strikeout to walk ratio is pretty darn usable, and he's producing 56.1% ground balls in that time frame.
We know that Jordan Zimmerman is not going to be this good in the long term. We know this. BUT, with the season winding down and many fantasy owners dealing with injuries, he could make for a usable fill-in at the back end of your rotation here when every counting stat matters, and you're trying to bring those ratios down as low as you can.
Batters to Watch in 12+ Team Leagues
Brian Goodwin (OF, LAA)
The Angels outfielder (who has been on this list before) is absolutely on fire over his last 12 games. In 44 plate appearances, Goodwin has smacked five homers with nine RBI and 11 runs scored, good for 229 WRC+ which is SECOND in the MLB over the last two weeks.
The one downside is Goodwin's sky-high strikeout rate. In those 12 games he's striking out in 34.1% of his at bats, which can be a pretty good detriment in points leagues that factor in Ks. That doesn't dissuade me from thinking he can be a valid option for the home stretch--snatch those hot bats up while they're still smokin'!
Jake Cave (OF, MIN)
Know who else has hit five big flies in his last 12 games? The Cave Monster (nickname acceptance pending). Cave has been seeing regular at bats thanks to the Twins being struck by the injury bug, and that should continue for at least another week or two.
The opportunity of being in the thick of that explosive Twins offense is going to keep Cave fantasy-relevant in September. The power has sustainability to it too, so he should continue to produce nice counting stats as a utility outfielder on your squad. Like Goodwin, he's got a strikeout percentage over 30%, so understand that the strikeouts are going to come with the production.
Wilmer Flores (1B/2B, ARI)
Wilmer's back! Kinda. Flores has been absurdly hot lately, posting a 1.673 OPS over the last two weeks...but that has come almost exclusively against lefties. He will still remain on the bench against righties most days, and that means he's obviously limited in his fantasy potential over the last month.
However, that makes it easy for you to tell when he's going to be in the lineup, and when he has been he's been incredible. Add in the multi-positional eligibility, and Flores makes a legitimate bench piece for the final month of the season.
More Waiver Wire Pickups and Streamers