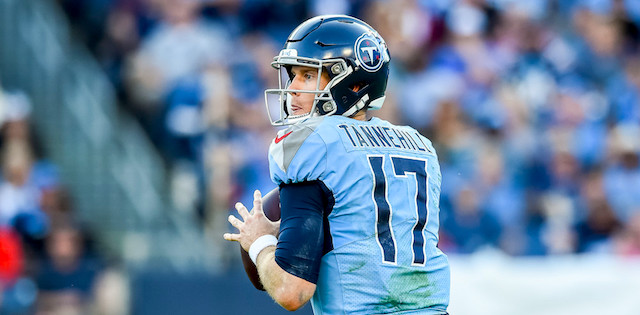 Welcome to another edition of "The Tape Tells All," where I break down some film of an NFL's player performance and try to draw some fantasy football conclusions from that film.
This week, I'm looking at Tennessee Titans quarterback Ryan Tannehill, who took over for Marcus Mariota and has quickly breathed some life into the Titans passing attack in a way that Mariota just couldn't.
In Week 8, Tannehill was 21-for-33, throwing for 193 yards and three touchdowns. He now has five touchdown passes in two games as the Titans quarterback. Is he turning into a fantasy option? Let's turn to the stats and film and see what we learn.
Editor's Note: Get any rest-of-season NFL Premium Pass for 50% off. Our exclusive DFS Tools, Lineup Optimizer and Premium DFS Research through the Super Bowl.
Sign Up Now!
Background Information
Ryan Tannehill is best known for being the inconsistent quarterback of the Miami Dolphins for the past seven years.
(Wait, SEVEN years? Ryan Tannehill is in his eighth season? He's 31? He's somehow older than me? I'm a little bit in shock right now, sorry.)
Tannehill's Dolphins career featured him flashing potential, but he hadn't played a full 16 games since 2015. He often had a completion percentage in the low 60s, got sacked a ton, and never reached the heights that were expected when Miami took him with the eighth overall pick in 2012.
On the other side of things, the Tennessee Titans went into this offseason with former number-two pick Marcus Mariota at quarterback. His NFL career had featured a lot of consistently underwhelming play, and while Mariota had a reputation for protecting the ball, he also had a reputation for just not throwing it very much, which isn't a recipe for success in the modern NFL.
So when the Dolphins chose to move on from Tannehill, the Titans decided to grab him to be Mariota's backup. But the moment that signing happened, the whispers arrived all over social media; "isn't Tannehill better than Mariota," many people asked.
Well, another poor start to the year for Mariota gave us a chance to answer that, as the Titans made the decision to move to Tannehill as their starting quarterback in Week 7. He promptly threw for 312 yards in that first game. To put that in perspective, Mariota has started 61 games for the Titans in his career and has seven 300-yard games, so huge passing days have been a major rarity for the Titans.
Tannehill didn't follow things up with another 300-yard game this past week, but he did throw three touchdowns. Mariota did that twice this year, so three-touchdown games aren't extremely rare for the Titans, but having an offensive attack as consistent as the Tannehill one has been is.
The Game Tape
Let's look at some of Tannehill's throws and his protection from Sunday's win over the Tampa Bay Buccaneers.
The Touchdowns
Let's start by looking at Tannehill's three touchdown passes, because starting with the good stuff is usually fun.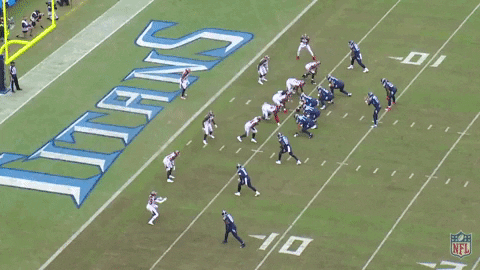 On this first touchdown, Tannehill does a great job of getting the ball out quickly to Jonnu Smith. It's a really good play design here, with Smith starting as the outside receiver and then cutting back in at the snap, where he's got a bubble of space. Quick recognition by Tannehill and while the pass itself appears to be just a bit off target -- Smith's got to reach back to grab it -- it's still a smart and good play.
Here's his second touchdown. This angle gives us a good view of the pass itself and how he just drops it right there for Tajae Sharpe. Good protection. Throws fast. Ball just perfectly hits Sharpe. I could watch this pass all day -- the Bucs defender flailing to do anything, Sharpe being right there to benefit from Tannehill's spiral. It's a good throw, is what I'm trying to say.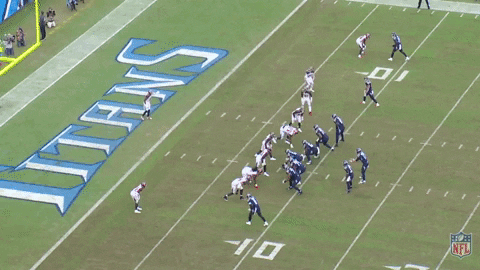 His third touchdown -- this time to rookie A.J. Brown, whose level of involvement on Sunday was definitely concerning! -- was another red zone one, and it looks a lot like the others from Tannehills' perspective. He drops back, he has a good pocket, and he throws a well-time and well-placed ball to his left. Good things happen here when Tannehill is able to get that ball out fast.
The Things I'm Not Clipping
I'm not going to clip and break down most of the normal throws that Tannehill made, but after watching them and looking into numbers from the game, I have some thoughts:
First, while those touchdowns all came down near the goal line, Tannehill was sixth among all quarterbacks in Week 8 in average intended air yards. He was definitely not always playing it safe, even if the touchdown throws -- or two of them at least -- were fairly safe throws.
But while Tannehill was sixth in intended air yards, he was only 20th in completed air yards. That...is worrying. Per NextGen Stats, here was Tannehill's passing chart:
The throws that were 10 yards or more down the field did not go well. The stats back that up. The tape backs it up. The fact that Corey Davis and A.J. Brown  didn't see a huge number of catches backs it up. Tannehill was accurate passing short, but he couldn't get it done when throwing deeper balls. A pretty big difference between this and his first start was that Tannehill was hitting all the intermediate stuff and just wasn't throwing beyond 15 or so yards at all. He had five incompletions on Sunday that were deeper throws than any of his Week 7 throws.
Tennessee also should have been running more plays out of 12 personnel. Only 22 percent of their plays came from 12 personnel, but they had a passing success rate of 63 percent from those sets. In the 69 percent of plays in 11 personnel, that success rate dropped to 44 percent.
It makes sense. Tannehill is best when throwing short. Tight ends are a good part of the short passing game. If the Titans want to make sure he's in positions to succeed, they should run lineups that take advantage of his best skills.
The Bad Stuff
Yeah, it ain't all good! Here's Tannehill getting sacked and then Tannehill throwing interceptions on consecutive plays, both of which were negated by penalty.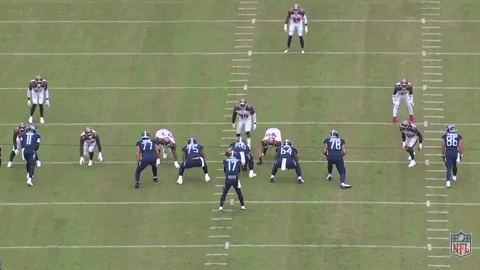 Here's Tannehill taking a sack. He's definitely not the most mobile guy at this point in his career as evidenced by his drop offs in rushing attempts, yards, and yards per carry every year, and when the pocket disappears here, he doesn't really have much he can do, and when the Bucs defender just pops in out of nowhere from the left side, down goes Tannehill. Let's not forget that Tannehill took a lot of sacks in Miami. That isn't going to change much in Tennessee.
Okay, on to those two almost interceptions. What goes wrong on them?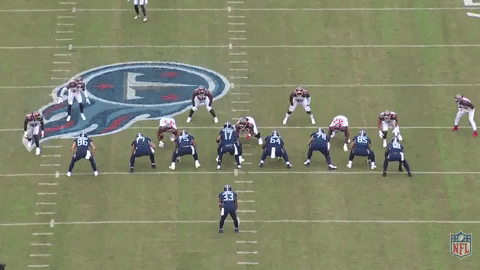 We can place the blame for this one two places. There's the pass interference that leads to the Titans receiver falling down, which clears the way for the pick. But Tannehill also doesn't put this ball in the best spot. As he throws deeper, his accuracy seems to fade out.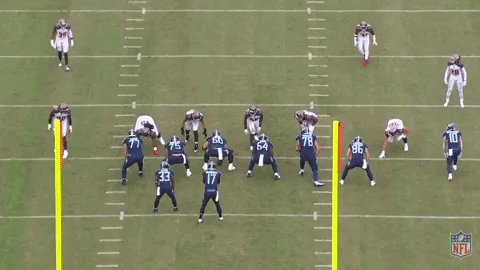 Here's the other negated pick. Tannehill again is going deeper, and this ball just seems to kind of glide down the field and right into the hands of the Bucs defender. It's not necessarily a bad throw and it didn't actually end up hurting the Titans, but placement could definitely have been better, and trying to thread that ball into that window is a pretty risky move. Tannehill should shy away from risky.
Fantasy Impact
So, what does this all mean for Tannehill in terms of his fantasy value?
On one hand, it means you're probably willing to trust a Tennessee Titans quarterback for once. Tannehill as a streaming option at the position is much more palatable than Mariota, because Tannehill doesn't have the steep and significant downside of Mariota; in other words, we're all pretty sure Tannehill won't have an 83-yard game or something. He's got the better arm and a willingness to throw a little deeper, even if this week didn't see that willingness work out.
And with all the injuries and changes around the league at quarterback, a deep position has become significantly shallower over the course of this season, which makes Tannehill appealing because alternatives include Mason Rudolph and Ryan Finley. You'd definitely play Tannehill over those guys, right?
Sure. That's the thing about Tannehill as the Titans quarterback. In a normal year, this is the kind of guy I avoid, but 2019 isn't a normal quarterback year. Injuries and ineffectiveness have destroyed the position. Matt Moore, Brandon Allen, and Kyle Allen are all starting games. In my one eight-team league, I've got two quarterbacks rostered for the first time ever because the waiver wire is scaring me too much.
So in this world, yes. Tannehill is somehow a solid QB2 with decent upside moving forward. It doesn't make sense, but it's the reality we're currently occupying. He shouldn't be used as an every-game starter, but there's reason to roster him, which is more than could have been said for Mariota earlier this year.
More Fantasy Football Analysis