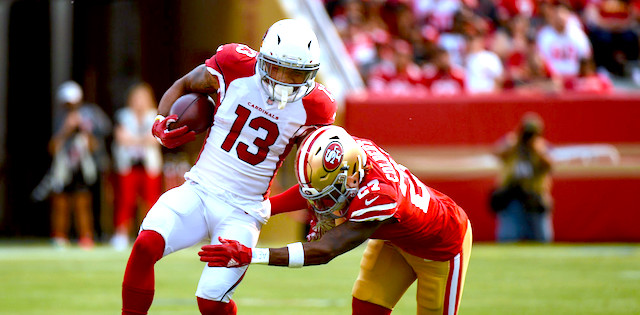 Welcome to another edition of "The Tape Tells All," where I break down some film of an NFL's player performance and try to draw some fantasy football conclusions from that film.
This week, I'm looking at Arizona Cardinals wide receiver Christian Kirk, who broke out in Week 10, catching three touchdowns.
Kirk seems to have established himself as the number one receiver in Arizona, but what exactly does that mean, and what can we expect from a healthy Christian Kirk moving forward?
Editor's Note: Get any full-season NFL Premium Pass for 50% off. Our exclusive In-Season Lineup Tools, Lineup Optimizer and over 150 days of Premium DFS Research.
Sign Up Now!
Background Information
Second-year wide receiver Christian Kirk was a popular breakout candidate before this season. He had all the makings of a guy who could make a leap: he was a talented receiver with a year under his belt who was about to play in a much-improved offense who had a decent shot at becoming his team's top target due to Larry Fitzgerald's age.
Against the Ravens in Week 2, it looked like that breakout had arrived. Kirk caught six passes for 114 yards. A week later, he had 10 receptions against the Panthers. But Kirk missed Weeks 5 through 7 with an ankle injury, and coming into Week 10 he had still not found the end zone this year.
Until Sunday. Kirk was on fire against a struggling Buccaneers secondary, catching six of his 10 targets for 138 yards and three touchdowns. He broke the scoring seal in a big, big way, delivering the kind of fantasy performance that wins you your week if you played him.
One of the most interesting things about Kirk's performance that I saw was this:
Christian Kirk ran 80.7% of his routes from the slot through Week 8, averaging 13.5 fantasy points and 1.51 YPRR. His last two games: 16.7% slot snaps, 20.7 fantasy points, 2.03 YPRR.

— John Daigle (@notJDaigle) November 11, 2019
I think we often think that receivers who are under six foot should just play the slot and that outside receivers need to be big guys, but Kirk seemed to throw a wrench into that logic on Sunday. One of Kirk's three touchdowns did come from the slot, but it's clear that he's still more comfortable spread out wide.
Let's see what this shift in how Kirk's being used played out on the field.
The Game Tape
Let's set the scene for what I think we should see from Kirk in this film:
First, as the above tweet referenced, we should see him playing more on the outside than we've been seeing him in the past.
Second, we're going to see things really spread out. The Cardinals ran 15 plays with either four or five wide receivers; Chicago ran 12 such plays, with every other team finishing significantly behind those teams in plays out of those personnel groupings. Kliff Kingsbury's offense is one where things definitely get spread out, which theoretically opens up quick passing lanes.
The next thing? Kirk getting deep. Among the receivers with 10 or more targets in Week 10, Kirk had the highest aDOT at 19.9. Despite missing time, Kirk leads the Cardinals in total air yards this year, and he's quickly developed into a favorite deep threat for Kyler Murray.
The problem has been that the rookie Murray has struggled at times to get the ball to Kirk. A look at some of the quarterbacking metrics that affect Kirk from PlayerProfiler is...not great. His catchable target rate is 79th among wide receivers. His target quality rating is 73rd at the position. It's hard to be successful when you aren't getting well-placed targets.
But maybe Sunday's game suggested a change in that? Let's look at those three touchdowns.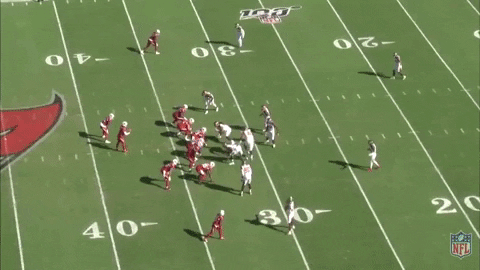 Kirk's lined up wide to the right here. This is one of the rare times when there's only two players who are lined up in what I'd call a true receiver spot, with the lineup also featuring a tight end, a back beside Murray in the gun, and then a fifth player who's lined up like you'd see a back lined up in the flexbone.
That fifth player is key here, because at the snap he runs from right to left across the formation, which draws defenders to the left side of the field and leaves Kirk in one-on-one coverage on the right side. At this point, it's just a matter of Kirk running quickly and getting to where Murray throws the ball. He does. Touchdown, his first since the middle of last season.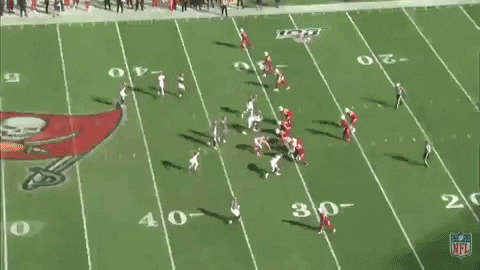 Another play where Kirk's speed is on full display.
The Cardinals spread the field out with a four-wide look, with Kirk over on the right side. It looks like the initial read on this play is to run a screen, but Kirk ends up with single coverage on the outside again, and I think that first touchdown taught Murray that this is the kind of situation where you want to throw it up to Kirk. He gets a step on the defender and then zoom, zoom, zoom. Another long touchdown.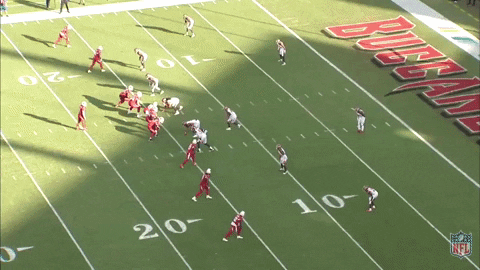 This is the slot touchdown for Kirk, and he doesn't just run really fast on this one like he did on the other plays.
The Cardinals spread the field all the way out with five receivers. With a porous offensive line, this is a risky formation, because if Tampa sends pressure, Murray's going to have to make a split second decision to avoid getting sacked. But the Bucs just send four, with the other seven defenders staying back to play the pass. That gives Murray a little extra time here, and he's able to let Kirk's route develop. Kirk does a good job getting into the space between two defenders who are in zone coverage, and Murray finds him. Good route. Good throw. A third touchdown.
Fantasy Impact
So, can we expect three touchdowns against the 49ers?
Probably not. I doubt we can even expect one against a tough defense. Kirk's not going to be able to just run by corners every week like he did against Tampa Bay.
But I'm a big believer that volume is king, and Kirk is getting volume. The tape shows that he's got the raw talent to do things with that volume. But the upcoming schedule is scary -- ignoring Week 17, Arizona faces the 49ers, Rams, Steelers, Browns, and Seahawks to close the year, with a Week 12 bye mixed in. Those are some good defenses, and while Sunday has me feeling good about Kirk in the macro sense, I'd be lying if I said I was ready to trust him and his rookie quarterback during this tough stretch to end the year. Kirk's got the talent to be a fantasy WR2, but he's got the current situation to be more of a fantasy WR3. That's not bad, but I think this Buccaneers game was the right mix of bad opponent and good opportunity for Kirk in a way that's unlikely to be repeated in the near future.
Still, good player. Fun player. Can have a solid ending to the season, and he'll have a lot of hype surrounding him this offseason.
More Fantasy Football Analysis