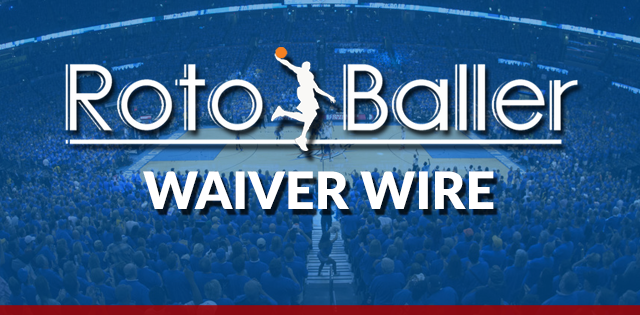 Welcome back! Sorry for missing this piece last week, but the NCAA Tournament had me swamped. But the season is winding down and it's time to make sure your fantasy team is in tip-top shape.
As always, the best way to win in fantasy basketball is to actually do things with your roster. But to add someone, you've also got to drop someone, so we're going to chat about the dropping.
Below is our weekly fantasy basketball drop list, a look at players who are can be dropped in some or all formats. Every Thursday, we'll look at why it's fine to move on from certain players based on their recent play. Remember: every league is different, so make sure you evaluate what options you have to replace these players before you actually drop them.
Editor's Note: Our incredible team of writers received five total writing awards and 13 award nominations by the Fantasy Sports Writers Association, tops in the industry! Congrats to all the award winners and nominees including NBA Writer of the Year, Best NFL Series, MLB Series, PGA Writer and Player Notes writer of the year. Be sure to follow their analysis, rankings and advice all year long, and win big with RotoBaller!
Read More!
Players to Consider Dropping or Replacing
25% rostered
Stephen Curry is back. That led to an 18 minute game for Poole against Chicago in which he had seven points, one rebound, and one assist. He followed that up with just 12 minutes of playing time against Miami, scoring nine points off of three triples.
Poole still has some deep-league appeal for managers who are desperate for threes, but at the same time, there are plenty of options on the wire who'll give you threes and also something else. I really thought Poole's shooting would have kept him in the main rotation when Curry back, but it wasn't to be. Curry and Andrew Wiggins are both going to be playing 35-plus minutes in the backcourt, leaving Poole and Kent Bazemore picking up the scraps. No real point to hold onto Poole as anything other than Curry insurance, and this late in the year, you probably don't need to worry about that.
38% rostered
Yeah, I don't need to say much here. Horford isn't playing again for OKC this season. If he is on your roster still, you are wasting a roster spot. I'm just assuming that 38 percent of fantasy basketball managers forgot they were fantasy basketball managers, because that's the only reason to still roster someone in a re-draft league who won't be playing again.
45% rostered
Look, I love the positional versatility that Wright brings to the table, but he's gotten off to an iffy start in Sacramento. Sure, he had a 16-point game, but six total points in his first two Kings games. There's some nice backcourt talent in Sacramento, which is going to cap Wright's minutes around that 22 mark that he's been at in each of the three Kings games so far. Even if he occasionally has a night where he shoots the ball well, there's not enough consistency to trust him down the stretch.
64% rostered
Another player whose season is more than likely over. Robinson had foot surgery and will probably not play again this year. Huge loss for the Knicks, who had just gotten Mitchell back and had seen him put up a 16-point, 12-rebound outing against the Wizards. The Knicks will have to make due without him, and so will your fantasy teams.
14% rostered
Ahh, so that whole "THT will benefit a lot from LeBron James missing time" argument was wrong, wasn't it?
Over the past two games, Horton-Tucker hasn't played more than 18 minutes. He's totally seven points, three rebounds, two assists, and eight turnovers.
I'm still a believer in this kid's talent, but it's quickly become obvious that when he starts to offer some consistent fantasy value, it's not going to be in 2021.
44% rostered
Unlike the other injured guys on this list, Hunter could return, but any time someone has a knee injury, returns from it, then misses more time with the knee injury, you should reconsider their place on your fantasy roster. Hunter's been fine when healthy -- 16 points, 5.1 rebounds, 2.1 assists, and 1.6 threes per game this year with a 50.2/35.6/86.7 shooting split -- but since February began, he's played two games, so...yeah...
Download Our Free News & Alerts Mobile App
Like what you see? Download our updated fantasy basketball mobile app for
iPhone
and
Android
with 24x7 player news, injury alerts, lineup notifications & DFS articles. All free!
More Fantasy Basketball Analysis