Can you name every fantasy league you played in last season? Probably not. But can you think of their average structure? The most probable question is yes because most leagues are often comprised of eight to 12 teams with 15 roster spots each and use the now-standard PPR format of scoring. That is not always the case, though, and some fantasy GMs engage in way deeper leagues yearly in order to have a tougher challenge on their hands.
Fantasy leagues can be as large as the commish wants them to be, but for our purposes, we're going to define a deep league as one in which at least 16 teams take part. That means each draft round would consist of 16 picks and there would be 240 (15 rounds multiplied by 16 teams) players drafted overall. So for this exercise, I will be looking at players with ADP over 240 using a dataset comprised of drafts based on leagues with such structure. The data comes from PPR-format leagues, and whenever I mention stats, projections, and fantasy points, those would all be spoken of on the basis of that format.
Here is a look at a few quarterbacks that can be considered sleepers in super deep, 16+ team leagues. Keep an eye on them and track their presence on the draft board as they can become interesting pieces down the road during the development of the 2022 season!
Editor's Note: Our incredible team of writers received 13 award nominations by the Fantasy Sports Writers Association including Baseball Writer of the Year, Football Writers of the Year, Golf Writer of the Year and many more! Be sure to follow their analysis, rankings and advice all year long, and win big with RotoBaller!
Read More!
QB Sleepers Worth Drafting in Super Deep (+16 Teams) Leagues
Drew Lock, Seattle Seahawks (ADP: 293) 
As I'm writing this and as we're about to hit the second half of June, Drew Lock is most definitely the surest thing to be out there leading an NFL franchise when the balls start flying come Week 1 next September--at least among those men name-dropped here and viable in super-deep-league drafts. I know what you're thinking: "ah, here we go again, this analyst is just another one of the crazy bunch," and hey, I don't judge you. But remember, we're talking about really deep, underworld-ADP players here, folks, and some 293rd pick is definitely going to lose you the league... but could turn into a league-winning asset if things go his way.
It'd been three years of pro football for Lock in Denver before he was traded to Seattle as part of the Russell Wilson deal earlier this offseason. Of course, it's not that "three years" actually means "three years" here. Lock only started five games as a rookie and he's coming off a six-game/three-start season in 2021 while playing with a clear QB2 tag attached to his name. Now, looking at Lock's only starting season as a quarterback (13 games in 2020), things weren't that bad for him nor the Broncos in the fantasy realm.
Back in 2020, Lock attempted 443 passes while completing 57.3% of them (254) over those games, racking up 2,933 yards through the air and finishing with a positive TD:INT ratio of 16-to-15 and a touchdown share of 3.6% (around 27 pass attempts per TD). Even though he missed three games entirely, Lock was good for a QB23 (low-end QB2) finish, more than a palatable rank for a super deep league/2QB-format option. Lock threw for more yards than Lamar Jackson and Cam Newton while starting two fewer games than them and fell just nine yards short of Drew Brees' mark. Lock also added three TDs on the ground, carrying the ball 44 times for 160 rushing yards.
Sam Darnold, Carolina Panthers (ADP: 290) 
Whether Darnold starts the season as Carolina's QB1 is yet to be known and we might have to wait until three or four days before the first Sunday of the season to know for sure. That said, what are the alternatives the Panthers are working with that are already on their roster? Matt Corral? I wish (!) but that doesn't feel like something realistic at this point. Darnold only surrendered one start to someone not named Cam Newton last season, and Newton got just five such games under his belt before the Panthers realized he was, well, not OG Cam Newton anymore.
It looks like Darnold will be the one throwing the rock more often than not in Carolina next season barring a trade for someone a la Jimmy Garoppolo or Baker Mayfield, but we'll see how those negotiations or dreamy trades go... As far as we're concerned and with the depth charts in place, though, Darnold looks like a keeper staying put on the Panthers' helm for another 10-month run. Darnold, by the way, isn't an atrocious quarterback. Of course, you're not getting Aaron Rodgers in Sam Darnold, but you're also not getting Aaron Rodgers with an ADP of 290.
Darnold is entering his fifth season as a pro and a contract year too, so odds are he at least attempts to do whatever it takes to remain on the field playing his best football and guaranteeing himself a deal somewhere next offseason. Darnold, mind you, has scored at least 11.2 FPPG in all four prior years topping at 14.6 in 2019 and getting to 13.1 last year in Carolina. He's thrown 9+ TDs in all four seasons while never starting more than 13 games while reaching 2,208+ yards all of those seasons. On a 17-game basis, that'd have Darnold at a baseline of around 350+ completions for 3,600+ passing yards and 13+ TDs. On a pure fantasy football basis: someone in the 20-to-24 clip in QB ranks, or a low-end QB2 worth drafting in most 2QB/deep leagues.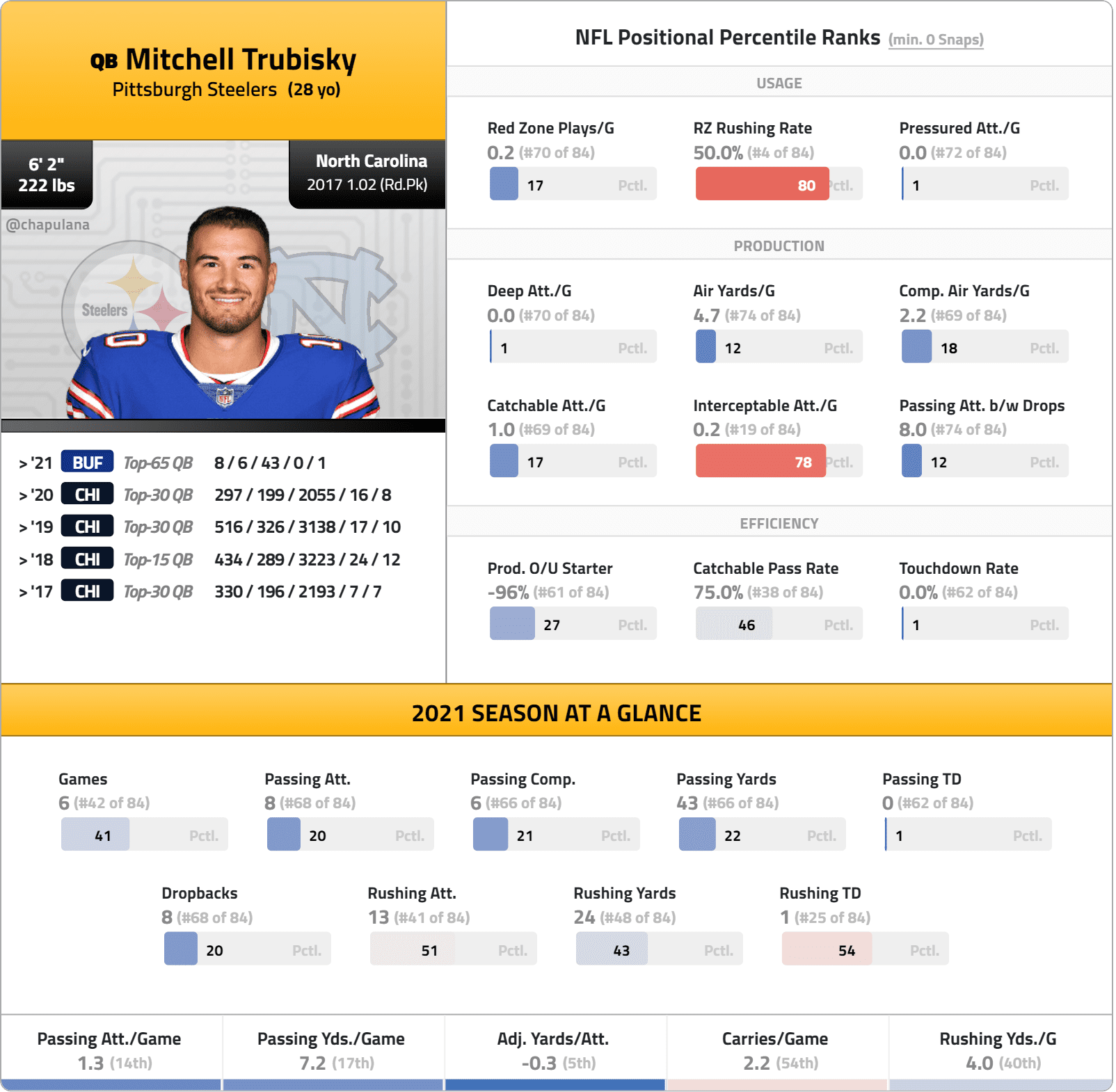 I'm torn about Trubisky. I've been preaching Mitch's word for long this spring and summer because, all things considered, it feels like Pittsburgh should undoubtedly hand him the reins of the franchise come Week 1. The Steelers signed him to a multi-year deal, Trubisky is still young, and Pittsburgh doesn't have many more options outside of the veteran barring a surprising start by the rookie and first-round draftee Kenny Pickett. That, of course, always felt like a long shot... but is it now?
I still think this is Trubisky's starting position to lose more than anything, don't get me wrong. But whispers are there are growing louder when it comes to Pickett's readiness and that has me concerned because, you know, where there's smoke there usually is fire. The consensus opinion (and I'm included there) has Pickett as Pittsburgh's QB2 over Mason Rudolph and below Mitch-T. If that's the case, then I'm 100% positive Trubisky will turn into a bargain of a draftee and a bona fide fantasy asset and value in 2021.
Trubisky surely had a rough four-season run in Chicago, yes, but he was far from the player he's gotten to be known as, honestly. Trubisky finished his four seasons there as the QB28, QB15, QB26, and QB28 while starting 12, 14, 15, and nine games, respectively. In other words, he was never truly given the time to settle properly nor was an offense built around his skill set. Trubisky still averaged 18.8 FPPG (!) in 2018 and 15.4 FPPG as recently as 2020 when he started nine games. The interceptions have stayed on the 7-to-12 clip (not low) but the touchdowns have been great, topping at 24 in his best season (2018) which is not a joke. You give Trubisky games, reps, a proper receiving corps, and a chance, and you bet he'll deliver above expectations (because they're so freaking low, too). Extraordinary under-the-radar player with an extraordinary chance at shutting some mouths as a starter after his one-year sabbatical in Buffalo.
Download Our Free News & Alerts Mobile App
Like what you see? Download our updated fantasy football app for
iPhone
and
Android
with 24x7 player news, injury alerts, rankings, starts/sits & more. All free!
Win Big With RotoBaller
Be sure to also check out all of our other daily
fantasy football articles
and analysis to help you set those winning lineups, including this new RotoBaller YouTube video:
More Fantasy Football Analysis