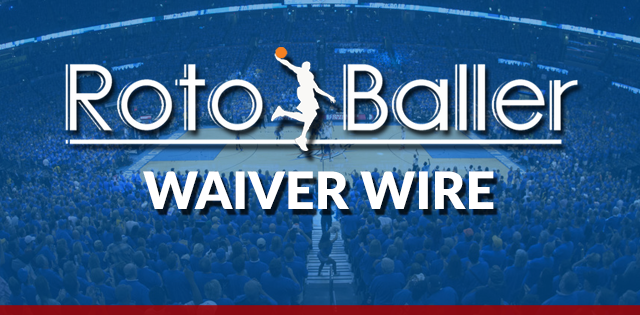 What Appears In This Article?
hide
What's up, RotoBallers! We're creeping up on All-Star Weekend festivities and a nice little break in the action. Hopefully, all of your teams are still firmly in contention for the fantasy league championship.
The Drop List returns for another week, and it might not be kind to some of your rosters. Each week, I'll take a look at a handful of NBA players that can be dropped from your fantasy team.
Without further ado, let's get to the fantasy basketball drop list. Every Saturday, we'll have a list of NBA players and a small dive into why they can be cut from some or all fantasy formats. Please take into account: each fantasy league is different. Make sure you check out the waiver wire and have a player in mind to replace one of the following players that you may drop.
Featured Promo: Get any full-season NBA Premium Pass for 50% off. Win big with our exclusive DFS lineup tools, matchup rating projections, powerful Research Station, Lineup Optimizer, daily DFS lineup picks/cheat sheets and more!
Sign Up Now!
Players to Consider Dropping or Replacing
Caris LeVert (SG/SF, CLE) - 49% rostered
One of, if not the most, frustrating players for fantasy managers throughout the entire league has to be none other than Caris LeVert. This isn't anything personal, it's just the inconsistency and the potential that still hasn't been reached.
LeVert had a ton of promise ever since being drafted by the Indiana Pacers in 2016. He was given the keys to be one of the offensive focal points on that squad as well as the Brooklyn Nets squad that he joined afterward. During both instances, he was hurt for a while and when he was on the court he would show a few flashes here and there of what his skillset could be.
Fast forward to his role now as the fourth or fifth option on the Cleveland Cavaliers and his fantasy value is even more frustrating. One would think that he would provide a boosted output whenever Darius Garland or Donovan Mitchell are sidelined, but that hasn't even been the case. Right now, LeVert is currently ranked 220th in category formats which is 81 spots worse than his ADP at 139. The only positive value that he truly brings at the moment, compared to others around the league, comes from his assist and turnover numbers.
Join me, fellow managers, in cutting the frustration!
Kevon Looney (C, GSW) - 46% rostered
It is tough in these fantasy streets to actually get a quality center that provides the stats you need, night in and night out. Kevon Looney is the trusty center that works perfectly for the Golden State Warriors, but he may not work as perfectly for everyone's fantasy team.
His main use is for any manager in a category format that is in need of field goal percentage and rebounds. Everything else is nowhere near the volume that a fantasy team would need to actually win the league championship. In deeper leagues where centers are even more scarce, Looney could still be of use, but for everyone else, there are more options out there that can contribute in more ways.
The 27-year-old is actually slotted at the best ranking of his career right now because he's gotten even better at those two things he does best. Plus, he rarely ever turns the ball over because he doesn't have it in his hands a lot.
Some of this probably makes him sound like a good player, which he is in reality. Fantasy-wise, the pure volume outside of rebounds just does not exist for Looney which makes him quite useless in points leagues and just as useless in 12-team category leagues.
Royce O'Neale (SG/SF, BKN) - 43% rostered
Once upon a time, Royce O'Neale was in the top 100 fantasy players for three years running in terms of total numbers! This year, well, not so much.
The 29-year-old is currently listed at 106th for total numbers so far and 130th for per-game averages. To make matters worse, over the last two months he's dropped to 182nd and over the last two weeks, he's produced enough to be as low as 259th. The alarming part of that statement is that over the last two weeks, the Brooklyn Nets haven't had the luxury of Kevin Durant (knee) being on the floor. That's supposed to be the role players' time to shine.
Instead of shining, O'Neale is falling like a rock. Better to cut ties before Durant comes back and he sinks even more.
Dillon Brooks (SG/SF, MEM) - 59% rostered
I know that Caris LeVert was mentioned as one of the most frustrating players in fantasy basketball, but Dillon Brooks also needs to be on that list. Right up at the top near LeVert too.
For someone that loves to get a rise out of the Warriors and Shannon Sharpe, one would think that his fantasy value must be up there with a lot of the mid-level guys at least. Well, so far this season, that assumption is quite wrong on a per-game basis. Brooks isn't even in the top 200 this season based on a per-game value in category leagues. Since he hasn't missed many games, he does rank higher in total stats due to the sheer volume.
Let's just talk about the fact that he's shooting under 40% from the floor, barely adding any value on the boards or through assists, and never really getting to the line while playing 30.6 minutes per game and boasting a usage rate of 23.5. There are plenty of starters that can give more than that on a fantasy roster.
Don't let his occasional big game fool you into thinking he can contribute every night to a fantasy win!
Joe Harris (SG/SF), BKN) - 11% rostered
If there has ever been a one-dimensional player in all of fantasy sports, it would be Joe Harris. Even more one-dimensional than kickers in fantasy football who literally are only asked to do one thing.
He hits threes. Usually, a lot of them. This year has been a different story as he's averaging the least amount of threes per game since the 2017-18 season. In comparison to others around the league, it's still a decent number at 1.9 made threes per game. Compared to his last few seasons where he made 2.9, 3.1, and 2.5, the figure doesn't seem as great.
Notice how we're only talking about threes? Okay, fine, he does provide some value in field goal percentage as well, but the 2.8 rebounds and 1.5 assists per game aren't going to force anyone to keep him on a team. If anything, it should force managers to cut him sooner rather than later.
Download Our Free News & Alerts Mobile App
Like what you see? Download our updated fantasy basketball mobile app for
iPhone
and
Android
with 24x7 player news, injury alerts, lineup notifications & DFS articles. All free!
More Fantasy Basketball Analysis