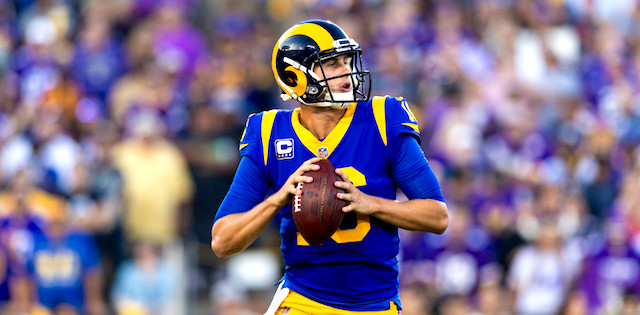 This is your weekly list of players to drop. I will do my best to limit this list to injured players and players you might consider holding. If you roster pure handcuffs or backups, obviously you can let them go at any time. The players on this list will, ideally, be guys that aren't clearly droppable, but no longer worth owning.
Below are my Week 12 cuts and drops for fantasy football. Each week from now until the end of the season, I'll be offering my thoughts on players who don't deserve to keep a roster spot on your fantasy football teams.
Let's get to it.
Editor's Note: Get any rest-of-season NFL Premium Pass for 50% off. Our exclusive DFS Tools, Lineup Optimizer and Premium DFS Research through the Super Bowl.
Sign Up Now!
Players to Consider Dropping or Replacing
Jared Goff (QB, LAR)
Words cannot adequately describe what we all witnessed Sunday night. Sean McVay repeatedly made sub-optimal decisions for seemingly no other reason than to avoid having Jared Goff do anything. The goal was to get a lead and then sit on it, which the Rams did successfully. They appear to have no interest in throwing the ball. Goff has topped 19 points just four times this season, which is only one more than the number of times he's failed to reach double digits. Goff has yet to throw a touchdown in the month of November. He will be a viable streamer Week 13 at Arizona, but other than that, there is not a single week you'll feel confident using him. Goff is bad and you should drop him.
Diontae Johnson (WR, PIT)
I really do like Diontae Johnson. I think he's incredibly talented and has future WR1 upside. None of that matters in 2019. With Mason Rudolph at quarterback, Johnson is nothing more than a random WR4 and now he's dealing with a concussion. Johnson has four games in double digits and was completely useless in the rest. He's just not reliable week to week and his ceiling isn't high enough to justify keeping him on your roster. Don't go out of your way to drop him, but if you need the spot, you can send him to the wire.
Ty Johnson (RB, DET)
Just in case you didn't drop him last week or the week before that, please do so now. This is the second time in the past month that the Lions have signed someone off the street and immediately pushed that player ahead of Ty Johnson. First it was Tra Carson. Most recently, it was Bo Scarbrough, who severely out-snapped and out-touched Johnson. The Lions can't run anyway and with Jeff Driskel at quarterback, he is more apt to take off than check down.
Brian Hill (RB, ATL)
This one really felt like deja vu. Spend all the money on Brian Hill only to see him fall into a three man committee, just like Ty Johnson. Hill did have 15 carries, which was encouraging, but he only managed 30 yards and was pulled at the goal line in favor of Qadree Ollison. Hill now gets the Bucs' elite run defense next week before another date with the Saints. The only potentially useful matchup remaining on his schedule is Week 14 against Carolina, at which point Devonta Freeman may be back. Hill can be dismissed as quickly as he was added.
Players You May Be Considering Dropping, But Shouldn't
This late in the season, you can pretty much drop anyone you don't have immediate use for if you need the spot, especially with the medley of fantasy relevant players on bye in Week 12. If you are fighting for a playoff spot, your sole focus should be on doing what you need to do to get in. If you are safely in the playoffs, you should be looking ahead to Weeks 14, 15, and 16 and focusing on putting players on your bench that could be beneficial during the three playoff weeks. It is unlikely that any specific player appears here again.
Players To Add - Waiver Wire Pickups