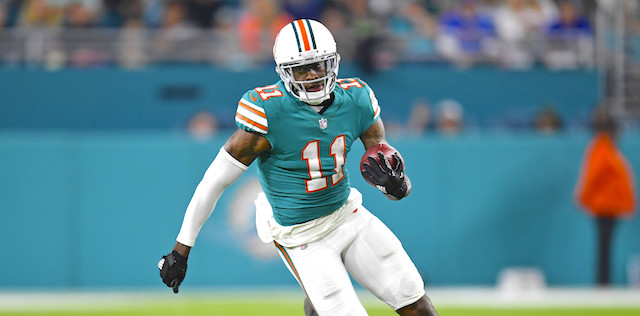 This is your weekly list of players to drop. I will do my best to limit this list to injured players and players you might consider holding. If you roster pure handcuffs or backups, obviously you can let them go at any time. The players on this list will, ideally, be guys that aren't clearly droppable, but no longer worth owning.
Below are my Week 10 cuts and drops for fantasy football. Each week from now until the end of the season, I'll be offering my thoughts on players who don't deserve to keep a roster spot on your fantasy football teams.
Let's get to it.
Editor's Note: Our incredible team of writers received 13 award nominations by the Fantasy Sports Writers Association including Baseball Writer of the Year, Football Writers of the Year, Golf Writer of the Year and many more! Be sure to follow their analysis, rankings and advice all year long, and win big with RotoBaller!
Read More!
Players to Consider Dropping or Replacing
Jordy Nelson (WR, OAK)
Even after the departure of Amari Cooper, Jordy Nelson saw just three targets last week. Nelson has seen more than four targets in a game only twice all season. The Raiders are a complete mess. The Jon Gruden era is an embarrassment and he will go down as one of the worst coaching hires of all time. You don't really want any Raiders.
Devante Parker (WR, MIA)
Seriously? Come on, guys. You're better than that! How many times can this guy fool you? DeVante Parker is absolutely terrible at football. He will never be relevant. Ever. The next time you think of picking him up, just don't.
D.J. Moore (WR, CAR)
Nothing against D.J. Moore. Cam Newton just doesn't throw to his WR2. He has no interest. Moore is firmly behind Devin Funchess, Christian McCaffrey, Greg Olsen, and Newton taking off himself. Moore is nothing more than a bye week desperation filler.
Raheem Mostert (RB, SF)
This is the obligatory injury drop. Raheem Mostert broke his arm last Thursday. His season is over.
Javorius Allen (RB, BAL)
Buck Allen isn't all that good to begin with and the Ravens just hate using him. Ty Montgomery will certainly be active following the bye and the Ravens didn't trade for Montgomery not to use him in the exact role Allen currently holds. The magical run for Allen is long over.
Kyle Rudolph (TE, MIN)
You don't need to drop Kyle Rudolph because TE is so bad, but he's certainly not a must-own player. Rudolph hasn't scored since Week 3 and hasn't broken double-digit fantasy points since Week 4. He's just a guy.
Players You May Be Considering Dropping, But Shouldn't
Taylor Gabriel (WR, CHI)
I think Taylor Gabriel needs Allen Robinson back. The Bears have had significant positive game script the past two weeks, which has negatively impacted Gabriel. He has also been drawing opponents' top corners. Gabriel is still starting and operating as a primary option in a good offense. There are better days ahead.
Marquise Goodwin (WR, SF)
Don't overreact to a game against the Raiders - they're barely an NFL team. The 49ers are not a team that will face that positive of game script very often. When they have to throw, Marquise Goodwin still has game-breaking speed. He's a worthy WR4.
Players To Add - Waiver Wire Pickups