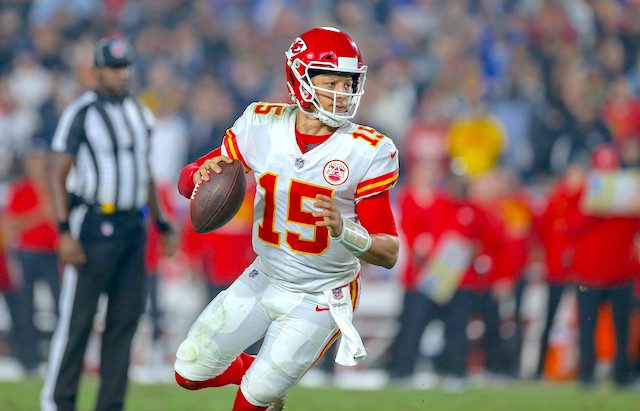 Overwhelming. That is how I describe the lead-up to the Super Bowl. You'd think it's easy to handicap since it's just one game and there are two weeks to prepare, but that's not the case at all.
This is my favorite column each year to write. I will be updating this throughout the week with more props so check back daily to see anything you may have missed. Now with gambling legalized in many states, multiple sportsbooks have a plethora of props. Some offer hundreds of potential wagers. It's a lot to sort through and more importantly, takes more time to find the best price, too. This column will do just that.
Super Bowl LVII features two of the best teams in football, the top seeds from each conference. The Philadelphia Eagles had one of the easiest schedules in football and easiest paths to Glendale, Arizona. The Kansas City Chiefs played in the much tougher AFC and had to beat two top quarterbacks, Trevor Lawrence and Joe Burrow. You may be able to sense which way I'm leaning for the big game.
Editor's Note: Our incredible team of writers received 13 award nominations by the Fantasy Sports Writers Association including Baseball Writer of the Year, Football Writers of the Year, Golf Writer of the Year and many more! Be sure to follow their analysis, rankings and advice all year long, and win big with RotoBaller!
Read More!
Super Bowl Betting Overview
My best advice would be to handicap the game as to what you think will happen and bet accordingly. If you expect a shootout, then go over on pass attempts and completions. If you expect a ball-control, low-scoring game, then go under rushing yards, etc. I'd highly advise not betting on the coin toss. That's because you have to bet $102 to win $100 on a 50/50 chance. You're better off betting that with a friend and this way don't have to pay the extra juice.
I can't stress enough to shop around for the best value. If you're in a state where mobile betting is legalized, you have several sportsbooks to choose from.
These props were found in several sportsbooks available in New York. If you want to play the overs, get them early before the line moves up. If you're looking to play the under, wait until Sunday when the number increases. Most of the public likes to play the over because who likes to root for nothing to happen? I'll be playing mostly the under on the props.
Super Bowl Betting Picks - Player/Game Props
For full disclosure, I have made all the following bets already. I will also note how many units I put on it. Plays are in no order particular order. Some of the prices have moved since I placed them.
Opening kickoff to be a touchback - NO
+150 on Caesars
My Bet: 0.75 units

28 of the last 31 opening kickoffs in the Super Bowl did not go for a touchback. The three that did were played in a dome. This game is in a dome. But those all occurred after 2010 when the NFL moved the kickoff from the 30-yard line to the 35. Pat McAfee really moved this number last year when he explained this ball for the kickoff is only used on this play and then it goes right to the Hall of Fame in Canton, Ohio. Kickers are usually able to push the ball in and break it in. But they are kicking an extremely hard football that's not broken in. Last year, I was on the yes touchback which hit. But this year, I'm going to play the no. I like the plus money I get with the play.
Eagles 1st timeout
+105 on Caesars
This is kind of a coin flip bet but when you get plus money, it's a positive expected value. The Eagles have not been in this situation before while Kansas City has. I expect Philly to come out a little more hesitant and get scrambled before a play. Jalen Hurts looked really skittish in the NFC Championship game. Was it his shoulder, was it nerves, who knows? But in college, Hurts played his worst in the College Football Championship games. He may get confused early and want to reset.
Game tied after 0-0 - YES
-115 on Caesars
My Bet: 1.25 units

These are the best two teams. Neither team is going to run away with this early.
2-point Conversion Attempt - YES
+130 on DraftKings
My Bet: 1.25 units

This does not require either team to convert a 2-point try, rather just attempt it. The total in this game is 50.5, which means points are expected to be scored. More points lead to more chances for a 2-point try.
Fumble lost in the 1st half - YES
+120 on FanDuel
My Bet: 1 unit

Hopefully, the nerves of the big game get to one player. And this is another plus-money play.
Isiah Pacheco over 11.5 rushing attempts
-123 on Caesars
This is one of the few overs I will be playing. The Chiefs are not going to want to test Patrick Mahomes' ankle early so I expect a heavy dose of the running game. Pachecho had 10 carries against the Bengals and 12 against the Jaguars.
Jalen Hurts under 245.5 passing yards
-120 on DraftKings
My Bet: 1.50 units

Hurts has only hit this number five times all season. Two of those in the first three weeks of the season. And to the bigger picture, something is wrong with Hurts. The Eagles are going to rely on the run.
Hurts' First Pass of Game - Incomplete
+175 on Caesars
Mahomes' First Pass of Game - Incomplete
+180 on Caesars
My Bet: 1 unit on each

If you bet both of these, all you need is one of them to come through for you to win money.
Sacks before Touchdown
-110 on FanDuel
My Bet: 1.5 units

Both teams have good pass rushers. Super Bowls normally start off slow, which would mean more time for a sack to happen.
Super Bowl Score Prediction
To no fault of their own, the Eagles have not had a real test in quite some time. These are the quarterbacks they've faced this season: Jared Goff, Kirk Cousins in primetime, Carson Wentz, Trevor Lawrence in the rain, Kyler Murray, Cooper Rush, Kenny Pickett, Davis Mills, Taylor Heinicke (lost that one), Matt Ryan, Aaron Rodgers (got hurt), Ryan Tannehill, Daniel Jones, Justin Fields, Dak Prescott (lost), Andy Dalton (lost), and Davis Webb. In the playoffs, it was Daniel Jones and an injured Brock Purdy and Josh Johnson. This is a major step up in class for the Eagles.
The Chiefs are battle-tested. They've played top teams all season. Patrick Mahomes is the MVP and even with a banged-up receiving corps, still has Travis Kelce and weapons out of the backfield. They'll establish the run early before letting Mahomes do what he does.
Kansas City has a good defensive line which will not allow Hurts to run. They're going to make Hurts beat them from the pocket. From what we've seen of him the last two weeks, Hurts may have trouble doing so. He was awful against the 49ers. He could not throw over the middle and instead just threw go-routes. Like I said earlier, who knows the extent of Hurts' shoulder injury? No one is talking about it but he looked off in the NFC Championship game.
Chiefs 28 - Eagles 23
Running Totals
2022 season total: 28-23-3
2021 season total: 27-26-1
2020 season total: 24-27
2019 season total: 23-26-2
Thanks for reading my columns all year. I'll be back writing my NFL Survivor Picks series in the fall!
Download Our Free News & Alerts Mobile App
Like what you see? Download our updated fantasy football app for
iPhone
and
Android
with 24x7 player news, injury alerts, rankings, starts/sits & more. All free!
Win Big With RotoBaller
Be sure to also check out all of our other daily
fantasy football articles
and analysis to help you set those winning lineups, including this new RotoBaller YouTube video:
More NFL Analysis