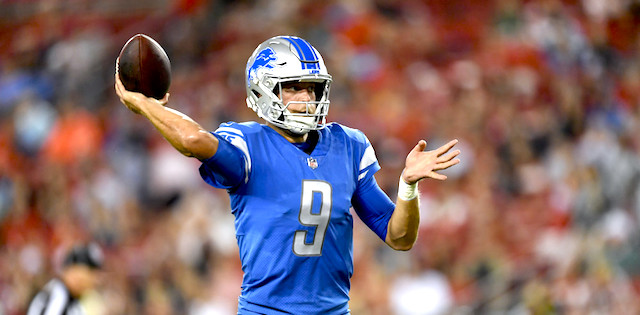 He is not a fantasy football QB1. His team lacks any type of identity or threat to the upper echelon of teams in the NFC. There are even talks of unseating him atop the Detroit Lions depth chart. You may be sullying his name as we speak. Stop The Slander! Thank the Fantasy Football Gods for Matthew Stafford.
Stafford has gotten off to a rocky start as a lone fantasy football commodity in 2018. In the season-opener, the former Georgia Bulldog threw four picks and just one touchdown. Mounting frustrations seemed to come to a head at that point. It was premature. In Week 2, against San Francisco, Stafford threw for 347 yards, three touchdowns, and no picks. The fantasy gawd was back!
This is not hyperbole. Since his second year in the league, Stafford has been a treasure to the fantasy football community. A player that has done more for fantasy football teams than realized or calculated. It's time to sit back and appreciate this godsent QB.
Editor's Note: All you early birds can get a full-season NFL Premium Pass for 50% off. Our Draft Kit, In-Season tools and over 150 days of Premium DFS.
Sign Up Now!
Don't Hate, Appreciate
It was through Stafford that we witnessed Calvin Johnson in all his Megatron glory. That Southern gunslinger was in the backfield when Reggie Bush totaled over 1,500 yards from scrimmage--the last time Detroit had a 1,000-yard rusher. Golden Tate's receiving yards jumped almost 50 percent his first year in Detroit.
Since 2011, Stafford has been the Leonardo DaVinci of fantasy football. In those seven years, five times three or more players on the Lions' offense finished in the fantasy top 20 for their respective positions. Only Tom Brady has matched that success. No other quarterback has been better.
For the people in the back, NO OTHER QUARTERBACK IN THE NFL HAS BEEN MORE CONSISTENT IN PRODUCING FANTASY FOOTBALL STUDS THAN MATTHEW STAFFORD.
How does that reflect your feelings about Stafford as the quarterback for your fantasy football team?
The last three years, two of them without Johnson, Stafford is one of only three players to finish in the top 10 in fantasy. The other two are Kirk Cousins and Drew Brees.
While it's understandable that Stafford's production season-to-season could leave one feeling disappointed, there is no denying that as a consistent top-ten scorer, he can help you win a title. At the end of the day, consistency is what you want.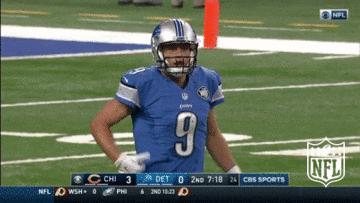 Over the last four years, he hasn't thrown for fewer than 4,257 yards or more than 4,446 while the number of interceptions has ranged from 10 to 13. Since Jim Bob Cooter took over as offensive coordinator in the middle of the 2015 season, Stafford has completed two-thirds of his pass attempts for 11,169 yards and 7.51 YPA. He has been picked off just 1.6 percent of the time. (not this year obviously)
Last season, Stafford completed 65.7 percent of his passes for 4,446 yards and a career-high 7.86 yards per attempt. He finished with 29 touchdowns, giving him a 5.1 touchdown percentage rate, his second-highest since Stafford's monster 41-touchdown 2011 season.
Back to 2018. You look at Week 1 and see the four picks. Then Week 2 happens and you see the three touchdowns and it could leave one flummoxed on who is the real Matt Stafford. The truth is Stafford is as consistent as it gets. The numbers above prove that. What's different this year, however, is really what has been an issue for them for the last few years (so, in reality, it is not that different, but it is, I'll explain), the Lions are not a good running team.
Before Matt Patricia took over in 2018, the Lions at least attempted to establish the run. In 2017, Detroit's run-to-pass ratio per game was 22:35. This season--through a very small sample size--is 16:30. In both games, the Lions have simply abandoned the run. In the case of Detroit's first game against the Jets, a significant deficit forced the gameplan, while in Week 2, the Lions came into the game with the specific intent of airing it out. Stafford is second in pass attempts.  And once again there is a stable of fantasy football targets at his beckoned call.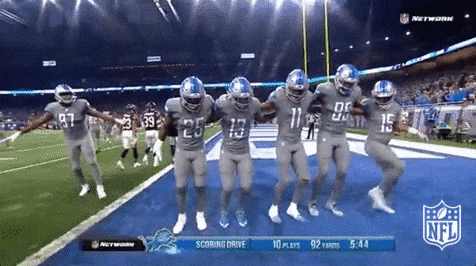 Tate, Kenny Golladay, Marvin Jones, and Theo Riddick are all off to better than expected starts.  Tate and Golladay rank in the top 14 for wide receivers. Marvin Jones right now sits at 40. Riddick is sixth among all running backs with 14 receptions and ranks fifth with 19 targets.
Regardless of whether or not the run-pass ratio regresses towards the means or if it stays on its natural path, Stafford has proven over the years that those who are with him, deliver. So while you may sit there getting impatient with Stafford's inability to climb the next tier of fantasy football quarterbacks, realize this, Stafford is like a beautiful Christmas Tree. On its own it pretty,  but nothing spectacular. Surround it with shiny objects and the two can make for something magical.
So Stop The Slander and thank the Fantasy Football gods for Matthew Stafford.
More Risers and Fallers