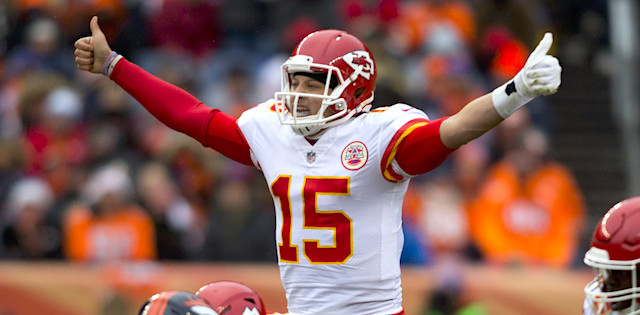 I'll be honest, playing re-draft leagues for years can give an avid fantasy footballer tunnel-vision. You tend to look for the immediate impact of a player. In Dynasty leagues, you have to have a different mindset (except for Frank Gore who'll play for another 10 years with at least 200 touches each time).
Just after the NFL Draft wrapped up, the RotoBaller analysts mocked a SuperFlex dynasty league. Find the full draft board right here.
Let's take a look at the varying approaches of a dynasty draft as I breakdown my personal picks in our recent Expert Mock Draft.
Editor's Note: Get any rest-of-season NFL Premium Pass for 50% off. Our exclusive DFS Tools, Lineup Optimizer and Premium DFS Research through the Super Bowl.
Sign Up Now!
Dynasty Mock Results
I was fortunate to start at pick 1.04 and took Patrick Mahomes. I was very pleased with this pick as he is easily the QB1 in dynasty.
The other three players I was interested in, Saquon Barkley, Christian McCaffrey, and Ezekiel Elliott were all taken. An argument could be made for Alvin Kamara, who went 1.07, but I liked solidifying an elite QB talent for the next decade. Yes, many worry about his expected negative regression, as he had an 8.6% TD rate this past season, but even losing ~12 TD this coming year, he still finishes as the QB1 by 15 points. Give me Mahomes in a SuperFlex or 2-QB Dynasty league as his price tag will warrant your 1.01 pick.
Youth Over Experience
My next pick in the second round was Mike Evans. I believe you have to effectively combat being competitive immediately, while sometimes taking younger players with more long-term value. Take Julio Jones for example. In PPR leagues, he finished the 2018 season as WR4. Since 2014, he's finished no worse than WR7. According to Fantasy Football Calculator, he is the WR3 taken off the board amongst 1100 drafts this offseason. Across such sites as Fantrax, Yahoo, and MyFantasyLeague drafts, he is being taken as the WR4 in re-draft leagues. However, in dynasty leagues, you're going to see him closer to WR7-9. For like-minded Dynasty owners, longevity and potential sometimes outweigh results. Julio falls behind the likes of guys such as Odell Beckham Jr, JuJu Smith-Schuster, and Mike Evans.
Even in the recent RotoBaller.com Dynasty Mock Draft, our very own Chris Mangano took him as the seventh wide receiver off the board. As stated above, I even passed over him for Mike Evans! Why? Evans is five years younger, with a quarterback in Winston who had the highest completed air yard distance in the league and was the second-most aggressive in the league in terms of making tight throws into coverage (NFL Next-Gen Stats).
When comparing apples to apples, Winston isn't as accurate as Matt Ryan, but Winston has improved his accuracy each year, while completing his average air yard throw, at a longer distance, over the same time. Furthermore, Tampa Bay Buccaneers now have Bruce Arians, an offensive mastermind. He loves to make gusty play-calls that often call for route concepts such as deep post routes and double-moves; both which Evans has greatly improved on since his rookie year (Matt Harmon, Reception Perception). I am very happy with Mike Evans as my first WR off the board.
Stealing Bell
As we moved into the third round, six QBs have come off the board, and Kelce and Kittle are now gone. Some names that stick out right away are a bevy of WRs. Amari Cooper, Keenan Allen, Adam Thielen, Stefon Diggs, Brandin Cooks, Kenny Golladay, T.Y Hilton, etc. I've already drafted Evans, and I find myself looking at 11 RBs off the board, Le'Veon Bell immediately becomes my next choice.
Coach Adam Gase, popular with outside zone runs, has used gap schemes regularly as well. Some of these same styles are what the Steelers have used, making this a seemingly easy transition for Bell. Gase will adjust the offense as needed for players. Jets ranked 24th in the PFF's offensive line grade last year compared to Steelers being numero uno. However, the Jets held up when running outside zone concepts. Their backs averaged 2.07 yards before contact on these runs, third-most in the league (Pro Football Focus). Add a fresh pair of legs in Le'Veon Bell and a similar system to which he saw in Pittsburgh, I love his outlook for 2019 and beyond.
Next-Tier RBs
In the 4.9 spot, I took a player that we know will get plenty of volume, has high draft capital, and will be used in numerous concepts. I took Josh Jacobs. Other RBs in this range included Aaron Jones, Devonta Freeman, Phillip Lindsay, and Marlon Mack. I also could have gone WR with Robert Woods, Chris Godwin, Cooper Kupp, etc.. but I'm looking at a range of WR13-20, versus a running back that I expect to finish, at worst, inside the top 25 as a rookie; and someone who could be a top-30 overall ranked player in dynasty leagues come 2020. I'll take the upside with the risk.
Next at 5.4, I took Aaron Jones. I also really liked Marlon Mack here, but I'm ok with Aaron Jones. I think Jones will be a high-end, middle RB2. I beat myself up here as hindsight has me wanting to take Mack. I'm expecting Mack will have more carries than Jones, with a better offensive line and defense to boot. Hoping for a good outcome from Jones this year.
Loading Up On Chiefs for Better or Worse
My next pick at 6.9 is Sammy Watkins. I think he is a great second WR behind Mike Evans. And as many can assume, has much more upside if something happens to Tyreek Hill. However, this is one I may want to take back. In a SuperFlex, with 19 quarterbacks off the board, I should have taken Dak Prescott. He's been insanely consistent, finishing no worse than the 10th quarterback in a fantasy season. He's arguably a top-15 dynasty quarterback at worse. And, as he should, he went at the next pick to Pierre Camus, who solidified his quarterbacks after taken Carson Wentz just two rounds earlier. Watkins, sans Hill, has middling WR2 upside, for an end-of-sixth-round pick, with 22 wide receivers already drafted, I like his prospects.
My next pick may be considered a reach for dynasty purposes, but in a win-now mode, I liked my 7.4 pick with Damien Williams. People seemed to be concerned with his lack of job security, particularly to the likes of Carlos Hyde and Darwin Thompson, pick #214 in this year's draft, who went under the radar at Utah State. While Darwin has been shown easily front-squatting 500 hundred pounds, and had great, albeit, a one-season flash of tape last year, I don't think he, nor Carlos Hyde, keep Williams from reaching an RB2 season in one of the hottest offenses in football.
Fun fact, since 1999, going back to Duce Staley and Darnell Autrey, Andy Reid has never had a running back that he drafted past the third round lead his team in rushing statistics. Historically speaking, a sixth-round rookie drafted by Andy Reid shouldn't lead a team in rushing, now, or in the future. Even though Williams is an undrafted back taken by the Miami Dolphins back in 2014, Reid will continue to rely on him. I expect at least 190 rushing attempts; and if Hill misses time, expect 55+ receptions as well. I like him as a back-end RB2, and a huge value as my fourth running back.
An Eye Toward the Future
At 8.9, I took my first tight-end in rookie T.J. Hockenson. Yes, he's in Detroit, where historically tight ends don't amount to much, but we are past the Jim-Bob Cooter era, and now into the Darrell Bevell era. Bevell is a former West-Coast guru who has no issue adapting to different QBs, having coached greats such as Brett Favre and Russell Wilson.
In this Detroit offense, I think he finds a good balance of youth and experience in key pieces like Kenny Golladay, Kerryon Johnson, Marvin Jones Jr., Matthew Stafford, and Hockenson. Bevell made Visanthe Shiancoe fantasy relevant in 2008 and 2009 as he finished fifth and sixth at the TE position. He again adjusted his offense to best fit Jimmy Graham. Graham had three seasons with Seattle, two of which he had a second and fourth place finish at TE in 2016 and 2017. In the four seasons where Bevell's tight ends finished no worse than sixth in fantasy stats, the leading tight end averaged 8.5 TD's. Hockenson becomes a utilized piece, in a new-look Detroit Lions offense. I expect he finishes as a low-end TE1 his rookie year, with a minimum of six touchdowns. His future prospects have him as a middling TE1 as Bevell's history shows he effectively utilizing his best offensive weapons.
At 9.4, I'm thrilled with my WR3 being Robby Anderson. He finished the last five weeks of the season as the WR10 in PPR formats. Even with signings of Jamison Crowder and Le'Veon Bell, Anderson will be a solid fantasy asset. Anderson was 14th in Total Air Yards last year. Amongst those 14 players, aside from John Brown, (who saw his fantasy prospects drop off a cliff with Lamar Jackson running the show in Baltimore), the lowest-ranked receiver ahead of Anderson in Air Yards was Kenny Golladay. Golladay finished as WR19 in PPR formats. Expect Anderson, who finished as WR35 in 2018, to see a slight increase in targets versus last season (91), as he is the clear-cut WR1 in that Jets offense.
Next, at 10.9, I took a gamble on someone who is expected to be an explosive role player in a top-tier offense. I chose Darrell Henderson. With Todd Gurley question marks throughout this off-season, Darrell Henderson is a great pawn for me in trade negotiations for the Todd Gurley owner. He could be a valuable contributor later as the Los Angeles Rams prepare for another deep playoff run by presumably resting Gurley more near seasons-end.
At 11.4, I admittedly waited too long on my second quarterback as I chose Dwayne Haskins. The two rounds prior, Tom Brady, Derek Carr, Marcus Mariota, Andy Dalton, and Josh Rosen were taken off the board. I missed any valuable second quarterbacks in the sixth and seventh rounds. With Haskins, it's a huge gamble. His outlook to start all 16-games is questionable as he will have to beat out the likes of Case Keenum this off-season. I worry the Skins lean heavy on the run game, and Haskins sits for at least 4-6 games until taking over the role. Even then, this will be a run-first team that will rely on its defense and run game to keep other teams off the field. I expect somewhere near a QB26 finish his rookie year, with hopes he can crack the top-20 at the position as he progresses in future seasons. I will most likely look to trade for a QB mid-season.
At 12.9, I again go for a rookie who has a great opportunity in years to come. That rookie is Devin Singletary. Frank Gore and LeSean McCoy won't lead this team in rushing for very long, T.J. Yeldon is a complementary piece at best, who will look to be more of a receiving threat out of the backfield. Singletary is a smaller back (measured at 5'7"), but has great footwork, is hard to bring down, forces a lot of missed tackles, has a non-stop motor, and a thick frame, weighing in at 205 pounds. He landed in a prime spot in Buffalo as they have a young, developing offense, and while he may not be a fantasy asset in 2019, he's a great stash for 2020 and beyond.
At 13.4, I again went rookie, going after Andy Isabella. Like Singletary, I don't think he makes a huge impact in 2019. Larry Fitzgerald will still be in the picture, and this becomes a very crowded group of playmakers. Until Fitzgerald and his 100+ targets are no longer on that team, Isabella is a stash for 2019 with minimum WR4 prospects in 2020 and beyond, assuming Kyler Murray and the Air Raid offense take the NFL by storm. Fingers crossed.
For my last two picks, at 14.9, I took T.J Yeldon, and at 15.4, I took Alexander Mattison. Taking Yeldon was strictly a handcuff with Singletary and the Bills offense. With the expected departures of McCoy and Gore from Buffalo within the next two seasons, 350 touches become available. If Yeldon and/or Singletary get a share of that future workload, I like their flex upsides.
As for Mattison, he's expected to be the future handcuff to Dalvin Cook. Mattison profiles as a solid back-up, who handled a large workload in college, with the ability to do so in the pros should he be called upon. While he ran a 4.55 at his Pro-Day, he's definitely more of a bruising running back who showed he is capable of making catches out of the backfield. Not to mention, Dalvin Cook only started 10 games last season due to hamstring injuries and went down with a Grade 3 ACL tear in 2017. Obviously, no one wishes for a player to get hurt, but Mattison is a perfect handcuff for this exact situation.
Conclusions
For me, the key for dynasty drafts is managing how you draft young players while still going after the best available in the early rounds. Don't reach for a Josh Jacobs in the third round when Le'Veon Bell is still available. (I've seen Josh Jacobs go in the late second/early third in dynasty drafts). My team has a lot of youth, but I'm good with taking an elite-level running back in Le'Veon Bell as my RB1 in the third round. I also don't mind reaches/prospects/dart throws in mid/late rounds, but personally, I want to be competitive right away, while still taking risks later on in the draft. I think my mock draft exemplifies that.
More Dynasty League Strategy
Check out all of RotoBaller's fantasy football rankings. Staff rankings are updated regularly for all positions and include standard formats, PPR scoring, tiered rankings and dynasty leagues.