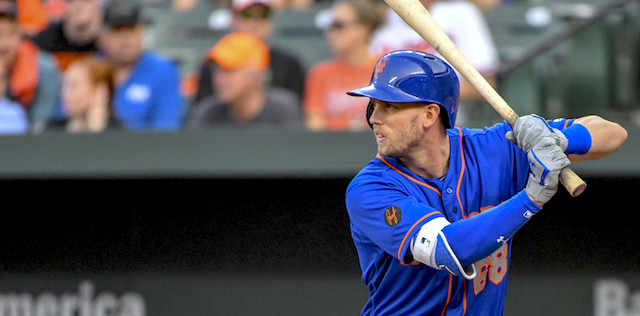 Jeff McNeil sat at his locker at Citi Field just before the All-Star break and contemplated the fact that not only was he going to represent the Mets in the 2019 All-Star Game, he was going to be on the National League roster with longtime friend Pete Alonso. "It means a lot," McNeil said. "I'm really excited. We both are."
It seems Alonso, who has quickly risen to real and Fantasy Baseball stardom, and McNeil, who is enjoying a breakout season, are being linked together frequently in both worlds. In the spring, McNeil's place in the Mets lineup was not firm, and Alonso was in a battle for playing time with Dominic Smith and it was uncertain if he would begin the season in the majors. Alonso was the 30th player off the board at first base in drafts and McNeil was 33rd at second base.
Both have outperformed real and fantasy expectations and have been the two brightest spots in an otherwise frustrating season for the Mets. While Alonso is already a star in the making, will the magic continue for the lesser-hyped McNeil?
Editor's Note: Get our 2020 MLB Premium Pass for 50% off, with exclusive access to our draft kit, premium rankings, player projections and outlooks, our top sleepers, dynasty and prospect rankings, 20 preseason and in-season lineup tools, and over 200 days of expert DFS research and tools.
Sign Up Now!
Surprising Start
Alonso had a terrific spring and has fully carried the momentum through the first half, while McNeil has nailed down the leadoff job. He has played most of his time in his left field and at 2B. Injury issues have pushed McNeil into a lot of work in the outfield, and teammate Michael Conforto has seen just how valuable he has become as a hitter and fielder.
"Jeff has been great for us. Obviously he's in the conversation for the batting title. He is our everyday leadoff guy and someone that can play anywhere on the field," Conforto said.
When I landed McNeil with the very last choice in the Tout Wars Mixed Auction draft for one dollar, neither I or anyone in the room were expecting a .345 batting average with 41 runs scored, 36 RBI and a nifty seven homers to boot at the break. Veteran Mets beat writer Mike Puma of the New York Post wasn't forecasting McNeil to contend for the hitting crown, either.
"I didn't expect him to be this good. I thought he could be a .300 hitter. I didn't envision him at .350. I don't think the Mets did either," Puma said.
Alonso has morphed into a fantasy standout in a short period, but McNeil has also turned into the type of guy who you can surround Alonso with on a championship squad. He has unexpectedly been a major batting average standout while bolstering fantasy teams in other categories.
A Dynamic Duo
All along the way to the All-Star Game, Alonso and McNeil have helped each other gain advantages, sharing tips and insights on opposing pitchers with each other.
"We always talk about the pitcher coming up," McNeil said. He is a real smart hitter who watches a lot of video, and we'll talk and try to come up with a plan."
McNeil has a .385 BABIP, and while that number would seem to point to some regression, it could be minor. As Conforto pointed out, McNeil's distinctive hitting style should continue to generate more success.
"His approach at the plate is pretty simple, to put the barrel on it. And he wants to find a hole," Conforto said. If there's a gap in the infield you can bet he's aiming for it. He's good enough most of the time to put the ball where he wants to. It's an old school type of thing.  Right now a lot of guys are trying to hit the ball over the fence but he's really looking for gaps in a defense. When I was playing with him in the minor leagues he was doing the same stuff."
Puma agreed, saying McNeil has the unique ability to seemingly guide the ball where he wants it to go.
"Wherever a pitcher puts the ball, he puts it in play," Puma said.
McNeil said he is not the type of leadoff hitter that might be ideally suited for the spot in many people's minds, but his aggressive approach has led to the desired results.
"I'm definitely not the type of hitter to go up there and see a lot of pitches or want to walk a lot.  I definitely like to swing a lot early in the count so I'm not your prototypical leadoff hitter," McNeil said.
McNeil has a 5.7 percent walk rate, yet he has been able to sustain a .407 OBP. He is swinging at more pitches outside the zone this season and his fly ball percentage has fallen from 39.7 percent to 32.7 percent. He has not hit below .277 in any month yet. Naturally, all hitters will go through cold streaks, but Puma believes you will not see a significant falloff from McNeil in the second half of the season.
"Can he keep it up? Why not?," Puma said. "He's already gone and done it for the whole first half of the year."
The bonus power production did not arrive until last year. From 2013 to 2017, McNeil had never hit more than three home runs in a minor league season. He then hit 19 in 88 minor league games at two levels last year before being called up to the Mets, where he hit five homers in 31 games.
"I put on a lot of weight that offseason and got a lot stronger. I focused a lot on my offseason weightlifting routine.  It has kind of showed the last few years, as the power numbers have really been there," McNeil said.
What also makes McNeil unique is his usage of a knobless bat, which he has been favoring since 2015, when Mets minor league hitting coordinator Lamar Johnson introduced it to him.
"Once I got my hands on it I really loved it," McNeil said. "I like the feel of it, as it's really balanced. I choke up on the bat anyway, so I really don't need a knob. It felt really good and I've been using it ever since."
McNeil has been impressing teammates since college, when he earned the nickname "Squirrel" for the way he made diving catches at Long Beach State. Now he is earning serious attention, even back in California, where he grew up in Nipomo.
Fantasy Come True
"I definitely take it as a compliment," he said about being noticed in fantasy sports. "It's pretty cool to see people back home drafting me. I think it's pretty awesome."
Now, fantasy players simply want to know, can he continue playing at this level the rest of the season? Should they sell high on him? Puma reiterated that he believes McNeil can continue to play at a high level in the second half.
"He is a terrific contact hitter, so why not?" Puma said.
I would expect a slump to inevitably befall McNeil at some point soon, but it's hard to see it lasting extensively. You didn't invest much draft capital into McNeil, so keep riding with him and enjoy fine overall results. His profile is one of a unique player and hitter, so he can continue to defy expectations.
"I know what I'm capable of doing this year, for future seasons and it's just the kind of player who I am, to try to hit for a high average, getting on base. and hopefully I'll keep that going," McNeil said.
More 2019 Fantasy Baseball Advice