Ryan Brehm had one of his better rounds in some time, leading the field in strokes gained off the tee and also making an ACE. He sits in a three-way tie for first after the conclusion of R1. Stephen Jaeger and Adam Schenk sit alongside Brehm at the top of the leaderboard having shot a -5 66 each.
This article is going to take a look at showdown slates after each completed round. You can find me on Twitter an unhealthy amount of the time @TheModelManiac, if you have any questions, compliments, or insults for me. My DFS style is very ownership-centric, and more often than not, this can make you feel like an unsuccessful DFS player, but every now and then when a sneaky, low-owned golfer comes through for you, it is all worth it. In this article, we are going to break down the previous round's top performers and duds and use that information to derive a player pool full of upside and leverage.
The general logic to showdown has been to target golfers who played well the day before and particularly those who hit their irons well. This makes sense as you want to roster players who are playing good golf right now. These players will be higher-owned and chalkier than golfers in the same price range who had an off day, particularly with their irons. These are the golfers I am gravitating towards, as they could very easily bounce the following day at half the ownership.
Featured Promo: Our brand NEW exclusive Props Optimizers for Prop Bets and Prizepicks DFS Props are available for 50% off for a very limited time. Use discount code PROPS and win big with RotoBaller's prop picks today.
SIGN UP NOW
Ownership Analysis
Top Points Scorers
Highest-Owned Golfers
Going into Round 2, these are the color codes we will be using to identify who we want to target. Think of it as a traffic light with four colors. Stop at mega chalk and go when we see leverage that makes sense.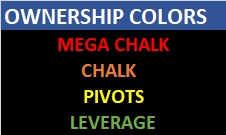 By taking a look at yesterday's ownership, we can get an idea of where people will be willing to go in Round 2 (DK points include finishing position).
Mega chalk: A popular player who played well yesterday.
Chalk: a) A popular player who played okay yesterday, b) A less popular player who played well yesterday.
Pivots: a) A popular player who played poorly yesterday, b) A less popular player who played okay yesterday.
Leverage: A less popular player who played poorly yesterday.
Did you know RotoBaller has a Premium DFS PGA subscription?
Like what you read today? You can show your support for Byron by using the discount code MANIAC when purchasing a PGA Premium Pass. You get 10% off and full access to all of our Premium PGA articles, DFS tools, and Lineup Optimizer! You also get access to weekly betting picks from Spencer Aguiar, one of the top betting minds in the industry. Spencer absolutely crushed it in 2022!
Round 2 Strategy
There appears to be much calmer conditions in the morning, with the wind drying the course out as the day progresses. AM golfers will most likely have the best opportunity to score, with 5 of 7 top scorers going off in the AM for R1. We will also be playing a few guys, not nearly as heavily though, in the PM particularly if they are one of the better golfers in the field. They can scramble and still make birdies, at a discounted ownership. We will load up on AM guys, but will do our best to avoid the chalk of the AM wave, as avoiding chalk in showdown is the number one objective.
Round 2 Power Rankings
Below are the power rankings of the golfers who we have our eye on for Round 2. The full-field model is available to premium subscribers HERE. It includes pre-event rankings, round-specific scoring averages, birdie percentages, weighted approach ratings, and ownership projections for tomorrow's showdown slate.
***Full disclosure: The ownership numbers are based on the $5K CADDIE (Single Entry), which is important to note as ownership in showdown can vary from contest to contest depending on field size and entry fee. However, it should provide you with a guide to who will be the most owned and how those around them shake out.
$10,000+
Justin Thomas continues to lose strokes putting, while gaining 3.4 strokes tee to green.  His 19% of backers witnessed a disgusting double on a Par 5, but he did well to bounce back from that and get back to -2. He grades out as the best golfer heading into R2 at $10,700. If we adjust his projections to reduce his upside in the PM wind, he sits at 2nd behind Tommy Fleetwood who has an AM tee time. JT is one of the best wind players in the world and he really steps up to the challenge when the wind blows.
$9,000+
Matt Fitzpatrick went 9,4,6 on holes 3,4, and 5. Fitz managed to bounce back on the back 9 and claw his way back to +3 and currently sits T97. He has one of the best R2 scoring averages and his lack of birdie output will be less detrimental with scores presumably much closer to par tomorrow. Pars will be tough to come by tomorrow.
Justin Rose lost strokes putting and on approach, with his approach most likely going to bounce back tomorrow as he graded out with the 2nd best approach proximities pre-tournament. Despite his middling performance today, he most likely will be 20+% owned tomorrow, but with a morning tee time and some ground to make up after a disappointing finish to his round, we are going to eat the chalk on Rose.
The reigning champ is off to a good start in his attempt to be one of four golfers in recent memory to 3-peat. Sam Burns was sniper like on the greens as expected, gaining just shy of 2.5 strokes in the short game department. His ball striking gained a measly 0.8 strokes, which has been his problem heading into the week, validated by the 12% of people who rostered him. He grades as the sixth best option heading into the 2nd round (pre wind adjustment).
Denny McCarthy will presumably fall from his 13% ownership back into single figures after a disappointing 1 over par round which was crippled by his putter losing a stroke and a half. He is easily one of the best putters in the world and that should rectify itself tomorrow. He has been playing great golf recently and will be on our radar tomorrow at $9,100. He is another PM tee time though, so it won't take much to get exposure on the field, while still rostering a lot more AM guys.
$8,000+
Every $8K golfer, minus Brian Harman, will be in the PM wave. We are out on this entire range. I think this is the first time we have ever done this. The guys who we want to roster, played well today (high ownership) and this range has a rather lack luster power rating for the group. We have a lot of guys in the $7k range who have AM tee times and much better power ratings.
$7,000+
These four golfers all go off in the morning and grade out really well for R2.
Jhonnatan Vegas holy short game. -3.8 lost on and around the greens for the big guy. He shot 3 over while eclipsing 2 strokes on the ball striking front. As one of the premier iron players on tour, his ownership should halve from the 12% we saw today and at $7,800 provides incredible upside if he can keep it together on the greens.
Nick Taylor had a mediocre outing today, but he has been playing well lately and if he can get out early and post a nice number before the wind gets treacherous, his $7,800 is appealing for somebody with a game as well rounded as his.
Sam Ryder made a triple bogey on a Par 5 today. Not good. But he continues to putt out of his mind, gaining over three strokes on the greens today, with the rest of his metric in shambles thanks to the snowman he built on hole 5, but tidied things up nicely on his back nine which we hope he can carry over into his 7:45Am tee time.
Ben Martin is somebody who has some incredible R2 scoring history and also makes enough birdies to eat the potential double-digit chalk we will find him at with a $7,200 price tag.
$6,000+
Stewart Cink gained 4.1 strokes tee to green while losing on the greens. Classic Cink. He enjoys this golf course and if that ball striking continues, he is due for a putter popping at some point. He was owned by 1% of the contest and will be $6,900 tomorrow. Zach Johnson the U.S. Ryder Cup captain thrives in the wind and after a poor round today, he is capable of bouncing back and grinding out a sub par score to potentially sneak into the cut.
Matt Wallace gained 2 strokes on approach today and lost with the putter. He gets a 9AM tee time and hopefully he can sink a few more birdie putts tomorrow. Ryan Armour gained 2.8 strokes tee to green and lost with the putter. At $6,600 he will be barely owned and has thrived on this course in the past.
Rory Sabbatini is $6,100 and has the short game to make a few birdies if he can keep his emotions in check, grading out above average in Birdie % for somebody this price is always exciting. Good luck this week, and as always, may the odds be ever in your favor!!!
Win Big With RotoBaller
Golf is back, and it's time for you to win big with RotoBaller!
Our PGA DFS Premium Package
 features several savvy analysts and proven DFS winners.
Our very own Joe Nicely recently took down a big DraftKings DFS tournament for the Travelers Championship. And as an encore, RotoBaller subscriber @tenndolly2 won $100K on FanDuel with the help of Joe and the rest of our Premium PGA team:
If you read my articles @RotoBaller or listen to @TheTurnGolfPod I've been telling y'all it was #WinningSeason when golf came back! Shoutout to the entire @RotoBallerPGA squad and all you guys that support my work for all the ❤️ pic.twitter.com/07a4ynvbSU

— Joe Nicely (@JoeNicely) June 28, 2020
Congrats @tenndolly2 ???

Thanks for being a @RotoBaller PGA DFS Premium subscriber & checking out all the amazing golf content that @JoeNicely produces every week! https://t.co/tHKZVsPbbt

— RotoBaller PGA (@RotoBallerPGA) August 10, 2020
Between all the incredible
Premium PGA DFS
content and tools we put out each week, and our Premium Slack Community where we chat with our subscribers before lineups lock, RotoBaller PGA subscribers are armed with the tools, analysis, and advice to win big.
Golf DFS News and Player Outlooks
More PGA Analysis and DFS Lineup Picks