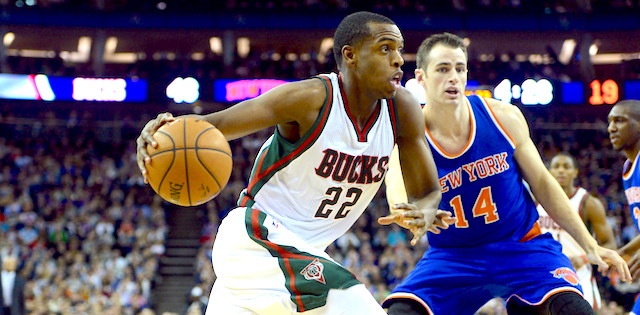 What Appears In This Article?
hide
After a week of eating holiday leftovers, followed by a thorough fridge cleaning, it's time to get back to work. The three players from last week's watch list produced respectable numbers, and hopefully, the statistical analysis helped you decide on a good roster move for your fantasy team.
While not every week of this watch list will focus on waiver wire players, the three players from last week deserved a ponder. To highlight the three players from last week's watch list, let's recap their performances since November 25. Royce O'Neale of the Brooklyn Nets averaged 13 fantasy points in his last three contests. As expected, he returned to earth after recording a triple-double a few weeks ago. In the Western Conference, Denver Nuggets' forward Aaron Gordon had a compelling last three performances, evidenced by his 35 fantasy average. Lastly, the steady-handed Harrison Barnes of the Sacramento Kings averaged 13 fantasy points in his previous three contests.
This week, the watch list will feature a variety of waiver wire and trade target players.
Editor's Note: Our incredible team of writers received five total writing awards and 13 award nominations by the Fantasy Sports Writers Association, tops in the industry! Congrats to all the award winners and nominees including NBA Writer of the Year, Best NFL Series, MLB Series, PGA Writer and Player Notes writer of the year. Be sure to follow their analysis, rankings and advice all year long, and win big with RotoBaller!
Read More!
65.1 % rostered
When the Detroit Pistons acquired Bojan Bogdanovic from the Utah Jazz, it seemed the city that birthed Motown was ready to compete in the Eastern Conference. Unfortunately, Detroit's off-season moves don't match their record. At least they could shop around the veteran to a contender if necessary. The Pistons' league-worst 5-18 record isn't stopping Bogdanovic from leading the rebuilding team in multiple statistics.
Perhaps once the front office realizes that they have no shot at the postseason, Bogdanovic will see his minutes cut drastically. Until then, however, the eight-season forward deserves your attention as he's not getting the mainstream spotlight in light of Detroit's aforementioned miserable record.
Bogdanovic recently missed a game due to knee soreness, which could linger later in the season, so move cautiously. However, his 23 fantasy average for the season makes him worth the risk. In his last five games, he posted a mean of 24 fantasy points. Consider his last performance an exception because Bogdanovic only played 19 minutes during a blowout to the New York Knicks.
Posting a career-high 63 true shooting percentage in 22 games, Detroit has an efficient score on its roster. However, if the Pistons press the "let's tank" button, the veteran wing may see himself on a better team with a lesser role. Until then, keep close tabs on Bogdanovic.
75.5 % rostered
Out of any season to tank, this is it. With Victor Wembanyana's league-changing potential waiting for the team lucky enough to grab the No.1 pick, many imagined the Utah Jazz to have a legitimate shot at drafting him. However, in a surprising turn of events, Jazz's rookie head coach Will Hardy and the rest of the role players didn't get the memo.
As the Jazz currently rank higher than the two teams in the 2022 Western Conference Finals (the Golden State Warriors and the Dallas Mavericks), the trade value for all players involved has skyrocketed. One player who's stood out recently is Collin Sexton. Averaging 33.5 fantasy points in the last four contests, the former Cleveland Cavalier could represent for team tank if/when Danny Ainge decides to enter the race for Wembanyana.
While the Jazz continues to shock the world, Sexton's game isn't exactly reinventing the wheel. He isn't an ultra-efficient player by most shooting metrics, but that's mainly due to his lower perimeter shooting numbers. However, he attacks the basket in an old-school, no-regard-for-your-feelings kind of way, as 58.7 percent of his offense stem from less than 10 feet from the basket.
Aside from getting to the rim, Sexton's recent performances indicate he's dime-worthy too. For fantasy purposes, Sexton is more than a one-trick pony. He is averaging seven assists in his last five outings, well above his career average. Maybe Sexton's numbers are nothing but a mirage, but it's worth noting the Jazz roster could have a complete facelift by the trade deadline.
Considering Sexton is the lowest-valued player between Lauri Markkanen, Mike Conley, and Jordan Clarkson, it's highly likely he's the last player standing on the Jazz. Sexton is worth tabbing for later use.
87.6 % rostered
Khris Middleton is the NBA's version of the Game of Throne's winter is coming, but with a potentially better payoff. We still don't have a timetable for his return other than close, according to Milwaukee Bucks head coach Mike Budenholzer. Perhaps there is an impatient fantasy manager in your league who can't stomach another injury report listing Middleton's status as out.
Still, it would be best if you kept your eye on the prize. Milwaukee starting point guard Jrue Holiday hasn't had the strongest start. Although his counting stats don't look too shabby, as he's averaging his best assists since his days as a New Orleans Pelican. With the Bucks' offense stuck in the mud, Middleton's return will only improve it.
Holiday ranks below average in true shooting with a .533 mark, and despite holding an above-average three-point rate, his three-point percentage falls at a career-worst. With all that said, Middleton's arrival can't come soon enough for the waiting-in-the-wind Bucks. While Middleton can't completely negate Holiday's regression, his play can hide it for the time being.
Middleton is one of the few Bucks who can make pull-up jumpers. Last season, he shot 36 percent on pull-up three-point attempts. For perspective, that's better than Devin Booker's conversion in the same season. Middleton is the diverse offensive weapon the Bucks need to contend for a title.
Either wait for Middleton to hit the waiver wire wrongly or find a way to sucker a fantasy manager into trading him.
All stats appear courtesy of NBA.com/stats and Basketball-Reference.com.