Here at RotoBaller, we are always searching for ways to give our readers the best fantasy sports content possible. With that goal in mind, we are very proud to announce the weekly PGA "One and Done" column will be back for the fourth season.
For an in-depth breakdown of the top DraftKings and FanDuel plays, check out Joe Nicely's weekly Horse For The Course which highlights the best fits for the week's course. And you can also find out who the smart money is on by checking out Spencer Aguiar's PGA DFS: Vegas Report every week.
Be sure to also read all of our other top-notch weekly PGA DFS and betting articles to help you win big!
Featured Promo: Our brand NEW exclusive Props Optimizers for Prop Bets and Prizepicks DFS Props are available for 50% off for a very limited time. Use discount code PROPS and win big with RotoBaller's prop picks today.
SIGN UP NOW
One and Done Selections - The World Golf Championships-Dell Technologies Match Play
In this feature, our golf staff of Joe Nicely, Spencer Aguiar, Andrew Putters, Josh Bennett, Byron Lindeque and our special guest will provide their weekly golf picks every Wednesday. The purpose of this article is to present you with alternative options to consider and hopefully make your selection a much easier process weekly. With that plan in mind, let's get started!
Alternate - Rickie Fowler
If you are like me and missed the boat on Tyrrell Hatton in Florida, then this feels like a good spot to try to hop on board. The Englishman heads to Austin in white-hot form and with loads of match-play experience under his belt.
Hatton has advanced out of Group play in three of his four starts in this event and I like his odds of doing so again this year. He opens this week's proceedings in a bubble with Russell Henley, Lucas Hebert, and Ben Griffin; all fine players, but certainly not golfers that are playing at Hatton's level currently. Though a potential Round of 16 matchup with McIlroy looms, Hatton is a player to keep an eye on this week and who I'll gamble on in this volatile match-play format.
Yearly Earnings - $2,020,656
Yearly Cuts Made - 9/10
Alternate - Patrick Cantlay
I'm under the firm belief that match play in golf, with very minimal exceptions, is pretty much a coin flip. Winning requires mostly luck and the correct timing of that luck (obviously). If there are any exceptions to the rule, Scottie might be one of them. Right now, he appears to be miles ahead of everyone else and there isn't much about his game to be concerned about. Hitting the ball great, short game is good, putting is good enough. He also seems to get a lot of really good breaks in the times they are needed. Not necessarily a "skill", but I think he puts himself in places that give him the best chance for good things to happen more than others, so good things tend to happen to him more than others. That's really my only selling points here given how random this format is, I'm just grabbing the guy that is better than everyone else and seems to have things go his way a lot, pretty much all you can ask for in this kind of event.
Yearly Earnings - $2,933,762
Yearly Cuts Made - 7/10
Did you know RotoBaller has a Premium DFS PGA subscription?
Like what you read today? You can show your support for Spencer by using the promo code TEEOFF when purchasing a PGA Premium Pass. You get 10% off and full access to all of our Premium PGA articles, DFS tools, and Lineup Optimizer! You also get access to weekly betting picks from Spencer Aguiar, one of the top betting minds in the industry. Spencer is absolutely crushing out of the gate in 2022!
Alternate - Tom Hoge
I am not sure it makes logical sense to take a top golfer during the most volatile event of the season, but I have said I am sticking to my model from here on out, so let's fire up Max Homa.
This might come as a shock, but the American ranked as the top projected win equity golfer I had in the field when we ignore draws, and while the path for Homa is arguably the toughest in the tournament, I don't know what other choice I have than taking a shot. This removes him from my player for the U.S. Open -- something I was trying to avoid, but I am going to keep throwing darts at the board and hope something sticks from the math my model believes in for the week.
Yearly Earnings - $1,202,729
Yearly Cuts Made - 7/10
Another top 20 for the OAD Ketchup Kings is just not going to suffice as we need winners and we need them fast. Sam Ryder was a low Ryder last week at T19 when we need him to be a Flo Ryder for us. Regardless, we try again, pursuing the eternal enigma that is picking a single victor out of a bunch of extremely talented golfers.
Enigma? Texas? Scrambling? >Enters Jordan Spieth from waaaaaay left of the fairway< Yes, we are in Texas and Spieth has the type of game that can drive his opponents bonkers. He is NEVER out the hole and if you think he is going to potentially make bogey from a greenside bunker, you may want to give Metallica another listen, as you are about to "Enter Psycho Sandman" city. He has been incredible out of bunkers of late and his putter is starting to roll the rock nicely, unless its a 6 footer to tie the tournament on the 71st hole, but we are not salty about that. 
He finds comfort in chaos and match play embodies that type of environment. Watch out for the Psycho Sandman in Texas, where he will be doing his bestest, to grab his opponent by their figurative testis.
Yearly Earnings - $2,960,646
Yearly Cuts Made - 9/10
Alternate - Cameron Young
I am needing a birdie machine. John Rahm is my man. Now, I know he doesn't have the greatest success in this event, but in reality, who has an easier path?  No one, that is the answer. I am looking for a big name in the last WGC event ever, plus I am saving a couple of LIV guys for MAJOR SZN. 
PS… It's right around the corner. I love this event and let's go out with a bang!!
Yearly Earnings - $2,698,458
Yearly Cuts Made - 7/10
Mia The Model - Jon Rahm
Alternate - Jason Day
Byron T20
(Past Selections Have Been Removed)
TeeOff T20
Aggregated Results
One of the significant differences you will notice is that I attached the aforementioned percent weight to each player when I randomized the list for the week. That means an option like Tony Finau got rewarded for being a better option for our models (which we see with his 15% chance) all the way down to the bottom of our board in Tommy Fleetwood and Taylor Montgomery – two golfers that received between 3% of the projected pick equity.
We agreed on randomizing the list five times to settle on the name, and Mia has decided she wants to roll with Jon Rahm this week as the selection and Jason Day as the alternate. (All names used previously were removed).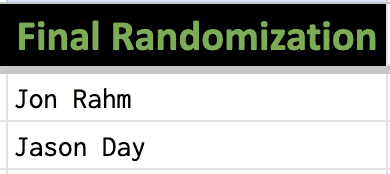 Let us know what you think of her chances this week!
Yearly Earnings - $8,459,086
Yearly Cuts Made - 8/10
Running Totals
Follow along here on the OAD Spreadsheet!
Win Big With RotoBaller
Golf is back, and it's time for you to win big with RotoBaller!
Our PGA DFS Premium Package
 features several savvy analysts and proven DFS winners.
Our very own Joe Nicely recently took down a big DraftKings DFS tournament for the Travelers Championship. And as an encore, RotoBaller subscriber @tenndolly2 won $100K on FanDuel with the help of Joe and the rest of our Premium PGA team:
If you read my articles @RotoBaller or listen to @TheTurnGolfPod I've been telling y'all it was #WinningSeason when golf came back! Shoutout to the entire @RotoBallerPGA squad and all you guys that support my work for all the ❤️ pic.twitter.com/07a4ynvbSU

— Joe Nicely (@JoeNicely) June 28, 2020
Congrats @tenndolly2 ???

Thanks for being a @RotoBaller PGA DFS Premium subscriber & checking out all the amazing golf content that @JoeNicely produces every week! https://t.co/tHKZVsPbbt

— RotoBaller PGA (@RotoBallerPGA) August 10, 2020
Between all the incredible
Premium PGA DFS
content and tools we put out each week, and our Premium Slack Community where we chat with our subscribers before lineups lock, RotoBaller PGA subscribers are armed with the tools, analysis, and advice to win big.
Golf DFS News and Player Outlooks
More PGA Analysis and DFS Lineup Picks