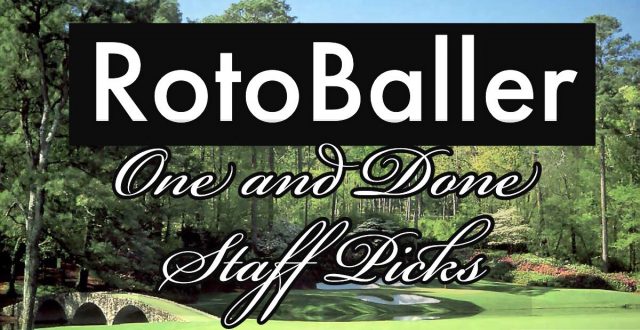 Here at RotoBaller, we are always searching for ways to give our readers the best fantasy sports content possible. With that goal in mind, we are very proud to announce the addition of a weekly PGA "One and Done" column. In this feature, our golf staff of Joe Nicely, Spencer Aguiar and Gianni Magliocco will provide their weekly golf picks every Wednesday. The purpose of this article is to present you with alternative options to consider and hopefully make your selection a much easier process weekly. With that plan in mind, let's get started!
Cue the Undertaker GIF!!! Tiger Woods is back and so am I! We saw some old Tiger magic at Augusta National on Sunday, as Woods won his fifth green jacket and 15th major championship. Aside from being an awesome tournament, it was a huge day for me in our RotoBaller OAD. I was the only one of our trio that had Tiger in our contest and it helped me close what had been a huge gap between myself and our leader Gianni.
Gianni and Spencer entered last week in great shape, and while they didn't have the winner, they certainly didn't do poorly in the Masters. Our leader Gianni's choice of Rickie Fowler worked out well, as Rickie logged a T9 that was good for $310,500. Spencer took an under-the-radar Bubba Watson and scored a T12 worth $225,400. Despite my huge win with Tiger, Gianni still holds a lead of a little over $2 million over me, while being over $3 million ahead of Spencer. Those numbers are eye-opening and really speak to how great of a season Gianni has had so far.
While we won't ever forget this year's Masters, we are on to Hilton Head and the RBC Heritage this week. Harbour Town is a bit of an outlier on the modern PGA Tour, as it's a course that only measures out to a little over 7,000 yards and basically takes driver out of players' hands. Tight fairways and tiny greens will present a challenge for this surprisingly-strong field. I can't wait to see who the guys are going with this week. Let's tee it up!
For an in-depth breakdown of the top DraftKings and Fanduel plays, check out Joe Nicely's weekly Horse For The Course that highlights the best fits for the week's course.
And you can also find out who the smart money is on by checking out Spencer Aguiar's PGA DFS: Vegas Report every week.
Editor's Note: Our friends at Fantasy National have built some incredible DFS Golf lineup tools including a Lineup Optimizer, Stat Engine, Ownership Projections and Course Breakdowns. They are by far the best daily fantasy Golf tools in the industry. Seriously. You can read all about them here and see screenshots. 
RBC Heritage - Harbour Town Golf Links
7,099 Yards - Par 71 - Greens Bermuda
This Pete Dye/Jack Nicklaus beauty is one of the shortest layouts these pros will face all year. Its lack of length is a refreshing change of pace from the stretched-to-the-max layouts that we routinely see on the PGA Tour schedule. While it may lack length, Harbour Town is by no means a pushover. Very tight, tree-lined fairways often take drivers out of the players hands, forcing them to play strategically off the tee. In true Dye fashion, this is a second-shot golf course and players will be taking aim at miniscule greens that routinely grade-out as some of the toughest to hit on the PGA Tour schedule.
One and Done Selections
Joe Nicely - Byeong-Hun An
Alternate - Kevin Kisner
Ok...how awesome was the Masters?!? I would've been pulling for Tiger Woods last Sunday under any circumstances, but the fact that I had him as my OAD selection last week made his amazing victory even sweeter! So yeah, I was a pretty happy guy Sunday afternoon.
While it will take some time for a lot of us to come down from our Masters high, there is business at hand with this week's RBC Heritage. I always really enjoy this tournament. I've spent several family vacations on Hilton Head Island and love the place. I find Harbour Town to be a really interesting golf course and I love the change of pace it brings to a PGA Tour schedule where 'bomb and gouge' layouts are the norm on an almost weekly basis.
With players facing tight fairways and firing at miniscule greens on this Dye/Nicklaus layout, I'm looking for a pretty specific type of player. I considered all of the usual 'course horses' like Matt Kuchar, Jim Furyk, and Ian Poulter. You also have to respect how talented this field is with players like Dustin Johnson, Francesco Molinari, and Bryson DeChambeau all teeing it up this week and deserving consideration.
In the end, I was bolstered by my gut call of Tiger Woods last week and decided to trust my instincts again in this tournament. Byeong-Hun (Benny) An probably isn't a name that you will see floating around much this week on the OAD circuit, but I really love what he's been doing recently. An heads to Harbour Town popping in every stat that I'm looking for over his last 24 rounds...he ranks first in Strokes Gained: Around the Green, first in SG: T2G, and 15th in SG: Approach. Benny's putting has been cringe worthy and he's lost strokes on the greens every time he's teed it up in 2019, but I take some solace in the fact that he "only" lost 0.3 strokes on these Harbour Town greens last season en route to a T7 in his Heritage debut. It's very fair to say that I might be taking an unnecessary risk with An this week with so many solid players on the board. While I can't argue with that assertion, I'm trusting my gut in an attempt to continue gaining ground on Gianni. - Joe Nicely
Yearly Earnings - $3,305,943

Yearly Cuts Made - 12/14
Spencer Aguiar - Matt Kuchar
Alternate - Tommy Fleetwood
Full disclosure, Matt Kuchar is going to be one of the most popular OAD selections this weekend. His course history of five top-23 finishes in the past five seasons screams consistency, and for those concerned, the American is used to playing the RBC Heritage directly after the Masters. While all that exudes positivity, I am not overly enthusiastic about this choice. It wouldn't surprise me to see both Joe and Gianni also take the 40-year-old, and that is something that I can't afford when trying to play catch up. Unfortunately, I can't think of a great alternative and would prefer to save most of the other big names for another day.
Now that I have entirely discredited this selection, let me at least try to salvage the pick. Kuchar is playing some of the best golf of his career, posting 16 straight made cuts and recording two victories in the past five months. His level of consistency is virtually unmatched on the PGA Tour, and Harbour Town is a venue that ideally suits his game. During the 2019 season, Kuchar is ranked second in strokes gained approach, first in GIR, 14th in par-four average, first in scoring before the cut and eighth in birdie or better percentage.
It is hard to imagine that Kuchar won't be this week's most popular choice in most OAD contests, but there are reasons to believe that fewer people will have him available than you would think. Kuchar has been an attractive option weekly, and that at least will slightly lower his ownership percentage because a portion of the field won't have him available. I will be expecting a top-25 from Kuchar, hoping for a possible top-10 and praying that I can live to fight another day with a board that appeals to me more next week. Things are looking grim, but I will need to pick and choose my spots the best I can. This week is more of a defensive approach. - Spencer Aguiar
Yearly Earnings - $2,704,671
Yearly Cuts Made - 13/14
Gianni Magliocco - Brandt Snedeker
Alternate - Matt Kuchar
At a traditionally windy track such as Harbour Town, I'm taking Brandt Snedeker to have a good showing this week. Short game is one of the essential areas to focus on every year at the RBC Heritage, and over the last 50 rounds, Snedeker leads this week's field in this department...which gives me great confidence he can get himself in the thick of it this weekend.
Snedeker has back-to-back top-25 finishes at this event, and though his immediate form isn't too impressive, the Nashville native is a real horse for the course type of player. His lack of length won't be an issue this week, and if he can get his usually red-hot flatstick firing, then he could make a mockery of his long odds this week. - Gianni Magliocco
Yearly Earnings - $5,727,163
Yearly Cuts Made - 12/14
Running Totals
Joe Nicely

Spencer Aguiar

Gianni Magliocco

Sony Open

Gary Woodland 

$11,520

Justin Thomas

$99,200

Kevin Kisner

$12,864

Desert Classic

Jon Rahm

$212,400

Jon Rahm

$212,400

Patrick Cantlay

$159,300

Farmers Insurance

Marc Leishman

$21,158

Patrick Cantlay

$0

Charles Howell III

$79,804

Waste Management

Hideki Matsuyama

$113,600

Webb Simpson

$76,917

Justin Thomas

$482,800

Pebble Beach

Chez Reavie

$31,160

Phil Mickelson

$1,368,000

Phil Mickelson

$1,368,000

Genesis Open

Xander Schauffele

$100,788

Hideki Matsuyama

$177,600

Dustin Johnson

$177,600

WGC Mexico Championship

Justin Thomas

$201,000

Xander Schauffele

$128,000

Tommy Fleetwood

$103,750

Honda Classic

Adam Scott

$0

Gary Woodland

$25,346

Adam Scott

$0

Arnold Palmer

Rory McIlroy

$294,613

Justin Rose

$19,474

Jason Day

$0

Players Championship

Sergio Garcia

$125,000

Tiger Woods

$77,625

Rory McIlroy

$2,250,000

Valspar Championship

Patrick Reed

$0

Sergio Garcia

$15,209

Henrik Stenson

$54,270

WGC-Match Play

Ian Poulter  

$108,429

Haotong Li

$167,000

Francesco Molinari

$712,000

Valero Texas Open

Tony Finau

$16,275

Rickie Fowler

$112,500

Tony Finau

$16,275

Masters

Tiger Woods

$2,070,000

Bubba Watson

$225,400

Rickie Fowler

$310,500
Premium DFS Golf Tools and Lineup Optimizer
Golf DFS News and Player Outlooks
Our friends at Fantasy National have created some game-changing DFS Golf tools, and you can read all about them here. They are hands-down the best daily fantasy Golf tools in the industry.