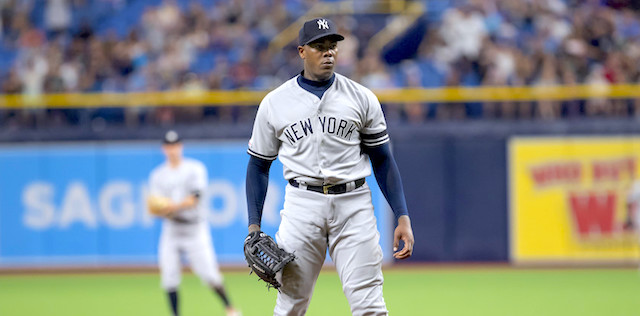 What Appears In This Article?
hide
Punting categories in a roto league is something I've always shied away from. After all, you're willingly lowering your team's overall points ceiling on the hope that sacrificing a category benefits your team elsewhere. In general, punting should not be pre-planned and, if used, it should be decided while drafting based on your team so far and who is still available.
To be clear, punting a category means only on draft day, not a deliberate attempt to avoid the category all season. Like Zero RB in fantasy football, punting is not being afraid of an immediate weakness to build an immediate strength. If you wind up punting a category on draft day you should still address the category at some point through trades or the waiver wire to at least collect some points in the category.
That said, is punting a smart choice on draft day given the unpredictable nature of the 2020 season?
Featured Promo: Get your 2023 MLB Premium Pass for 50% off. Exclusive access to our preseason Draft Kit, #1 accuracy rankings, #1 ATC projections, Team Sync platform, Live Draft Assistant, 15 in-season lineup tools, customized rankings and much more!
Sign Up Now!
To Save or Not to Save?
The best case to be made for punting in 2020 is saves. Bullpen turnover will be at an all-time high this season and the relief pitcher will have a bigger impact on fantasy baseball than in a normal season. With only 60 games to work with, managers will have a very short leash with their closers. A bad five-game stretch this season could torpedo a team's chances at the playoffs so managers will lean on whoever is pitching well. Aroldis Chapman may be one of the best relievers in the game, but if he has a bad stretch, the Yankees have too many other quality arms to let Chapman work through issues in the ninth.
The 60-game season will bunch up the saves leaderboard like tourists on a crowded Florida beach. Through the first 60 games last season, 18 relievers had at least 11 saves. Only one (Kirby Yates) had more than 20 saves. Expect most closers to wind up in the 10-15 range in saves with a handful of other relievers in the 5-10 save range. Thirty-one relievers had at least five saves through 60 games last season.
The other elephant in the room when it comes to closer pecking order is COVID-19.
We may not want to admit it, but there will be positive tests. Teams will be missing key players who test positive and others will miss games here and there because they came in contact with an infected individual. This is in addition to the normal amount of injuries we will inevitably see that shake-up closer depth charts. Throw in the fact teams will only have six off-days and you have a perfect storm for more relievers than usual getting save chances.
This means any semi-conscious fantasy player should be able to fall into some saves if they hit the waiver wire once in a while. If you're an astute player, you could probably finish in the upper half of the league in saves, despite investing minimal draft capital into the category.
With saves bunched up like that, the true difference makers at relief pitcher will be those that contribute in other ways. 20 qualified relievers had a 2.50 ERA or lower last season, 11 of them had less than five saves. Emilio Pagan, Will Harris, and Tyler Duffey all had an ERA of 2.50 or better, a WHIP of 1.01 or better, and all averaged more than a strikeout per inning.
| | | | | | |
| --- | --- | --- | --- | --- | --- |
| Player | IP | ERA | xFIP | WHIP | K/9 |
| Emilio Pagan | 70 | 2.31 | 3.15 | 0.83 | 12.34 |
| Will Harris | 60 | 1.5 | 3.04 | 0.93 | 9.30 |
| Tyler Duffey | 57.2 | 2.5 | 2.94 | 1.01 | 12.80 |
Pagan, Harris and Duffey carry average draft positions of 275th, 401st and 481st, overall, respectively. None are their team's immediate closing option but should contribute in strikeouts and the ratios while picking up a few wins and saves here and there. If they wind up in as the closer, they should thrive based on talent. This is the type of player to target to fill RP spots late in the draft.
The relief pitcher will have a greater impact on the game than ever before in 2020. Not only will relievers throw a higher percentage of their team's innings, but they should be the most-ready when games start.
All players will face challenges to get ready for the season with only three weeks between the time they report and the first games. However, relievers will be the best equipped to deal with the abbreviated "spring" training. Most pitchers have been throwing during the shutdown so it should only take a few workouts and simulated games for relievers to feel in midseason form, as opposed to starters building up their innings, or position players re-adjusting to live pitching and the rigors of playing nine innings every day.
Starters will need to build up their arm strength and very few pitchers will go more than five innings in the first two weeks of the season, hence the 30-man rosters early on. Managers will rely heavily on their bullpens and fantasy managers should absolutely lean into the middle relievers that will pitch important innings early in the season.
Conclusion
Targeting relievers in fantasy is a unique opportunity to get off to a good start in ERA and WHIP and many relievers will pick up wins if your league still uses them. Most of those relievers won't cost a dime on draft day and will make an immediate impact. Then, as teams play musical chairs with the closer role, some of them will wind up as a closer and be apart of the 5-15 save group of relievers. Just like the RPs of others in your league that drafted Alex Colome or Hansel Robles in the middle rounds.
Punting a category can be dangerous, but these days a simple trip to the grocery store is also dangerous. So put on your mask, enter the draft room, and load up on the other nine categories. In a season with such high statistical variance, I'm betting against traditional closers and loading up on as many early-round hitters and starters as I can. Saves can be addressed later.
More 2020 Fantasy Baseball Advice