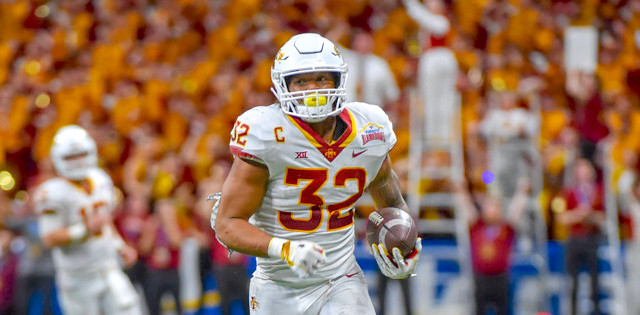 Heading into the 2019 NFL Draft, the Chicago Bears were limited on the number of draft picks that they had. The team held three picks and while it didn't seem too likely that they would draft a running back, it has been apparent that is a position of need.
While Tarik Cohen is an explosive weapon, we've seen Chicago part ways with Jordan Howard and bring in Mike Davis. We've seen Matt Nagy utilize a committee approach, but whether that be due to personnel or his personal preference, the drafting of David Montgomery is very telling.
In a fairly weak rookie class, Montgomery was one of the top running backs, and him landing in Chicago is fairly promising for his value moving forward.
Featured Promo: The FFPC Playoff Challenge #2 is back for the Divisional Round with a massive $100,000 grand prize and $260k total prize pool. Here's the deal: no salary cap, no draft, no pickups, no subs. Choose 8 players, and as NFL teams get knocked out so will your players, so choose your team wisely. The 1,500 entries will sell out quickly, and registrations will close on Saturday January 21st at 4:30 pm ET . Don't wait - get your team now and end your fantasy football season with a shot at $100,000!
Sign Up Now!
Measurements
Height: 5'10"
Weight: 222
Arms: 31 3/8"
Hands: 9 1/4"
40 Yard Dash: 4.63
Bench Press: 15
Vertical Jump: 28.5
Broad Jump: 121
Player Profile
Montgomery has a nice combination of balance, durability, blocking, and pass catching. He is one of the few running backs in this class that I viewed as someone with legitimate three-down capability in the NFL. Over his last two seasons at Iowa State, he put up 2,362 yards with 24 touchdowns. His pass catching was on display as well as he caught 58 passes for 453 yards. Montgomery isn't someone that is overly explosive, he didn't jump off the page at the NFL Combine, and he isn't someone known for breaking off big plays. Montgomery has a knack for avoiding tackles and his balance is excellent as well. The biggest thing that I saw with Montgomery was the prototypical three-down back potential.
Montgomery has some intriguing strengths to his game. One of the biggest things that jumped off the tape was his balance. He absorbs contact well and is able to keep moving after taking contact. He is quick enough that his excellent balance combined with his elusiveness, makes him someone that can be tough to bring down. Watching his tape, it's impossible to ignore the missed tackles that he forces. With a 129.4 Elusive Rating from Pro Football Focus, he ranks as the fourth most elusive back in this class.
David Montgomery owns the PFF College record for most missed tackles forced in a season (in 2017) and his 2018 numbers are 2nd-best. #NFLDraft pic.twitter.com/5FOUeURfb6

— Pro Football Focus (@PFF) April 27, 2019
Landing Spot
Landing in Chicago is a very interesting spot, one that I don't believe many fantasy football owners were expecting. As a big fan of Tarik Cohen, initially, I wasn't thrilled with it. This was largely due to the passing game that can bring so much upside for running backs this day in age. Looking into it a bit further and analyzing the situation, it makes a lot of sense and is very intriguing.
With Jordan Howard out of Chicago, there is an immediate role that Montgomery can jump into. Howard carried the ball 250 times in 2018, and most fantasy owners viewed Mike Davis as a potential suitor to take over those carries. Investing a third-round pick into a running back makes it pretty clear that Chicago is planning on giving Montgomery the chance at a significant role in that offense. Cohen carried the ball just 99 times in 2018 but was far more efficient than Howard was.
In 2018, the Bears running backs totaled 468 carries for 1,938 yards and 16 touchdowns. While it makes sense that Cohen and Davis will get their share in 2019, Montgomery could realistically end up seeing the most carries. Even if Davis gets 75 carries or so and Cohen sees around 100 carries again, you're still looking at almost 300 carries remaining, assuming the number of carries is close to the same in 2019. Based on the potential carries available to Montgomery, it isn't out of the question that he gets 200 carries in his rookie season.
Dynasty Outlook
If you've already had your 2019 rookie drafts, there is a good chance that you saw Montgomery go off the board very early. Most mock drafts I've seen, he's been a top-four pick and the second back off the board behind Josh Jacobs. Miles Sanders and Montgomery have gone before and after each other in some drafts as well, but it's pretty much consensus that he is locked in as a top-five rookie pick, and rightfully so.
When a rookie running back has a potential starting role ahead of him, he immediately sees a jump in value. Regardless of talent or pedigree, draft capital also cannot be ignored (See Mecole Hardman). The Bears investing an early third-round pick on Montgomery is very telling, especially when they didn't have many draft picks to begin with. Throw in the talent of Montgomery and the opportunity ahead of him in Chicago, and you've got a rookie with a ton of upside ahead of him and ultimately, dynasty value.