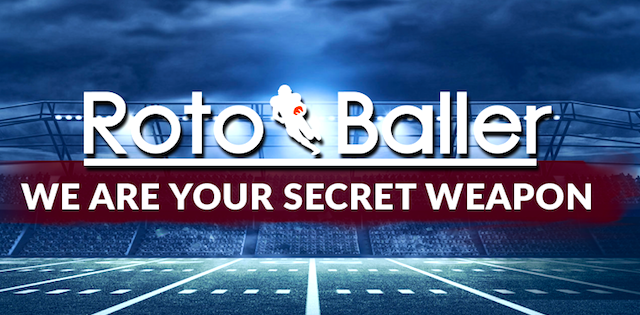 What Appears In This Article?
hide
With the NFL Combine over and done with, we have a pretty good idea of the landscape of this upcoming draft class. Most prospects have either secured their status by checking the boxes in the combine or have tanked their stock in the fantasy community with poor testing. They will have another opportunity to rectify poor scores on their pro days but, for now, we have a pretty good idea of where these players stand.
The dynasty community tends to have their favorite and least favorite prospects by now, and rookie ADP will change very little between now and the actual NFL Draft. Landing spot will be especially key this year, given the generally low opinion of the entire class, and ADP will change significantly once we know where these players are going to end up.
With what we know now, there are a few players that are sitting outside most people's top 24 dynasty rookie rankings. I took a look at three running backs that could potentially impact dynasty assets that are falling outside of the first two rounds in 12 man dynasty rookie drafts.
Featured Promo: Get any full-season NFL Premium Pass for 50% off and win big in 2023. Exclusive access to our Premium articles, 15 lineup tools, new Team Sync platform, Lineup Optimizer, Premium DFS tools and cheat sheets, and much more!
Sign Up Now!
Myles Gaskin, Washington
Myles Gaskin has been around for a while. As a four year starter at Washington, he posted four consecutive years of 1200+ rushing yards and double-digit rushing touchdowns. The production is incredibly impressive. He was once viewed as a sure-fire top running back prospect, and many were excited for him to finally make his way out of college.
Unfortunately, the shine has worn off in the eyes of the community and, after posting his least productive season as a senior, he is mostly an afterthought in dynasty rookie drafts.
While Myles Gaskin is by no means an elite athlete, his average testing actually stood out as a positive among a group of backs that had a lot of players fail to make the basic benchmarks that you would expect.
As a player, Myles Gaskin is a crafty runner that does a nice job picking his way through traffic and navigating through the line of scrimmage. While sometimes he can get a little too tentative between the tackles, his patience is generally a positive for his game, and it pairs quite well with his plus vision.
Myles Gaskin is an undersized back, and likely won't be able to carry a full workload at the NFL level, but he has a lot of fight for a back of his size. He has nice leg drive, excellent body control, and good balance. All of these things help to allow him to be effective between the tackles without having the power that you would want from an inside runner.
Gaskin isn't a speed demon, but his top end speed isn't a limitation, especially given his patient and deliberate running style. While he didn't test well in the agility drills, he is significantly more elusive than many of the small backs that are ranked ahead of him by the community.
He doesn't put up eye-popping numbers as a receiver, but he has shown that he is more than confident and offers more potential in space than some of the other backs that are projecting as pass-catching backs at the next level.
Gaskin projects favorably as a change of pace back at the next level. He won't be the lead back in a committee, but he could land somewhere where he gets in the mix on a regular basis and catches some passes out of the backfield. If he can find playing time somewhere, he could find a productive role next season. Unlike some of the other backs in this class, Gaskin projects to be able to contribute as both a runner and a receiver.
His fantasy value could end up being a player like Ito Smith or, if we are being optimistic, Tevin Coleman if put in an ideal situation. While playing time is no guarantee, he has the skill set to produce if he can find a role.
Devine Ozigbo, Nebraska
Devine Ozigbo seems to be severely underrated by the dynasty community right now. His skill set is very unique for a player of his size and looks like he could immediately contribute on the ground for a team that drafts him in the mid-to-late rounds of the NFL Draft.
He was one of the big snubs of the NFL Combine, so his testing isn't available yet. He doesn't project as an elite athlete, but will probably test better in the agility testing than you would expect for a back that is expected to weigh in around 230 pounds.
Ozigbo is another patient running back that allows time for blocks to set up in front of him before attacking the line of scrimmage. He doesn't have great top end speed, and his acceleration is probably below average, but his patient style of running lends itself well to his lack of explosive athleticism.
He has nifty feet that allow him to make defenders miss in space and has good change of direction abilities, despite his larger frame and lack of top-end athleticism. His leg drive is excellent and he has very good balance through contact, allowing him to consistently pick up yards after contact.
He saw a lot of work as a receiver at Nebraska, but his hands are definitely not the strength of his game, and he doesn't project as a great route runner at the next level, so I wouldn't expect much out of his receiving production on your dynasty rosters.
In terms of fantasy, he doesn't have a high upside profile, but he has the build and skill set of a player that could be a part of a committee and could take over a starting role if injuries strike. He's the type of player that could see a mid-season surge in production and then not relinquish the starting job similar to Josh Adams or Alex Collins in years past.
Mike Weber, Ohio State
Mike Weber, while a popular name over the last few years in the draft community, is probably closer to a deep sleeper than a household name at this point. He was a productive runner for Ohio State before eventually being overtaken by future dynasty first-round rookie pick J.K. Dobbins. After that, Weber became an afterthought to many dynasty players. He isn't the player that Dobbins is, but that doesn't mean that he can't be productive.
Weber has nice speed, as confirmed by his combine numbers. His burst is serviceable, but not exceptional. His change of direction is just average and seems to have better straight-line speed than lateral agility and explosiveness.
Now that we've got the bad out of the way, Weber has really good vision and always has a knack for finding rushing lanes. He has good balance as well as decent body control to minimize contact and fall forward for extra yards. His blend of patience and decisiveness to fit the situation is a nice trait that helps him make the most of what his offensive line gives him.
As a receiver, Mike Weber catches the ball well and does a nice job of transitioning back into a runner after catching the ball. His ability as a receiver is good enough that it shouldn't warrant him leaving the field on clear passing downs if he can find a way to earn a starting role.
More than Gaskin or Ozigbo, Weber is going to be scheme-dependent. All three of these backs are players that will have to work to carve out a role with the team that drafts them, but Weber's success largely depends on landing in a favorable situation. He is excellent at taking advantage of what is in front of him, but he isn't great at creating yardage for himself. Behind a strong offensive line, Weber could be a player, similar to Ozigbo, that earns a little playing time, takes advantage of it, and increases his role as the season moves forward.