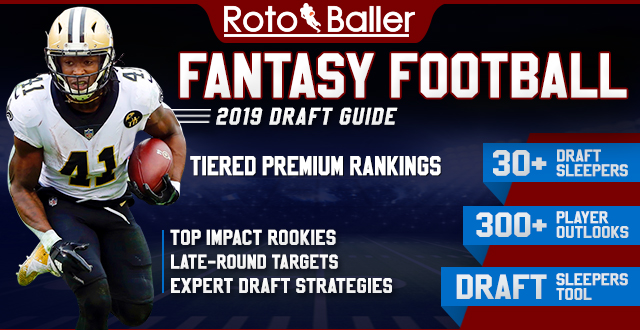 A tale of two rookies on the same team. Neither one will have much value this season. But which one should you trust more for the future of your dynasty team?
The Draft stock of these two players is quite different. Not only because of where they went, but also how they got there. While Hakeem Butler was a supposed second-round pick at worst, Andy Isabella was thought of as a fourth-rounder at best. Then came the draft. The Cardinals traded Josh Rosen to the Dolphins and snagged Isabella with the acquired pick. Then they were able to get Butler in the fourth round. I guess not being able to catch the ball really is a hindrance to being drafted high. Who knew?
The teammates, along with other young receivers Christian Kirk and Keesean Johnson look to take over the NFC West with quarterback Kyler Murray. Larry Fitzgerald will be there to tutor for one or two more seasons making him the best receiving coach in the NFL. If Murray pans out on his immense hype, both of these players could thrive. But which one is more trustworthy for dynasty owners?
Editor's Note: Get any full-season NFL Premium Pass for 50% off. Our exclusive In-Season Lineup Tools, Lineup Optimizer and over 150 days of Premium DFS Research.
Sign Up Now!
Hakeem Butler, Arizona Cardinals
WR66 | ADP: 13.9
At 6'5 and 227 pounds, Hakeem Butler is a big man playing wide receiver. Unfortunately, his big hands do not mean a catching ability to match.
Although supremely talented, Butler drops a lot of easy passes - something he will need to get a handle on if he wants to be anything but a bust in the NFL. Luckily for him, this is one area he can get help from Larry Legend. No, they are not the same type of receiver, but Fitzgerald may have the second-best hands of all-time behind Jerry Rice. If Butler is smart and watches and learns, he could become very good in his own right.
Kyler Murray can make a lot of players look better. He is accurate, strong-armed and his rushing ability will lead to open looks for his downfield receivers to make plays. Butler is certainly fitting of a downfield threat. In his sophomore season, he recorded a 17.0 yards per catch average on 41 receptions for the Iowa State Cyclones. In his final season as a junior in 2018, he increased his receptions to 60, his touchdowns from seven to nine and his yards per catch average to 22.o. Incredible numbers for someone playing with a bad offensive line, a mediocre college quarterback and an elite running back in David Montgomery who was also stellar on a middle of the pack Big 12 team.
These numbers from someone this size is what we expect from Mike Evans in the NFL. Hakeem Butler probably won't be Mike Evans. With David Johnson and the litany of other receivers on the team, the targets will not be there. But he could have an impact the likes of Mike Williams did in 2018. He could be a double-digit touchdown guy on limited receptions based on his size alone and his likelihood to dominate in the red zone.
The Cardinals really don't have a tight end threat and the size of Butler makes him the next best thing to having one to use. Receivers typically don't break out in year one though. This will be the same for all the rookies on Arizona. But in coming years, as opportunities open up, he should be able to provide WR3 and maybe WR2 numbers in what could be an explosive offense in the desert.
Andy Isabella, Arizona Cardinals
WR72 | ADP: 14.9
The little man from Massachusetts. He is small yes, but he is also fast. His 4.37 time at the combine in the 40-yard dash was a big reason the Cardinals brought him in. He will take over the slot role from Larry Fitzgerald when he decides to retire and will need to stick to him like a glove and learn everything he can. Fitzgerald has never had less than 112 targets in a season. Whether this be in his early days outside or as the slot guy, a position he has played better than almost anyone in recent seasons. With three seasons of at least 107 catches before last season, the position is a focus of the offense. Even in a dismal season in 2018, Fitzgerald still caught a very nice 69 receptions from Josh Rosen and Sam Bradford.
His final three seasons in college were incredible. He increased his receptions from 65 to 62 to 102 in his final season. He also increased his yards per catch by over 3.5 from 12.9 as a sophomore to 16.6 as a senior. His 1,696 yards as a senior also set the record for receivers in a college season. These numbers are great as an outside guy let alone a slot receiver who at 5'9 and 188 pounds has the yardage ability of a Beckham Jr. or Mike Evans to go along with the reception total of a Julian Edelman or Jarvis Landry. If he can put all of this together in the NFL, he could become a top-12 guy in a few seasons. Not bad at his current draft price of WR 72.
Big guys tend to take longer to produce and can get hurt more often. Stretching the field and making contested catches takes a toll on the body and is not for everyone. Players like Julian Edelman, Wes Welker and Larry Fitzgerald last longer because their role is more defined and, in some ways, more important to an offense. It is great to find a vertical downfield threat for an offense. But this only works if the quarterback is good and the offensive line manages to give them the time to get open down the field. If the line is bad, and it is in Arizona. Or, if the quarterback is bad or even just unproven, the slot guy is the best friend for check-downs, dump-offs and panic throws. Isabella will fill this role and he has a clearer path to a solid career for the Cardinals.
Verdict
Could you conceivably take both? Sure. But why. We don't know truly how good the Arizona offense is going to be. We know what Kliff Kingsbury wants to do but we have to see it first. Remember Chip Kelly?
Not only is Andy Isabella the safer pick based on draft price but also based on projected role. Save yourself the headache of a player in Butler who may or may not learn to catch the ball. Instead go with the player who has shown it by catching 229 balls his final three collegiate seasons and again, broke the yardage record as a senior while also hauling in 13 touchdowns.
More ADP Showdown Articles