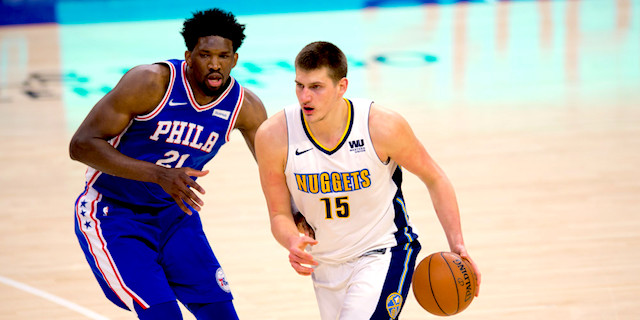 A 10-game slate is a perfect appetizer before we jump back into March Madness on Thursday and forget NBA exists for a couple more days. Rival Fantasy is a new DFS prop site that allows you to multiply your wager by creating linked, parlay-style bets in their FantasyBook, pit players against each other in Challenges, or compete in a new style of gambling RIVAL calls Fantasy Bingo.
Soon enough, RIVAL will also offer season-long contests, really changing the game in terms of the pathways we can take as sports bettors. With promo code BALLER, you get a risk-free deposit of up to $50, and also a free year of RotoBaller Premium access ($199 value).
RIVAL Fantasy offers some of the best and easiest-to-win NBA DFS games in the industry. There are no large-field tournaments filled with sharks where you have to get lucky just to place. At RIVAL Fantasy, you're not playing against other people, you're just playing against the projections.
Featured Promo: Our friends at RIVAL Fantasy are hooking you up. Get a risk-free deposit match up to $50 using promo code BALLER with your first deposit, and also a free year of RotoBaller Premium access ($199 value)!
RIVAL Over/Under Picks – Wednesday, March 22, 2023
Unfortunately, I forgot to switch Mitchell Robinson to UNDER in the article Monday, but the picture included had him correct, so technically still a 4/4. We got lucky with Jalen Brunson coming through late in the game and every other pick was probably the most correct I've ever been. Klay Thompson scored 29 points on 21 attempts and De'Aaron Fox dropped 37 points in a near-comeback victory against Utah. For the 10-game slate tonight, there aren't a lot of options listed as of right now so you will have to come back later to find the most optimal bets.
OG Anunoby OVER 27.7 fantasy points
Another positive showing from OG Anunoby after scoring 22 points on 12 attempts last game out against the Bucks. His production recently rivals some of the best in the league and BasketballMonster.com's Hot Players index has him as 6th over the previous two weeks. His game log is extremely reassuring and with the Raptors continually fighting for wins and since they are needing as much defense and minutes as they can get, Anunoby offers both. Even though neither his usage nor shot attempts are impressive, he's playing at a certain level where it doesn't really matter.
Zach LaVine OVER 36.3 fantasy points2
It's usually easier to bet with the Philadelphia 76ers' defense and against the Bulls, but Zach LaVine isn't one to be easily discouraged by a tout defense. The Bulls' underwhelming play for most of the season has forced LaVine into less production, but the nightly explosiveness is always going to be there. He hasn't shot the ball particularly well throughout the year, but there's been an improvement lately and it's unlikely Chicago simply keels over tonight. LaVine and DeMar DeRozan have been doing their best to at least try to keep games competitive, so there's always going to be a chance for both to work in isolation and work out of a bad shooting night. The 76ers have a great defense, but not a defender that can or even wants to try to keep with LaVine all game. Even with the Bulls expected to lose, both LaVine and DeRozan will still put up stats.
Nikola Jokic OVER 55.35 fantasy points
Until the Wizards right the ship in terms of their defense, players like Nikola Jokic are going to pick them apart. It's hard to say where he has more statistical upside because there isn't a single category he is likely to fall short in. Washington doesn't have strong rebounders, has given up a ton of assists, and is prone to getting scored on by dominant bigs that control the paint. It's a recipe for disaster and should go down as another monstrous game for Jokic against the Wizards.
Giannis Antetokounmpo UNDER 56.44 fantasy points
The Spurs have struggled all season and even though this isn't a hard threshold for Giannis Antetokounmpo to surpass, his supporting cast is playing so well it might not be needed. He will put up numbers with ease, but San Antonio struggles to keep games competitive against true title contenders. If the Bucks are healthy and run at full strength, there's good reason to bet on players like Bobby Portis, Khris Middleton, and Brook Lopez because they won't be the focus of the Spurs' defense, retaining more upside.
Play the NBA FantasyBook Over/Under Contest Now on RIVAL Fantasy
Download Our Free News & Alerts Mobile App
Like what you see? Download our updated fantasy basketball mobile app for
iPhone
and
Android
with 24x7 player news, injury alerts, lineup notifications & DFS articles. All free!
More Weekly DFS Analysis