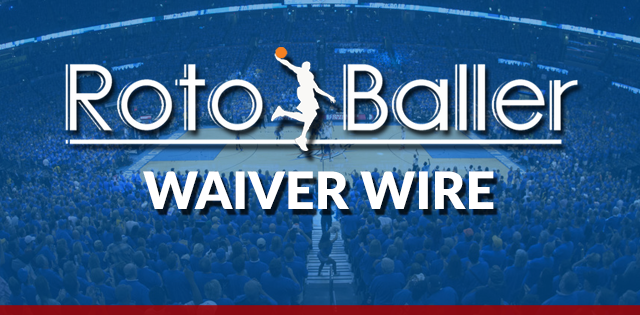 Good Monday friends. It's been a few months since I cranked out one of these deep waiver wire adds articles and for the first week of the season I am throwing out some juicy names. If you are new to following me, then you probably missed out Devonte' Graham, Thomas Bryant and Shai Gilgeous-Alexander, but that's ok. You understand your mistakes now and you are trying to get better. It's all we can ask for here at Rotoballer and if you can accept us into your hearts, we can help you can grow.
For this first week it's a tad tougher to know what direction every team is going, but on the flipside, we get a good idea of what players will be carrying their teams in and out of every game. With so many players flipping teams and organizations shifting dynamics from one player to another, this season is guaranteed to have countless inconsistencies. Regardless, this might be one of my favorite articles of the year because every player has such a small sample size, their stats are seriously inflated and it gives the illusion that the player I picked is doing better than he actually is. Not to totally ignore the title, but there isn't much to Kendrick Nunn other than he is a skilled player. He is a natural scorer thriving in the minutes Dion Waiters gifted him. No reason to fade him until the minutes reflect a downturn.
Make sure to stay updated on injuries and return times, but as far as I'm concerned, these next three players will see the biggest benefit. As a reminder, for standard (10-12 team) league adds, we use a general rule of thumb of an ownership rate of under 50% on Yahoo. All position eligibility based on Yahoo leagues.
Editor's Note: Get any full-season NBA and DFS Premium Pass for 50% off. Our exclusive DFS tools, Lineup Optimizer and daily Premium DFS Research.
Sign Up Now!
Standard League Adds for Week 2
Wesley Matthews, G  – Milwaukee Bucks

Ownership: 12%
14.0 PPG / 3.0 3PTM / .524 FG% / 1.6 APG
Between the options of Wesley Matthews or Danuel House Jr., I would usually give the nod to House, but it's hard to overlook Matthews impact on the Bucks right now. He might not be the go-to player but you cannot ignore his efforts on the court. Luckily for him the Bucks feel the same way and they have been more than willing to let him get his fair share of shot attempts. Matthews is a veteran guard and realistically, he should be a more efficient shooter than he is. He could turn things around this season and after just two games an improvement looks promising.
Take off the optimism hat and you''ll quickly remember to use Matthews for the short term and that's about it. To be completely fair to everyone acknowledging this, Matthews has had a decade to establish himself as a consistent shooter. He managed to prove himself as a shooter than has a good shooting night every five games and that is not going to change now. While he is producing and taking close to 10 shots a game he is worth the spot. The second a more productive player becomes available or you need some trade bait, Matthews is your first guy gone.
Omari Spellman, PF – Golden State Warriors

Ownership 8%
8.5 PPG / 6.5 RPG / 1.5 SPG / 1.5 BPG / .375 FG%
While Willie Cauley-Stein and Kevon Looney have no plans to return in the near future, Omari Spellman is guaranteed extra minutes and his track record to this point gives the impression he will be posting ideal big man stats. It might not last deep into the season, but for the Warriors next few games, they don't have the luxury of scoring and will need help from wherever they can get it. Spellman is not a consistent shooter by any means, but if you can sacrifice the FG%, he can contribute in every other category as long as he get's the minutes.
Robert Williams, C – Boston Celtics

Ownership 7%
5.0 PPG / 5.3 RPG / .700 FG% / 1.0 BPG / 1.7 SPG
Robert Williams has quickly become a fan favorite because of his quotes, but in terms of production he is slowly working his way into relevant territory. He needs to keep excelling on the defensive end to help him secure more minutes, but his ability to focus on rebounds and playing the paint have helped curb a lot of the Celtics early season problems. Since the Celtics lack consistent scoring, the extra rebounds have helped the core three of Kemba Walker, Jayson Tatum, and Jaylen Brown find their rhythm.
Williams will need to improve his scoring in terms of stretching out the defense if he wants a serious bump in minutes and usage, but for right now his rebounding ability secures him 20 minutes for the next week or so. Until the shooters are able to hit consistently, look for Boston to run bigger lineups with Williams playing the four.
More Fantasy Basketball Analysis
By popular demand, RotoBaller has aggregated all of our fantasy basketball NBA waiver wire pickups into a running list of NBA waiver options, so bookmark the page and check back often for updates.